Impact 2020: The Port offers a new financing tool for environmental remediation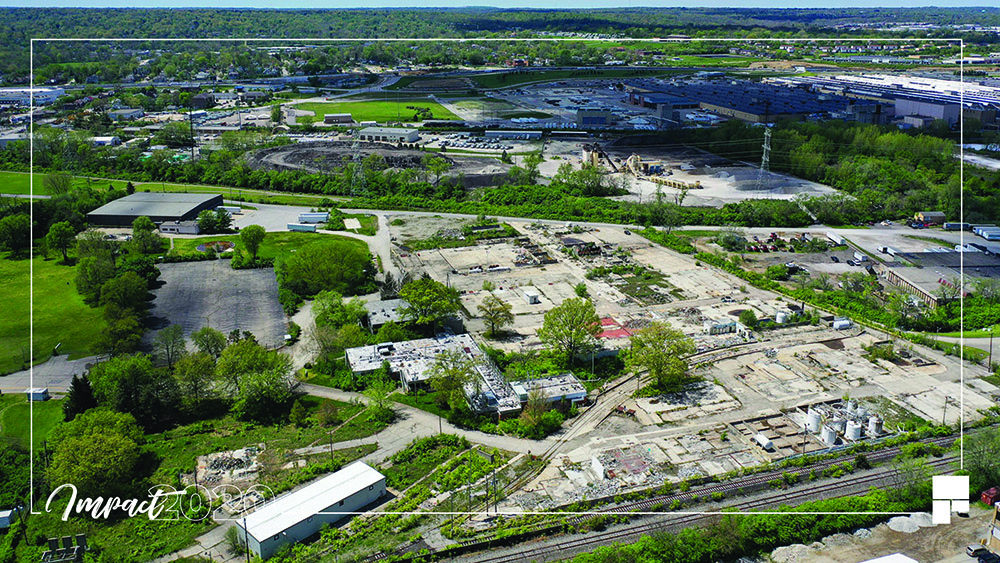 Story By: Jamie Barron, The Port's Communications & Marketing Team
Since The Port's inception, environmental remediation has been a big part of its work in Hamilton County. The Port's work has resulted in over 250 acres positioned for new development and has positively impacted nearly 50 properties in Hamilton County through environmental cleanup and assessment. In addition to state and federal funding that has facilitated work in this arena, The Port's strong partnership with the Ohio and U.S. Environmental Protection Agency (EPA) has also been a major driver in creating a healthier Hamilton County.
The Port and EPA tackle environmental challenges
The Port's Remediation Loan Program, seeded by a U.S. EPA Brownfields Grant, is the latest in a series of partnerships with the EPA. In 2010 and 2016, The Port secured and administered two Assessment Grants from the U.S. EPA that resulted in environmental evaluation of 29 properties, many of which have since been remediated, redeveloped, and now support new jobs. In 2018, The Port alerted U.S. EPA officials of the human health and environmental threat at the former Hudepohl site in Queensgate. The U.S. EPA then declared it a superfund site and became involved in the project through an emergency response action to address asbestos on a large, contaminated debris pile that had been compromising air quality in the site's vicinity. This removal represented a $1.5 million federal investment. Most recently, The Port began working with the EPA to facilitate the next steps in remediating the abandoned Lunkenheimer Valve Facility in South Fairmount. The Port, in cooperation with the City of Cincinnati, has applied for funding from the Ohio EPA to complete Phase I and Phase II Environmental Assessments for the property. These assessments will determine the scope of any additional remediation needed within the building, and ultimately the next steps towards its redevelopment.
The Port's Remediation Loan Program
The Port's Remediation Loan Program (RLP) is focused on providing funding to properly clear contaminated sites, return land back to communities, and deliver a safer and healthier environment for Hamilton County residents. The RLP was seeded by an $800,000 U.S. EPA Brownfields Grant, and loan payments made by borrowers will be added back into the fund and recycled to make additional loans. Because traditional financing is not always available or easily attainable for environmental cleanup, the RLP will help fill this common financing gap and provide a lower interest rate for borrowers.
"Hamilton County has a wealth of centrally located, amenity-rich sites, but environmental contamination is often too large of a financial hurdle for development," said Karla Auker, U.S. EPA. "This loan program will help fill that gap, unlocking real estate for job creation and economic growth, while returning properties back to communities," Auker added.
The bigger picture: Environmental Justice
While much of The Port's work is focused on eliminating environmental threats, it is also an equally important objective to actively reduce exposure for vulnerable communities. Environmental Justice is a movement focused on leveling the playing field that for too long has disproportionately impacted low-income neighborhoods. In the United States, communities of color shoulder a disproportionate amount of the effects of environmental hazards. Many of these hazards spring from historic manufacturing facilities, long since abandoned and left to decay, but too expensive for communities to clear and prepare for new development. A lack of political clout and wealth to bring attention to these hazards and deter the location of new hazardous industries in underserved communities only exacerbates the problem.
As a public entity, The Port is in a unique position to be able to jump-start the removal of contaminants and reposition brownfield sites in underserved communities.
"We're excited to offer this new tool for our region," said Laura N. Brunner, President & CEO of The Port. "The Port has a history of environmental stewardship and justice, creating safer and healthier communities for Hamilton County residents, and the loan program will help propel this critical work," Brunner continued.
U.S. Environmental Protection Agency
More from The Port's 2020 Impact Report: