Our Vision
Transform to Prosperity
"By 2022, our success in repositioning undervalued properties and rebuilding neighborhoods will transform the Cincinnati region."
Vision 2022
Port Authority Board of Directors
In 2015, the Port Authority Board of Directors set a bold direction for the organization with Vision 2022, a multi-faceted strategy to drive economic growth, job creation, social stability, and shared prosperity, for all residents. The strategic initiative champions key social, community, and economic priorities for the region by combining neighborhood revitalization with the repurposing of hundreds of acres of currently non-productive, urban industrial property to facilitate job creation.
This plan focuses on three key strategies for success in achieving this wide-reaching transformation in the Cincinnati region: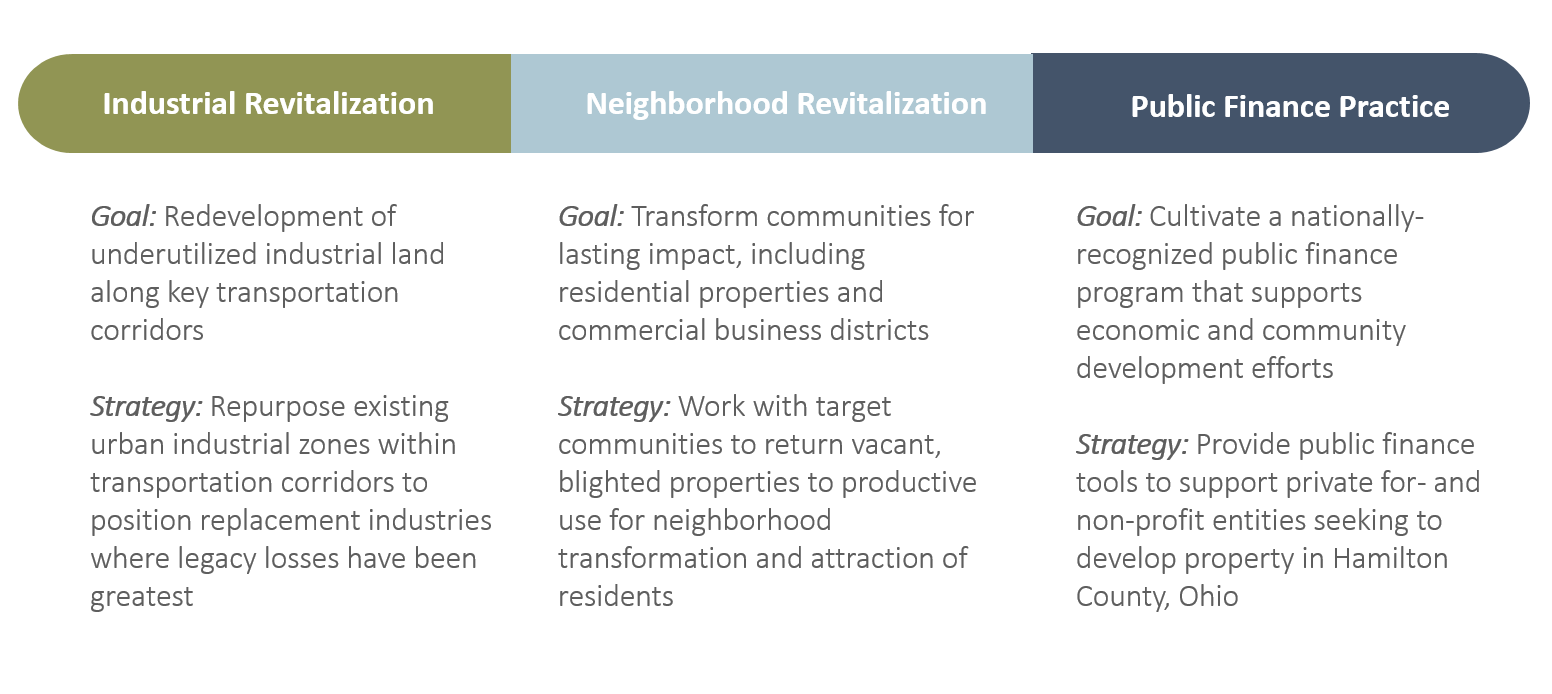 In particular, the plan focuses on leveraging the Port's unique tools and expertise to drive development and regional cooperation. That community involvement is a key aspect for Vision 2022. From the Port's managed entities to key community organizations to individual neighborhood residents, partnerships are critical in amplifying and expanding the Port's impact in transforming the Cincinnati Region.
This is a bold plan requires widespread community support for it to be fully realized, requiring a diverse blend of public, private and philanthropic funds.
The Port Authority projects a total of $250 million is needed over seven years to fully realize its vision, with $50 million supporting the Neighborhood Revitalization Strategy and $200 million supporting the Industrial Revitalization Strategy. The funding strategy for Vision 2022:
Patient Capital: Patient Capital Notes are a social impact investment developed by the Port Authority to engage accredited private investors.
Philanthropy: Philanthropy closes the gap between social impact investments and sources of potential public funds.
Government Grants: Public funds play a critical role in securing capital needed to acquire properties and prepare the land for sale to job-creating users, generating a significant return-on-investment for the region.
Sustainable Source: Vision 2022 has a long horizon of investment and renewal; Port Authority is working to secure a dedicated revenue stream to support the initiative.
Vision 2022 Promotes Tenets of Equitable Growth
Collaboration: We act in concert with other economic development priorities and agencies in the recognition that many working together will produce the biggest and most lasting impact.
Community: We believe in giving voice to our stakeholders to ensure that our efforts fully realize community housing and economic goals and result in economically, aesthetically and culturally vibrant neighborhoods.
Diversity: As standard setters in inclusion, our work promotes the achievement of economic opportunity for all.
Sustainability: Highest and best use drive our decisions leading to environmentally and economically sustainable projects with a commitment to the preservation of unique assets.
Integrity: We deliver on our promises in a transparent manner as good stewards of the resources and responsibilities entrusted to us.