Impact 2020: A sharpened focus on affordable housing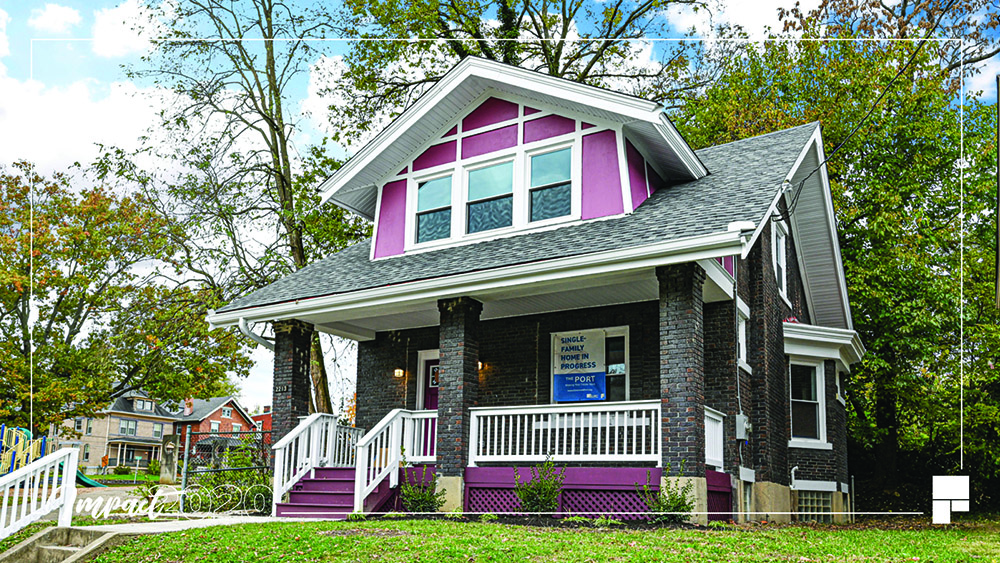 Story By: Tom Millikin, The Port's Communications & Marketing Team
The affordable housing crisis in the United States knows no bounds. It is not biased toward one city over another, and it remains a national challenge.
In Hamilton County, Ohio, nearly 49,000 of the 341,000 households are severely cost-burdened, paying more than 50% of their income toward housing costs.
Many neighborhoods and communities in central Hamilton County have modest home prices and values. These naturally affordable homes are prime targets for Wall Street backed institutional investors to acquire and flip into high-profit rentals, further compounding a shortage of available housing.
The Port's approach to a complicated issue
Affordable housing advocates and public entities such as The Port believe solutions to the affordable housing crisis include creating new housing, preserving existing affordable units, and protecting vulnerable residents from housing insecurity. It's called the 'ecosystem' of housing stability.
The Port and its managed entities, the Landbank (Hamilton County Land Reutilization Corporation) and the HURC (Homesteading & Urban Redevelopment Corporation), address this challenge in multiple ways. This includes increasing quality, move-in ready housing stock across a range of price points, critical to keeping housing affordable to provide opportunities for homeownership and wealth creation.
"We want to bring vitality back to our most deserving communities," said Laura Brunner, President & CEO of The Port, adding: "The HURC redeveloped six income-restricted homes in Evanston the last two years that sold at an average of $150,000. And there's more work to be done. There are simply not enough safe, quality homes to meet demand."
Founded in 1976, the HURC rehabs and builds new affordable houses throughout Hamilton County. The following communities are areas where The Port has led efforts to tackle the affordable housing challenge.
Leveraging a grant provided by the Hamilton County Department of Community Development and Planning, The HURC is partnering with the Village of Lincoln Heights for the addition of affordable homeownership opportunities. The Village, Working in Neighborhoods (WIN), the Landbank, and The Heights Movement are collaborating to leverage recent momentum in Lincoln Heights – to create opportunities for affordable homeownership, investment, and wealth creation.
"We have worked with The Port to address the affordable housing crisis we face in Hamilton County, and in particular, in Lincoln Heights," said Laverne Mitchell, a Village of Lincoln Heights Council Member. "The Port helps us acquire 'stuck properties' to increase affordable housing stock in the Village," Mitchell added.
In late 2020, in collaboration with the Mt. Auburn CDC, The Port began construction on six new townhomes on vacant lots on Loth Street in the central Cincinnati neighborhood of Mt. Auburn. The new real estate is the result of the Landbank expanding its successful market-rate single-family home development program into the Mt. Auburn community of about 5,000 residents. The new townhomes will be market rate, selling for approximately $400,000, with the profits from the sale of these properties subsidizing future affordable housing in Mt. Auburn. This new-to-Cincinnati financing concept will ultimately allow the neighborhood to benefit from both market rate and affordable housing without needing to wait on unidentified subsidy funds.
"My dream for Mt. Auburn is to improve the areas that have been neglected for decades. It is to take all of the abandoned buildings and restore them, make them vital, make families want to come and move to Mt. Auburn to get more kids in our schools. Just to build our community." - Carol Gibbs, President & CEO - Mt. Auburn Community Development Corporation
West End | Baymiller Street
Residents in Cincinnati's historic West End neighborhood have been working to ensure that creation and preservation of affordable housing is part of an equitable solution to housing development.
Six historic rowhouses on Baymiller that were vacant and deteriorating were stabilized by the Landbank, in partnership with the City of Cincinnati. The City identified the Baymiller properties as ideal candidates for stabilization through the Landbank's Historic Structure Stabilization Program, which works to preserve buildings in danger of collapse or demolition for future reuse and redevelopment. Once stabilized, the Landbank transferred two properties to Habitat for Humanity and one to Seven Hills Neighborhood Houses for affordable homeownership.
"Our participation in this project would not be possible without the collaboration among the City, Port, and Seven Hills Neighborhood Houses," said Ed Lee, president of Habitat for Humanity of Cincinnati. "This project also brings together diverse and generous funding sources in order to complete new homes for these new West End homebuyers," Lee added.
The community of Avondale has not seen any newly built, affordable apartments in the past 15 years. Until, that is, The Port partnered with the City of Cincinnati, the developer and community partners such as Cincinnati Development Fund and Fifth Third Bank to make affordable housing a reality in the neighborhood of approximately 12,000 residents.
The Blair Lofts is a $15.2 million, 64-unit affordable housing project at 3401 Reading Road where rents will range between $460 and $1,040 for a three-bedroom unit and be affordable to people making 30% and 60% of the area median income. The project was awarded Low Income Housing Tax Credits (LIHTC) by the Ohio Housing Finance Agency in 2020.
The Port's involvement in this project included the use of its unique Public Finance tools, which provides a sales tax exemption on all construction materials, saving about $300,000 on the overall cost of developing these affordable apartments.
The neighborhoods of Price Hill
Through HURC and REACH, The Port has been working in the East, West, and Lower Price Hill communities for nearly a decade, providing a range of safe housing options for each neighborhood.
Six of ten homes rehabbed in 2020 in Price Hill were designated for occupancy by households at or below 80% AMI. To encourage homeownership The Port leveraged City funding to pursue balanced and equitable housing development – both market rate and affordable. Through all of this work we continue to collaborate with Price Hill Will to assist the local residents in setting their own direction for their community.
A number of historic structure stabilizations took place in Price Hill in 2020 including the stabilization of 421 Purcell, two commercial properties on Warsaw Avenue, along with two East Price Hill commercial structures.
Lower Price Hill | LPH Thrives
The Landbank also invested nearly $300,000 to stabilize several buildings in Lower Price Hill in 2015, and are proud now that they are part of a project to bring nearly 50 units of quality, affordable rental housing to the neighborhood and create three new storefronts for community-based businesses. The Landbank sold the properties to the community at a very reduced price. Both actions by The Landbank were critical in helping to navigate a complicated financial structure to keep the project moving forward.
Seven Hills Neighborhood Houses
West End Community Council
Habitat for Humanity Greater Cincinnati
Auburn CDC
Core Resources
ADC
City of Cincinnati
Fifth Third Bank
Cincinnati State
Price Hill Will
Community Matters
Community Learning Center Institute
OTR Community Housing
The Hamilton County Department of Community Development and Planning
Equitable Renewal | The Port's 2020 Impact Report
More from The Port's 2020 Impact Report: