Impact 2020: The Port acquires, cleans, and maintains nearly 1,000 properties throughout the city and county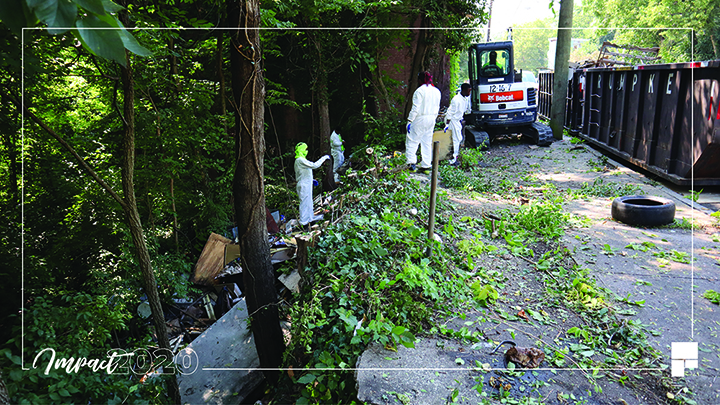 Story By: Mikhaela Renner, The Port's Communications & Marketing Team
Prior to the Hamilton County Landbank's inception in 2012, there was no organization, public or private, that was equipped to take ownership of the thousands of run-down, vacant properties throughout the city and county.
When the Landbank acquires these properties, they have been abandoned for many years and are often in an advanced state of decay. During their years of vacancy, these properties become temporary homes for animals, squatters, crime, and other community nuisances. This is where the Landbank comes in.
Acquiring and caring for Landbank properties
The unique powers of the Landbank enable it to address problems caused by vacant, tax-delinquent properties in disrepair. Many of these properties are owned by out-of-town investors, so when the Landbank acquires one of these problem properties, it is going into the hands of a local entity who cares about being a good neighbor and adhering to city building codes.
Ron Shouse, Real Estate Facilities Manager for The Port and Landbank, evaluates each property the Landbank acquires and enters it into its database for tracking. The Landbank then assigns each property to a contractor who will cut the grass and email photos to the Landbank. If a property has a structure on it, the Landbank secures windows and doors within 48 hours with plywood and padlocks.
"We want to be good neighbors to the people living next to our properties," shared Shouse. "Our goal is to keep these properties safe and prevent anyone from entering them as well as to prohibit criminal activity."
The Landbank provides literature to surrounding neighbors with its mission and contact information so they can report potential problems, such as illegal dumping, or apply to purchase adjacent land. This provides neighbors with a sense of safety and accountability. If they call The Port to report a problem, it is resolved within 24-48 hours. Every property the Landbank takes on is money saved for taxpayers – the Landbank spends nearly 20% of its budget maintaining properties throughout the county.
The Landbank also takes pride in its commitment to growing women-owned, minority-owned, and small businesses, which typically have high numbers of minority and disadvantaged employees - demographics that were more severely affected by unemployment during the pandemic. The Landbank was able to keep its job sites open during 2020, providing safe and steady work for contractors. The Port and Landbank provide predictable purchasing volume, prompt payments, and mentoring when asked, providing companies with steady work and a reliable income.
The Landbank also adapted its business practices to prevent the spread of the corona virus, with contractors primarily working outdoors and following masking and social distancing requirements on job sites. The Port estimates it had more than 140 people working at job sites across all business lines. It has been essential for us to provide stability to these companies during these challenging times.
And the need for the Landbank continues. Many communities The Port works in have seen a return of private investors and are in a developmental upswing, while other areas are still struggling with blight, vacancy and abandonment. These are the areas where The Port and the Landbank continue to focus their efforts and are dedicated to being a good neighbor for many years to come.
The City of Cincinnati
Cincinnati Police Department
More from The Port's 2020 Impact Report: