Impact 2020: The Port plays major role in one of the largest development projects in Cincinnati's urban core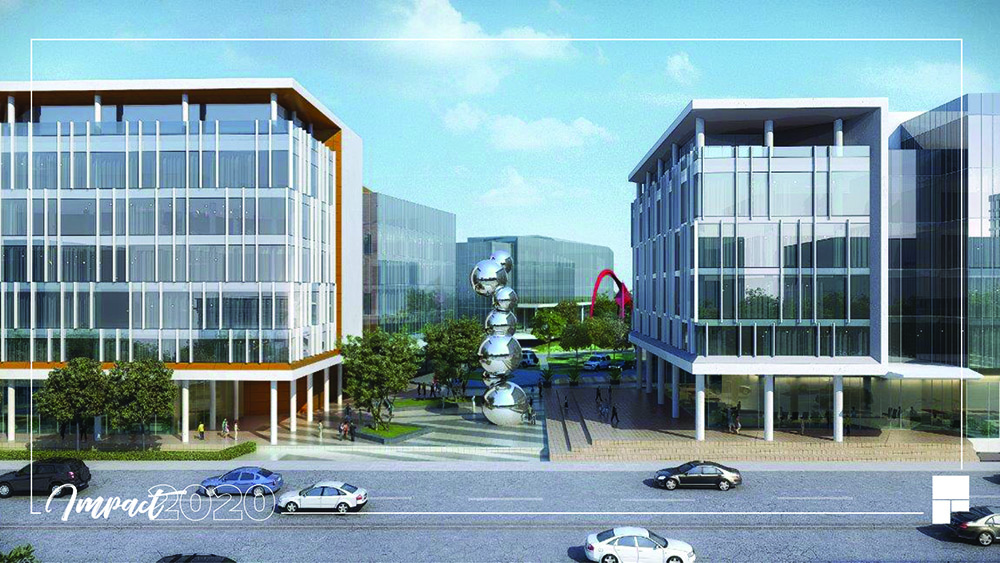 Story By: Tom Millikin, The Port's Communications & Marketing Team
In early January 2020, The Port rang in the New Year by issuing bonds to assist with the financing of the first phase of development for part of the Uptown Innovation Corridor, a 65-acre innovation and technology hub headlined by a noted research university and nationally ranked medical centers. The Corridor provides companies the connections and partnerships required to accelerate innovation.
The developers, a joint venture between Terrex Development and Construction and Messer Construction, requested The Port's assistance to finance the first phase of the project by issuing Tax Increment Financing (TIF) and Lease Revenue Bonds.
The Port issued more than $48,000,000 in Special Obligation Development TIF Revenue Bonds to finance the construction of a 1,400-space parking garage and podium to support two new office buildings. The first building is 190,000 SF and pre-leased to the University of Cincinnati for their Digital Futures Building. The second is a 180,000 SF speculative building. Last Fall, The Port entered into two capital leases issuing two tranches of Lease Revenue Bonds for the construction of the two office buildings. The Capital Lease acts as an important economic development tool as the structure provides a subsidy by eliminating sales tax on construction materials.
When complete, the Uptown Innovation Corridor will be a mixed-use development including office buildings, a hotel, parking, along with hospitality and retail businesses.
In total, the garage, two office buildings and hotel are expected to create more than 1,000 jobs with an annual payroll of $48 million.
The Port's Role  
Issued TIF Revenue Bonds and provided Capital Leases
What's New?
Initially, the innovation park will include:
Two office buildings totaling 370,000 SF
160 room hotel
1,400-space garage
Total Project Cost
Approximately $200,000,000
Terrex Development & Construction
Messer Construction
More from The Port's 2020 Impact Report: