Impact 2020: The Port partners with Habitat for Humanity of Greater Cincinnati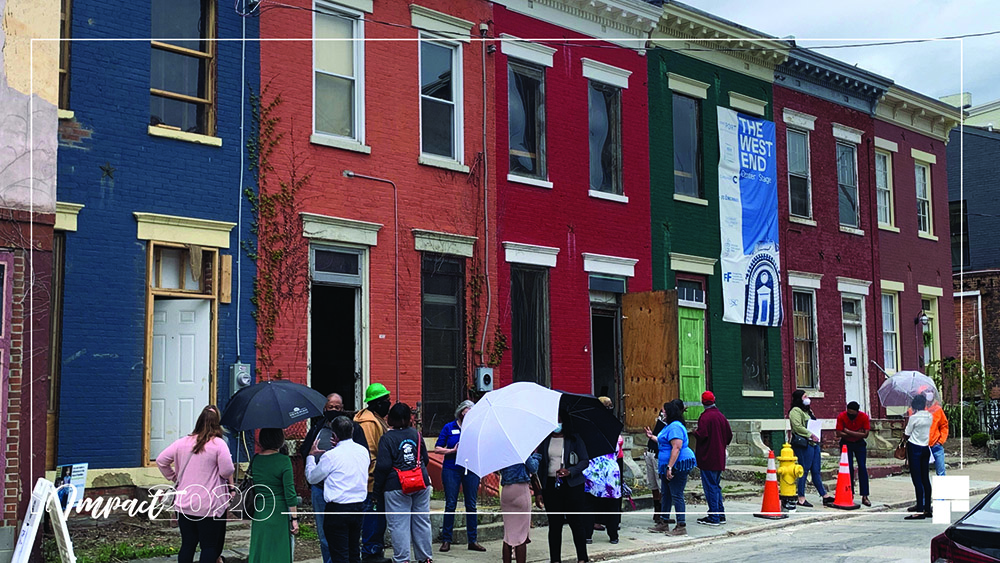 Story By: Mikhaela Renner, The Port's Communications & Marketing Team
A key component of The Port's work is partnering with communities to understand the needs of a neighborhood. The Port's partnership with Seven Hills Neighborhood Houses (SHNH) serves as a critical connection to the community, and combined with the housing study completed in 2019, will continue to inform and guide stabilization and development work in the West End.
The Port began acquiring six historic row houses located on Baymiller Street in 2017. Built in the late 1800's and early 1900's, these homes were in a serious state of disrepair. The Landbank partnered with the City of Cincinnati and stabilized all six properties in 2018 through its Historic Stabilization Program, which is designed to save iconic, historic architecture from the brink of demolition and preserve them for future use. Now that they are stabilized, two of the homes located at 1803 and 1807 Baymiller are being rehabbed by Habitat for Humanity of Greater Cincinnati. Habitat is working with selected, qualified home buyers, giving them an opportunity for home ownership in this historic community. Habitat's professional construction staff is leading the work, supported by skilled subcontractors, the homebuyers, and volunteers.
The partnership between The Port and Habitat for Humanity on Baymiller is the latest collaboration between the two organizations. The Hamilton County Landbank, a managed entity of The Port, serves as a pipeline of properties throughout Hamilton County to fuel Habitat's critical work. The Landbank has sold over 30 properties to Habitat for $1,000-$1,500 and is holding over a dozen properties for future transfer. In addition, the Landbank has demolished blighted structures to make way for new construction and stabilized other structures for rehab.
Partnerships create impact
Thanks to its collaboration with Seven Hills Neighborhood Houses, the West End Community Council, LISC Greater Cincinnati, Habitat for Humanity of Greater Cincinnati, FC Cincinnati, and many more, The Port was able to make a positive contribution toward a healthier balance of affordable housing in The West End.
Habitat for Humanity
Seven Hills Neighborhood Houses
West End Community Council
LISC Greater Cincinnati
FC Cincinnati
More from The Port's 2020 Impact Report: