Industrial Revitalization Strategy
Repurposing existing urban industrial zones within transportation corridors to attract manufacturers where legacy losses have been greatest
$
PATIENT CAPITAL NOTES RAISED
$
CLEAN OHIO GRANT FUNDS MANAGED
Redevelopment for Job Creation
Competition is fierce in attracting and retaining businesses. One of the greatest challenges to recruitment and retention of manufacturing in Hamilton County, Ohio, is the lack of shovel-ready sites for expansion and new development. The I-75 corridor, historically home to some of the nation's greatest industrialists, sits largely underutilized, poorly configured, in need of remediation, and outdated for today's modern manufacturing standards. The Cincinnati Redevelopment Authority has established a manufacturing strategic framework for the long-term revitalization and re-industrialization of this critically important corridor -- to position our region to compete globally for a new wave of advanced manufacturing and in-shoring opportunities
Our studies provide insight into what happened to our region's manufacturing employment base. University of Cincinnati Economics Center research found from 1969 until 2015, the number of people in Hamilton County employed in manufacturing decreased 67 percent, from 145,987 to 48,748.  Between 1975 and 1995, manufacturing in Hamilton County dropped dramatically, from more than one-third to just one-fifth of the local economy—a loss of over 41,000 jobs and 59 manufacturing establishments.
Our manufacturing jobs left, but our talent, our desire to make things, and our inherent engineering prowess did not. A 2016 Manufacturing Attractiveness study conducted by national site selection expert Darin Buelow found that Cincinnati has an advantage in the presence of industrial engineers, machinist and tool / dye makers; as well as a large supply of lower skilled production workers, giving the area a talent proposition to attract manufacturing deployments.
Reposition and prepare underperforming industrial sites along key transportation corridors for high-impact, next-generation industry to attract investment from companies and create family-supporting industrial jobs.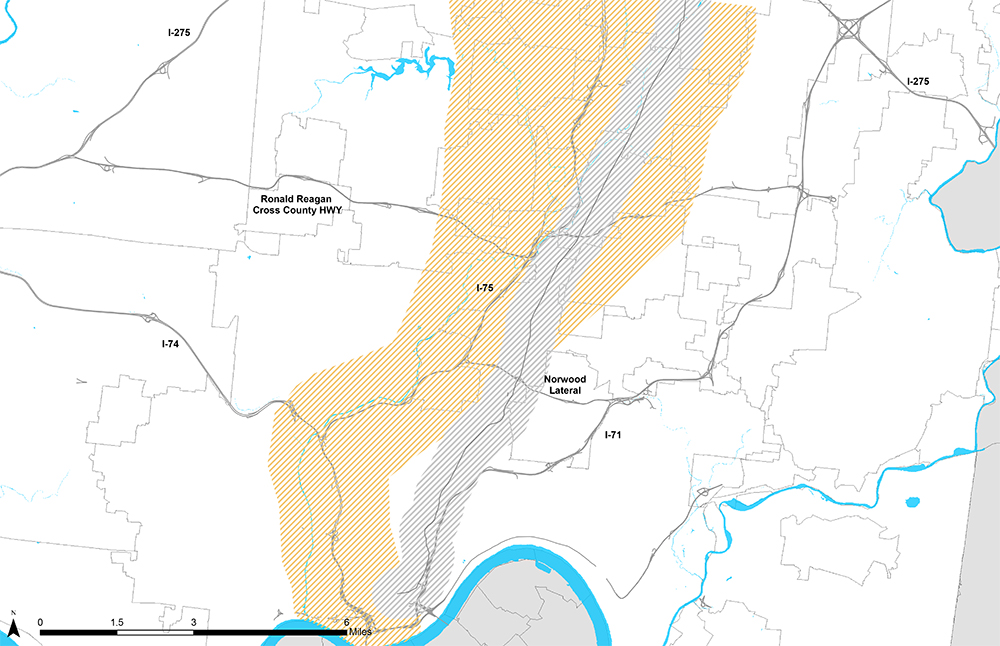 With a focus on existing urban industrial zones within key transportation corridors, the Redevelopment Authority will position replacement industries where legacy losses have been greatest, using four key strategies:
Secure public ownership of land to ensure its impactful return to the local economy
Reposition and prepare 500-acres of underperforming industrial real estate
Facilitate private investment for the construction of 8 million square feet for next-generation industry
Facilitate creation of 8,000 family-supporting jobs that are accessible to a diverse workforce
"Hamilton County is an urban county and has lost a significant portion of its manufacturing base over the past several decades. However, we believe we are well-suited to build on our existing strengths and to leverage our anchor institutions to reposition many of these former sites to replace these important companies and jobs."
Chris Monzel
Hamilton County Commission
Completed "Made in Hamilton County," a comprehensive study of Hamilton County historic and present-day economic impact from manufacturing, and a projection of return on investment from the creation of job-ready advanced manufacturing sites.
Completed "Manufacturing Attractiveness Study."
In 2016, purchased 75 acres located in key industrial corridors for redevelopment.
Raised $8.8 million from social impact investment to fund the acquisition of underutilized urban industrial sites to be repositioned for advanced manufacturing. These job-site development, fixed-income social impact notes are part of the Redevelopment Authority's overall funding plan.
Awarded $2.2 million from a JobsOhio pilot grant program to fund redevelopment of underutilized property to increase large-site inventory and ability to meet demand by next-generation manufacturing operations; awarded a $2.0 million match by Hamilton County.
Expanded Southwest Ohio Regional Bond Fund to finance energy efficiency projects securing loans through PACE mechanism.
Encourage community leaders and elected officials in Ohio to make "ready to build" land a priority in 2017 and specifically target urban manufacturers.
Build awareness that increasing the availability of developable sites in the near term will have a decidedly positive impact on Cincinnati's ability to land transformative manufacturing investments.
Create a sustainable source of funding for property acquisition; assemblage; remediation and preparation.
See our Industrial Revitalization Projects