Impact 2020: DREAM Loan Fund supports the expansion of two businesses into East Walnut Hills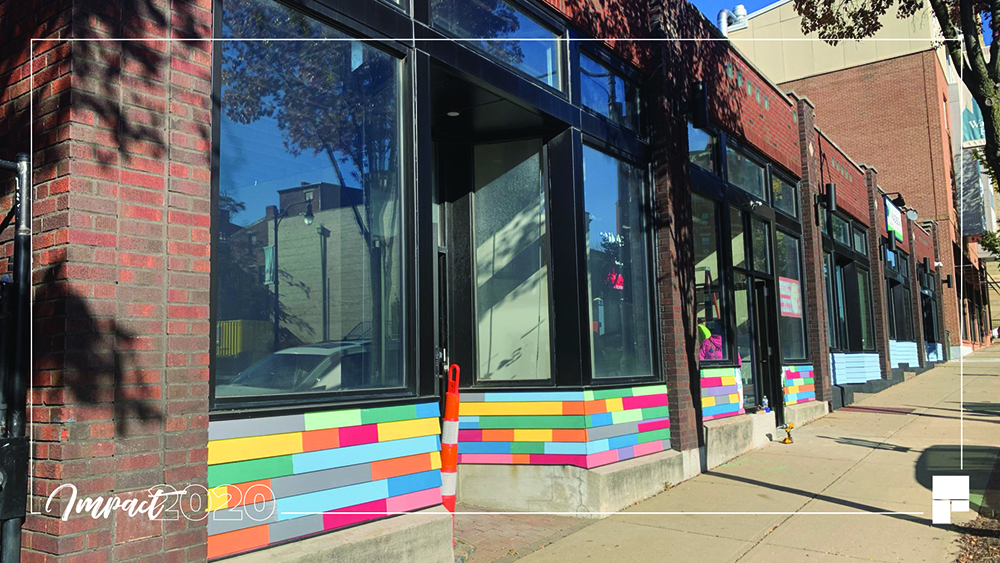 For many small businesses setting up a brick and mortar location, there is a financing gap for "tenant improvements" – or everything that goes into transforming an empty storefront space into a functioning business – equipment, furniture, finishes, signage, and more. Unfortunately, this cost is often not covered by other small business financing avenues, leaving it up to the business to shoulder the investment upfront, deterring some small businesses from opening, moving, or expanding into quality locations. An innovative partnership between The Port and the Kresge Foundation offers a solution.
Background on the DREAM Loan Fund
The DREAM Loan Fund (Driving Real Estate to Accelerate Microenterprise) focuses on revitalizing neighborhood business districts and minimizing barriers for neighborhood entrepreneurs.
DREAM was born out of a partnership with The Kresge Foundation. The fund supports the revitalization of neighborhood business districts as part of The Port's strategy to create thriving business districts in historically disinvested neighborhoods. The DREAM Loan Fund is available to developers to help fill the financing gap for interior renovations, lowering the barrier to setting up a storefront for microbusinesses and entrepreneurs. The fund helps minimize barriers for neighborhood entrepreneurs while restoring community retail and commerce corridors with a focus on inclusivity and neighborhood-based businesses.
Through 2020, the fund has provided over $3,340,000 in loans, supporting 8 businesses.
East Walnut Hills Rainbow Building
The Rainbow Building in East Walnut Hills, whose nickname comes from an eye-catching mural across the row of storefronts, is adjacent to De Sales Corner at the intersection of Madison and Woodburn. In spite of the building's proximity to the neighborhood's thriving business district, the Rainbow Building has been vacant for over 30 years and was identified as a source of blight by East Walnut Hills leadership. In 2016, the Walnut Hills Redevelopment Foundation (WHRF) purchased the building and renovated the facades utilizing funding from the City of Cincinnati's Neighborhood Business District Improvement Program (NBDIP). Working with Urban Fast Forward to market the spaces, WHRF is utilizing financing from The Port's DREAM Loan Fund to whitebox and renovate two storefronts for local businesses.
Profile of Dentistry on Madison
Dentistry on Madison, owned by East Walnut Hills resident Dr. Sara Siefring, is the first business moving into the Rainbow Building. Dr. Siefring is bringing her years of experience with another local practice to launch her own business in her neighborhood. The woman-owned Dentistry on Madison opened in 2021 with the goal of 'truly serving the local community and its diverse dental needs.'
East Walnut Hills residents have expressed a desire for an ice cream shop in their business district, and Hello Honey's expansion into East Walnut Hills will bring small-batch, unique flavors to fill that need. The husband and wife owned business started in 2012 in Downtown Cincinnati, and in 2020, began looking for a second location to expand their business. A 700 square foot space in the Rainbow Building fit the bill perfectly. Brian and Nitima Nicely were exploring multiple neighborhoods when they were reintroduced to East Walnut Hills by the East Walnut Hills Assembly. Brian Nicely talked about the perfect fit for them in a recent CityBeat article - "We had been looking for a space to do a second location for some time, and we both knew we wanted to be 'the' neighborhood ice cream shop for whatever part of town we landed in."
Kresge Foundation
Walnut Hills Redevelopment Foundation
East Walnut Hills Assembly
City of Cincinnati
Urban Fast Forward
More from The Port's 2020 Impact Report: