Melissa Johnson named as a 2015 Forty under 40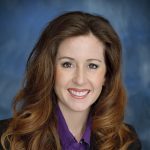 The Business Courier announced this year's class of Forty Under 40 winners and honored them at a luncheon event on Sept. 22 at Cincinnati's Music Hall. The Port Authority's Melissa Johnson, Director of Industrial Development and Logistics, is among this year's winners.
Forty Under 40 recognizes Greater Cincinnati's next generation of young leaders and innovators — people who have already made a mark professionally and in the community.
Melissa directs industrial redevelopment for the Port Authority, and the day to day management, business development and compliance initiatives for the region's Foreign Trade Zone program. She orchestrated the expansion of the regional Ohio River port district, which was approved this year by US Army Corps of Engineers.
"Melissa has worked to gain specialized expertise and technical mastery that has created a unique public sector economic development skillset," according to Lynn Marmer, Chair of the Port Authority Board of Directors. "Her leadership on a multitude of complex, multi-phased remediation and redevelopment projects results in careful stewardship of public resources and high value return to the community."