Landbank awarded Ohio Neighborhood Initiative Program grant
Neighborhood Initiative Program
The Hamilton County Landbank, managed by the Port of Greater Cincinnati Development Authority, will receive nearly $5.1 million in funds from the Ohio Housing Finance Agency's Neighborhood Initiative Program, to help stabilize local property values and revitalize neighborhoods through the demolition of vacant and blighted homes.
Statewide, the agency will award up to $50 million to 11 county landbanks in Ohio through its federal Neighborhood Initiative Program (NIP).
The program requires that landbanks establish Target Areas in which the demolition of abandoned homes, followed by maintenance and greening of the resulting lots, will assist in preventing a further reduction in property values of neighboring occupied residential homes.  The Hamilton County Landbank partners with communities to identify probable nuisance and blighted properties, and can acquire properties through the tax foreclosure process.
For the NIP, the Landbank has classified their Target Areas as follows:
Target Area A includes the Cincinnati neighborhoods of: Walnut Hills, Avondale, Evanston, Bond Hill, and Roselawn.  Additionally, it contains three independent jurisdictions, the Village of Elmwood Place, the City of St. Bernard, and the City of Norwood.
Target Area B contains the Cincinnati neighborhoods of Lower, East, and West Price Hill, South Fairmount, North Fairmount, English Woods, Camp Washington, South Cumminsville, Northside, and College Hill. This target area contains both tipping point neighborhoods, revitalization areas, and a few spot redevelopment areas.
Target Area C contains multiple independent suburban jurisdictions within Hamilton County, including: Springfield Township, North College Hill, Mount Healthy, Wyoming, Lincoln Heights, Lockland, and a large portion of Colerain.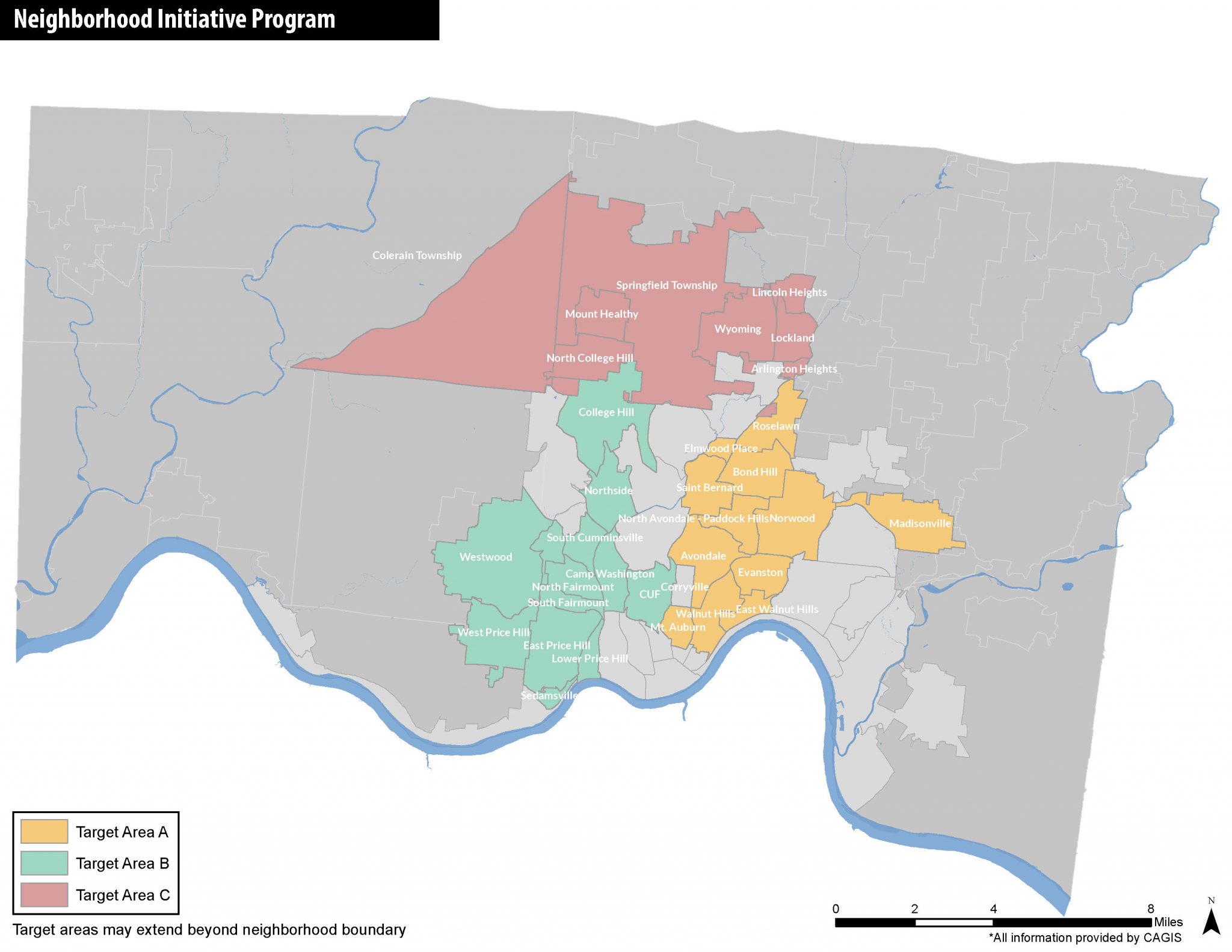 By including the spectrum of neighborhood conditions from revitalization neighborhoods to tipping point neighborhoods, the Landbank will be able to ensure that the tipping point neighborhoods remain stable, and will work toward halting downward trends found in revitalization neighborhoods. Similar to Moving Ohio Forward, with each Target area, the Landbank will engage with these neighborhoods as community partners, and is working closely with the City of Cincinnati and local development entities.  The Landbank has until 2016 to complete work under the NIP.