Top Ten Properties Sold by the Hamilton County Landbank in 2018
Vacant and abandoned properties are now being transformed into new homes, gardens, multi-family developments and even soccer fields after being disposed by the Hamilton County Landbank. Many counties are utilizing land banks to return zombie properties, a result of the foreclosure crisis and Great Recession, back to life. The 54 land banks established in Ohio are dedicated to the public purpose of reclaiming, rehabilitating and reutilizing economically non-productive land. In 2018, the Landbank sold 112 properties through its various programs in Hamilton County.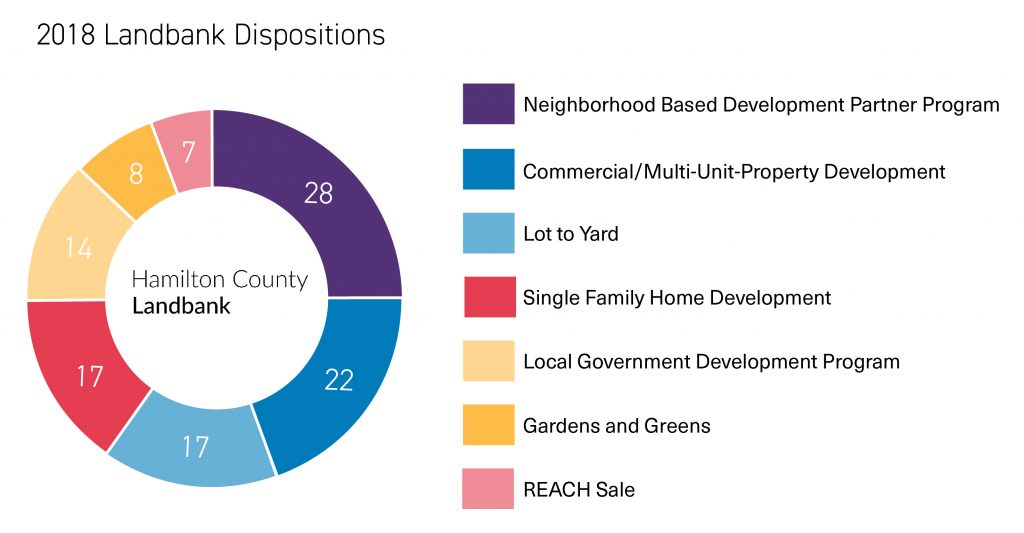 ---
"Each property on the Top 10 list represents our collaboration with community, nonprofit and government partners. These combined efforts, along with the powerful Hamilton County Landbank tools, have allowed us to take possession of troubled properties, stabilize any hazards, clear the titles and put them back to good use for the community as a whole."
~ Rob Goering, Chair, Hamilton County Landbank Board of Directors

---
The Top 10 properties were selected by the Landbank staff because they represent an interesting story, they are inextricably linked to people whether they are neighbors, students or government officials. These properties are in a variety of Hamilton County neighborhoods and showcase the programs the Landbank uses to dispose of the properties it has acquired. The properties are not listed in a particular order or ranked but each has a compelling story about how it will be transformed from being blighted and abandoned into a home, yard or community asset by a dedicated individual or organization.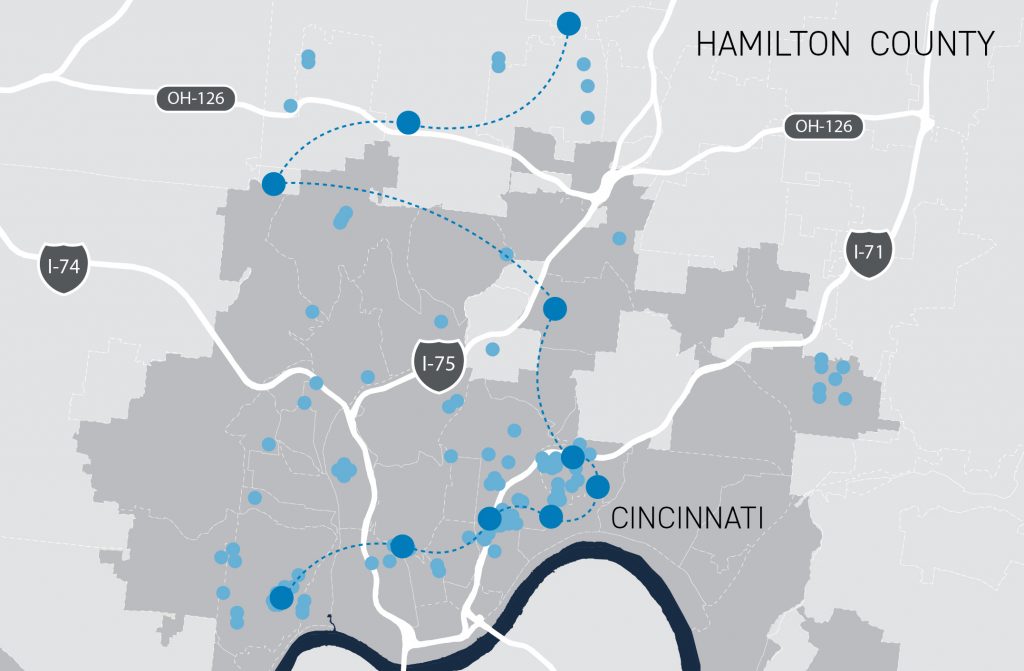 ---
Woodward Career Technical High School Students Gain Construction Skills in Bond Hill
Future / New Purpose: Two new infill single-family homes built by Woodward Building Technologies Academy at 1203 Ryland Avenue
Program: Single Family Home Development
Senior high school students in the Woodward Building Technologies Academy, under guidance from Woodward Career Technical High School faculty, Allied Construction Industries (ACI) and their members, are building two homes on Ryland Avenue in Bond Hill. The Hamilton County Landbank acquired from the land for the homes from the forfeited land list and sold it at a nominal price to bring "Constructing a Pathway out of Poverty" to life.
The objective of "Constructing a Pathway out of Poverty" is to sell the first two homes to fund additional new construction projects. The students hope to prepare the house for a veteran or senior member of the community and are working with Warsaw Federal Savings & Loan to receive applications from potential buyers. The Port and Woodward Career Technical High School worked together previously – bringing students in to help shutter Jordan Crossing in Bond Hill – and the partnership is expected to continue as the "Constructing a Pathway out of Poverty" program grows.
---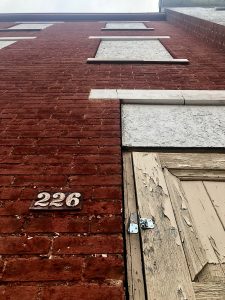 Historic Over-the-Rhine Properties Will House Co-Living Spaces
Future / New Purpose: Co-living apartments
Program: Multi-Unit, Multi-Property and Commercial Development
Kunst Development purchased 222 and 226 Mohawk from the Multi-Unit, Multi-Property and Commercial Development program of the Hamilton County Landbank, which acquired the tax forfeited properties in late 2015. Kunst plans to redevelop the historic structures, built in 1865, into six co-living apartments. In December 2018, the Ohio Development Services Agency (ODSA) awarded $227,000 in Ohio Historic Preservation Tax Credits for the projected $1,159,770 revitalization. Kunst expects to begin construction on the buildings, which feature views of downtown, in 2019 and complete them in 2020. More information about Kunst's co-living developments is available at www.kunst.us.
---

New Habitat Home at 2128 Lincoln in West College Hill / Springfield Township
Future / New Purpose: New infill single-family home built by Habitat for Humanity
Program: Community Partner Program
Habitat for Humanity Greater Cincinnati acquired a property near 2128 Lincoln in order to build a quality, affordable home for a family but discovered that lot wasn't suitable due to geotechnical concerns. A long-term community partner of the Hamilton County Landbank, Habitat inquired about 2128 Lincoln in August and purchased the property in December 2018.
"When the first lot fell through, we needed to find a new property quickly. We identified 2128 Lincoln as an alternative and obtained it through the Landbank," shared Adam Nelson, who handles Property Acquisition and Design at Habitat. "The site survey and site plan are underway, we expect to submit for our permits within two weeks of receiving the survey and plan. We hope a new family will be enjoying their first Thanksgiving dinner in the home later this year." Habitat has six homes under construction or recently finished in the neighborhood.
Habitat, The Port and the Landbank have been key partners with Hamilton County Planning + Development (HCP+D) and Springfield Township in developing the West College Hill Renewal Plan. Springfield Township received a mini-grant from HCP+D to develop a plan to identify properties in West College Hill for rehabilitation, demolition, acquisition, re-plating, determine site improvements to reconnect the grid system and determine funds needed for these tasks.
---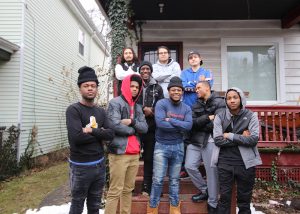 1985 Kinney in Evanston Provides Construction Apprentice Training for Youth
Future / New Purpose: Single-family home rehabbed through training program
Program: Single Family Home Development
Easterseals TriState (ESTS) sold its first YouthBuild home at 1710 Brewster Avenue in 2018 and a second cohort of 20 apprentices are learning new skills and rehabbing 1985 Kinney Avenue into a home. ESTS acquired both homes through the Hamilton County Landbank. The YouthBuild training program helps youth, who face barriers to academic and employment success, acquire construction skills and provide affordable housing throughout the country.
1985 Kinney Avenue was built in the early 1900s. After the owner passed away, his daughter wanted to donate the property to the Landbank. The Landbank acquired the property through an expedited tax foreclosure requested by the owner's daughter. ESTS plans to have the home on the market by June 2019!
---
Former Walnut Hills Resident Returns to Neighborhood to Rehab Historic Property
Future / New Purpose: Rehabbed single-family home and adjacent garden
Program: Single-Family Home Development, Gardens and Greens
2233 Symmes, a more than 115 year old home, was added to the forfeited land list in October 2017 after sitting vacant and becoming blighted over many years. In April 2018, the Hamilton County Landbank acquired the property. The Port's redevelopment team determined the home was too architecturally interesting and historically significant to be torn down but lacked the funds to rehab or stabilize it.
Jullian Smith, a skilled carpenter, former roofer and employee of General Electric Aviation Co., who grew up in Walnut Hills was looking for a rehab project to become his home and return to the neighborhood. He shared in his application to purchase the property, "Although its current condition is rough, with time and craftsmanship, the home's integrity can be restored to its former glory. I hope the revitalization will positively impact the surrounding community."
Mr. Smith also acquired 2235 Symmes, a vacant parcel owned by the Landbank that is too small for development, through the Gardens & Greens program, adding yard space for his adjacent home.
---
With Landbank Demolitions, City of Wyoming Plans Athletic Field Expansions
Future / New Purpose: Recreation Center athletic fields
Program: Government Partner Program
The City of Wyoming is a government partner of the Hamilton County Landbank. Wyoming's Master Plan, a ten year plan that guides the growth and development of the community was adopted in April 2018, includes a vision for the Wyoming Recreation Center Complex. Wyoming purchased a former YMCA facility in 1998 and has continued to make exterior and interior enhancements to the Rec Center. Parks and recreation amenities are a high priority in the Master Plan. To meet growing demand and expand the athletic fields, Wyoming began negotiating the purchase of three acres of property on Springfield Pike (9888 and 9932) adjacent to the Rec Center in 2010 and completed the purchase in 2013.
Once Wyoming acquired the property, it was donated to the Landbank; funds from the Ohio Housing Finance Agency were used to demolish the structures on the properties and it was returned to the City of Wyoming in 2018. The three acres is currently being used by youth soccer teams while Wyoming works to finalize the ultimate use and begins the design process for the property. Wyoming has applied for a grant from the Ohio Department of Natural Resources (ODNR) Land and Water Conservation Fund to help fund improvements to the site.
---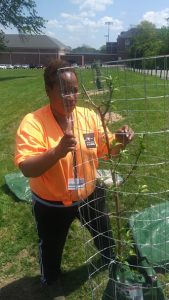 Nonprofit's Garden Will Bloom in Evanston in 2019
Future / New Purpose: New educational garden for children
Program: Gardens and Greens
Hope Johnson Gordon has turned her passion for gardening into a profession through her job with Cincinnati Public Schools and Hopes Fulfilled, Inc., the nonprofit she and her husband Alphanso Gordon, who also loves gardening and farming, run in their free time. Gordon developed a new agribusiness course on gardening and urban agriculture available to ninth graders at Withrow University High School.
In September 2018, Hopes Fulfilled acquired 3507 Bevis through the Landbank's Gardens & Greens program, which transforms vacant lots into gardens or community green space. Johnson plans to cultivate the land to educate children from Withrow and the Evanston neighborhood about gardening, food deserts and sustainable urban agriculture.
---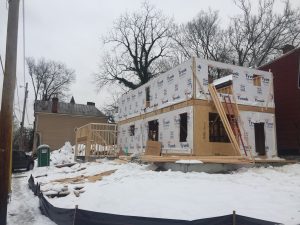 Single-Family Home Developer Brings New Construction to East Walnut Hills
Future / New Purpose: Two new infill single-family homes and one rehabbed single-family home
Program: Multi-Unit, Multi-Property and Commercial Development
Many of the properties that the Landbank acquires have been vacant and abandoned for many years. As a result, they often have environmental issues like asbestos and lead that must be remediated before rehab or demolition. 2944, 2948 and 2952 Hackberry were acquired by the Landbank in 2014. Through the Neighborhood Initiative Program, a demolition grant program administered by the Ohio Housing Finance Authority, the Landbank demolished 2944 and 2952 after asbestos was abated.
Marbro Properties, a rehab and new construction real estate company with development experience in Over-the-Rhine, Oakley and Pendleton, acquired the properties from the Landbank in April 2018 through the Multi-Unit, Multi-Property and Commercial Development program. The property sale was submitted to and approved by The Port's community partner, the Walnut Hills Redevelopment Foundation. Marbro and Mike Brown Construction LLC will build new construction four bedroom, three and a half bath homes on 2944 and 2952 and the existing home at 2948 Hackberry will be rehabbed. Returning these properties to productive use brings residents to the neighborhood and Hamilton County.
---
Adjoining Neighbors Expand Yards with East Price Hill Property
Future / New Purpose: New side yards for local residents
Program: Lot to Yard Program
750 McPherson suffered significant fire damage and was donated to the Landbank in December 2016 in an extremely blighted state. The home was demolished under the Neighborhood Initiative Program (NIP). The neighbors on either side of the lot applied to acquire the property in order to expand their yards. The Landbank team was able to split the lot between them giving the neighbors the opportunity to take a formerly underused and unsafe property and return it to productive use.
---
Former Swim Club Will become Housing for People with Disabilities
Future / New Purpose: New independent living units
Program: Government Partner
Springfield Township approached the Landbank about acquiring the former Brentwood Swim Club, 8476 Cottonwood, when it was pending tax foreclosure by the Hamilton County Prosecutor. When the Landbank assessed the property in January 2018, it had been abandoned and the fencing surrounding the pools was not secure, leaving an open swimming pool with frozen water accessible to the public. The Landbank acquired the property through expedited tax foreclosure. In October 2018, the property was sold to the Housing Network of Hamilton County, Inc. for a nominal price.
Founded in 1992 by Hamilton County Developmental Disabilities Services, The Housing Network of Hamilton County assists people with developmental disabilities who may experience difficulty in locating an affordable and accessible home that meets their needs and allows them to be a part of their community. The Housing Network expects to begin demolition soon and plans to build four one-bedroom units that are accessible and completed in late 2020/early 2021.
---
"Our team is dedicated to finding the best use and most viable ownership for the properties we sell."
~ Jessica Powell, Vice President of the Landbank
---
The Port manages the Hamilton County Landbank, acquiring vacant, abandoned properties throughout Hamilton County. We work with rehabbers, developers, residents, community development corporations (CDCs) and municipalities to put the properties back into productive use and improve communities one property at a time.