The Port and The Greater Cincinnati Realtist Association Announce Historic Partnership to Increase Homeownership in Hamilton County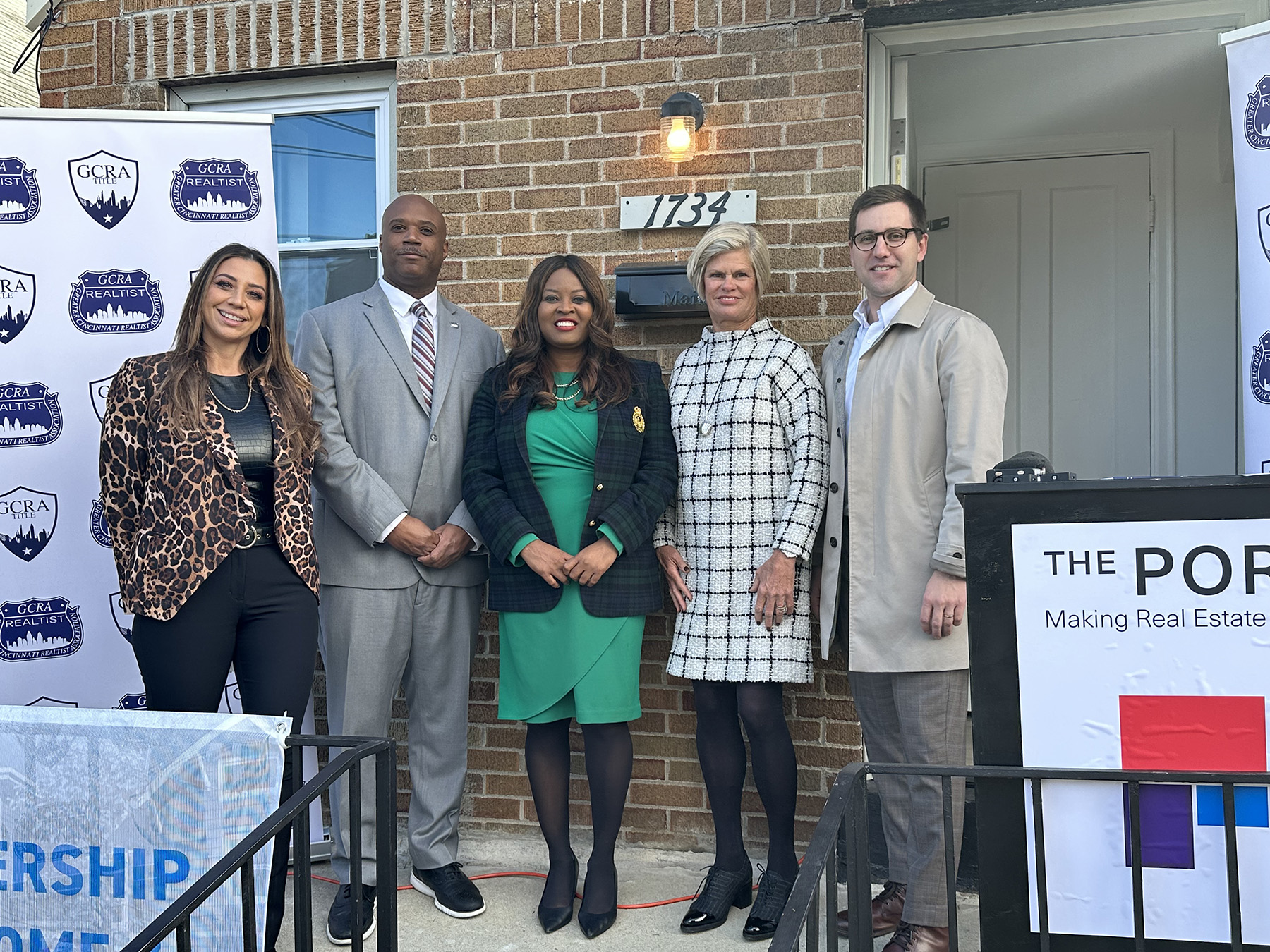 FOR IMMEDIATE RELEASE
November 16, 2023
The Port and The Greater Cincinnati Realtist Association Announce Historic Partnership to Increase Homeownership in Hamilton County
Cincinnati, OH, November 16, 2023 – In front of a standing room only crowd, The Port of Greater Cincinnati Development Authority (The Port) and the Greater Cincinnati Realtist Association (GCRA) today announced a historic partnership to positively improve homeownership rates in Hamilton County.
Leveraging inventory of The Port's CARE Homes, a contract was finalized providing a percentage of the rehabbed affordable houses to the Realtist Association to be marketed and sold to local buyers.
"When The Port set out on the mission to acquire this portfolio of 194 single-family homes, we did so well aware of the risks," said Laura Brunner, President and CEO of The Port. "But our vision of protecting local residents from the rising costs of rent, unwarranted threats of eviction, and frequently ignored maintenance requests far outweighed the uncertainty of the acquisition. We're improving quality of life in our neighborhoods. And we're creating a pathway toward generational wealth, one of the primary benefits of owning real estate. Now, our partnership with the Realtist Association spreads our message and reach that homeownership is an achievable possibility for all."
The goal of the CARE Homes portfolio is to make high quality improvements to single family homes and make them affordably available to local buyers. The mission of the GCRA is to secure equal housing opportunities for all Hamilton County residents, regardless of race, creed, or color. With the GCRA involved, The Port is optimistic both entities will succeed positively transforming homeownership rates in the community, especially as it pertains to minority and first-time prospective buyers.
"GCRA is extremely excited to be in partnership with The Port," said Darrick Dansby, President of the Greater Cincinnati Realtist Association. "We view this partnership as an opportunity to dramatically increase the Black homeownership rate in Cincinnati. First time homebuyers are unable to compete in this low inventory market. This partnership allows our buyers a stronger chance at homeownership."
At the news conference announcing the partnership, Hamilton County Commission President Alicia Reece proudly lauded The Port and GCRA's collaboration as historic.
"History has been made in Hamilton County with the announcement of a historic partnership between the Greater Cincinnati Realtist Association and The Port," said Reece. "On April 12th, my office organized the first ever Government Day with the Greater Cincinnati Realtist at the County featuring a number of transformative workshops. That same day we passed our MBE/WBE and Small Business program. Today, the Realtist will now sell 25% of The Port's CARE Homes creating more viable pathways to equitable homeownership."
Low inventory has negatively impacted the housing market nationally, causing homes to close at prices well above their listing price. The sales prices of The Port's CARE Homes are at or below market rate in all neighborhoods, something different than what residents and financial institutions are seeing throughout the country. That is why The Port is collaborating with Fifth Third Bank from an appraisal and mortgage loan perspective to ensure local lenders are aware what the CARE Homes portfolio is to better understand how they can support prospective buyers with their financial products.
"Our commitment to Empowering Black Futures is real," said Nikki Bialka, VP, CRA Development Manager at Fifth Third Bank. "Just this week we announced that we have exceeded our initial 180 million commitment to nine neighborhoods that have historically suffered disinvestment, including Avondale. In just two years of the three-year commitment, we have invested more than $187 million across nine neighborhoods to support affordable housing, economic mobility, small business support, neighborhood revitalization, workforce development, financial access, and more and we are not done – we are extending our technical support through 2025 to ensure full implementation and sustainability. We understand the power in bringing together the community, housing counselors, developers like The Port, and trusted real estate professionals like the Realtists to develop and deliver solutions that work at a local level for the people from the community."
To date, eight CARE homes have been listed with the Realtist Association, with three already under contract. For more information about the CARE Homes program, contact housing@cincinnatiport.org. For information about working with the Realtist Association to purchase a home, contact president@greatercincinnatirealtistassoication.com.
###
About The Port:
The Port of Greater Cincinnati Development Authority (The Port) has been stimulating economic growth in Southwestern Ohio since 2001. The Port strengthens Greater Cincinnati communities home by home and block by block to increase homeownership, surround neighborhoods with revitalized business districts, and make forgotten industrial sites attractive again for manufacturers with high-paying jobs. The Port is laser-focused on providing jobs families can live on and homes they can afford in cleaner, greener, safer neighborhoods and business districts. The Port makes real estate work – for everyone.
For additional information, please visit http://www.cincinnatiport.org.
About The Greater Cincinnati Realtist Association:
The goal of the Greater Cincinnati Realtist Association is to bring together Cincinnati's minority professionals in the real estate industry to promote the meaningful exchange of ideas about our business and how best to serve our clientele. We strive to create an environment where creativity flourishes in both the workplace and the marketplace.
For additional information, please visit https://greatercincinnatirealtistassociation.com.
Visit our social media channels:
Twitter: @CincinnatiPort
Instagram: @cincinnati_port
Facebook: https://www.facebook.com/CincinnatiPort/, @CincinnatiPort
LinkedIn: https://www.linkedin.com/company/port-of-greater-cincinnati-development-authority/