Laura N. Brunner
President & CEO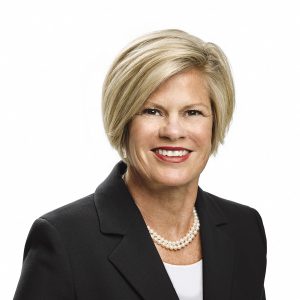 Laura Brunner is President and Chief Executive Officer of The Port, a public, mission-focused, quasi-governmental agency dedicated to expanding prosperity by repositioning real estate and creating value from land assets in a way that benefits everyone in Hamilton County, Ohio.
Since her appointment in 2011, Laura has leveraged her background in commercial real estate and public accounting to lead The Port in strengthening its platform to improve regional economic, social, and environmental conditions and foster greater economic mobility. Laura works closely with The Port's Board of Directors delivering on a three-pronged revitalization approach that guides its work – an innovative Public Finance practice that drives development; a holistic Neighborhood strategy that restores property to productive use and raises quality of life; and an urban Industrial revitalization initiative designed to create development-ready sites that support next-generation manufacturing to attract high paying jobs to our region. She launched an impact investing program to support these bold initiatives, creating a Patient Capital Note structure that raises private capital and a revolving loan fund to help distressed neighborhood business districts.
More recently, Laura led the unprecedented effort to keep the American dream of home ownership alive for many Cincinnatians by acquiring nearly 200 single-family homes previously owned by out-of-town investors who were renting these properties. The Port's intent in acquiring these homes is to create a pathway for homeownership.
Laura earned a bachelor's degree from Indiana University, and spent 15 years in the public accounting industry, achieving the status of partner at Barnes, Dennig & Co. She is the recipient of dozens of awards, including Cincinnati Enquirer Woman of the Year and the Merlin G. Pope, Jr. Diversity Leadership Award. She is also a board member of Cincinnati ArtsWave and the Queen City Club.
---