Walnut Hills
Neighborhood of Focus since 2013
The Port began collaborating with the Walnut Hills Community Council and Walnut Hills Redevelopment Foundation (WHRF) with input from the City of Cincinnati in 2013. At the community's request, The Port's early investment was in the Peebles Corner area with the renovation of existing homes and construction of new infill housing totaling nine homes sold through REACH. In 2018, two homes were rehabbed and one was sold by REACH while HURC began the renovation of another home. From transformative housing development to financing redevelopment of historic landmarks, The Port has led catalytic revitalization in this vibrant neighborhood.
---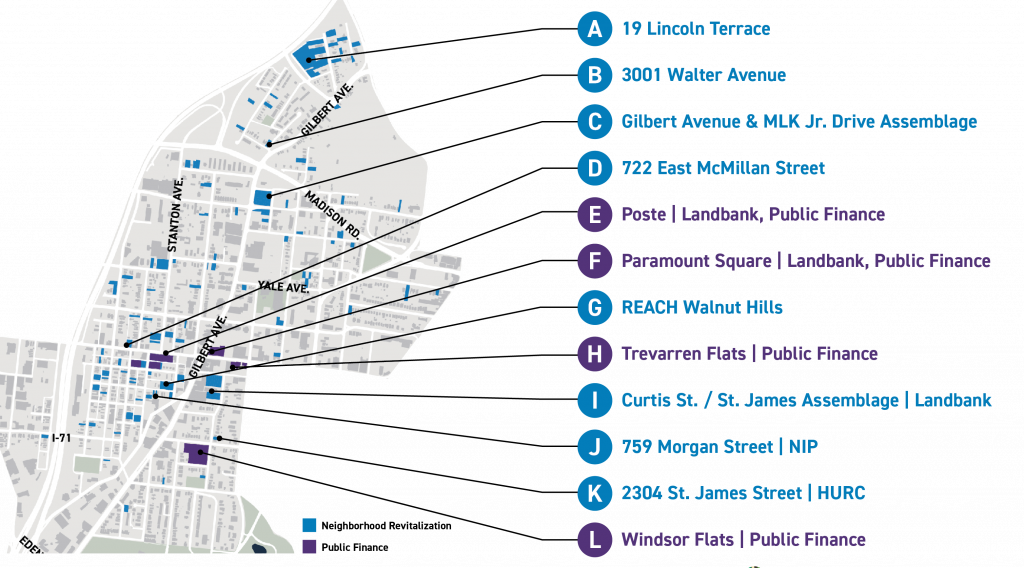 ---
A – Lincoln Terrace
19 Lincoln Terrace | NIP/Landbank Tools
The Landbank acquired this condemned, tax-delinquent property, and demolished the structures utilizing NIP funding.
B – Commercial Property
3001 Walter Avenue | Commercial
This commercial structure was acquired by the Landbank through the forfeited land list. Public ownership of this and other structures affords the ability to identify the right end user in alignment with the community plan.
C – Community Partner
Gilbert & MLK | Landbanking and NIP
Holding agreement for 18 properties totaling 1.5 acres; Landbank demolition of three structures through NIP.
D – Historic Stabilization
722 E. McMillan Avenue
This property in the McMillan Street Business District was stabilized in partnership with the City of Cincinnati.
755 East McMillan Street | Public Finance
Poste (formerly Firehouse Row) is an approximately $18 MM mixed-use development along Walnut Hills' East McMillan Street corridor. The Port is entering into a sale-leaseback arrangement with an affiliate of Milhaus Development, LLC as well as issuing up to $14 MM in taxable lease revenue bonds secured by rental payments under the lease. The Hamilton County Landbank also played a role through the acquisition and sale of three vacant, blighted properties on Wayne to the Walnut Hills Redevelopment Foundation.
900 East McMillan Street | Public Finance
Landbank acquisition of Paramount Building cleared the title and paved the way for ownership by Walnut Hills Redevelopment Foundation; The Port's ownership will bring savings from sales-tax exemption on construction materials; The Port's DREAM commercial real estate loan utilized for the buildout of Esoteric Brewery.
Morgan and Wayne | Housing
Initial phases focus on Morgan and Wayne including renovations of existing homes and construction of new infill housing. To date we have sold ten homes (six new-builds and four rehabbed homes) and have three homes underway.
H – Trevarren Flats
965 East McMillan Street | Stabilization & Public Finance
Stabilization of circa-1895 structure – a key building in the Trevarren Flats project which ultimately generated 28 jobs. $48,750 stabilization cost. Financed a portion of the tenant fitout of six storefronts through the DREAM loan fund.
I – Commercial Assemblage
2355 St. James Avenue | Landbanking
This formerly vacant lot was acquired by the Landbank in 2013. Structures on the site were demolished under Moving Ohio Forward, with the Landbank facilitating the demolition grant. The half-acre site was subsequently split and sold to two neighboring local businesses to enhance delivery access and provide parking.
J – 759 Morgan Street
NIP
The Landbank demolished this vacant and blighted structure utilizing NIP funding. This demolition is enabling the rehab of an adjacent single-family home through REACH Walnut Hills.
K – HURC PROGRAM
2304 St. James Street | Housing
HURC (Homesteading and Urban Redevelopment Corporation) takes residential properties and performs rehabs to provide homes to first-time, low and moderate income homebuyers.
937 Windsor Street | Public Finance
$10.6 MM project converting historic Windsor Elementary school into 41 market-rate apartments, and new construction of 50-apartment building and parking facility. The Port worked within a partnership to create cost savings for the developer, Core Redevelopment, allowing the redevelopment of this historic property, part of Walnut Hills' cultural legacy.
Technical Assistance | Advocacy
The Port has worked extensively with the Walnut Hills Redevelopment Foundation and The Model Group to acquire, assemble, and prepare sites for community-driven redevelopment in accordance with the Walnut Hills Plan. We have focused on creating opportunity for five minority-owned, micro-enterprise businesses to relocate to the McMillan Business Corridor.
Gallery