Evanston welcomes new family in former vacant, blighted house rehabbed through City NOFA & The Port Housing Revitalization Fund
FOR IMMEDIATE RELEASE: June 17, 2019
---

Vice Mayor Christopher Smitherman leads ceremony to celebrate first-time homeowners
CINCINNATI – Vice Mayor Christopher Smitherman joined representatives of the City of Cincinnati, Evanston Community Council, The Port, Hunn's Construction and project stakeholders in celebrating the rehab of a vacant house and its sale to first time homebuyer Carlos Alvarado and his fiancé, Sharon Ford, and their son helped cut the ribbon on the fully gutted and rehabbed home today.
The Homesteading & Urban Redevelopment Corporation (HURC) acquired 1654 Jonathan, a vacant, condemned property, and five others in Evanston for total rehabs, receiving $300,000 of City NOFA funding in 2017. HURC fully rehabbed the home, listed it and quickly sold the residence for $145,000 in June 2019.
"I join Mayor Cranley and Cincinnati City Council today in celebrating affordable home ownership in Evanston," said Vice Mayor Christopher Smitherman at the ribbon cutting celebration today. "The Port does work in Madisonville, on the west side, Bond Hill and all over our 52 neighborhoods bringing housing opportunities to good people. Having a range of housing options for people of various incomes helps keep communities healthy and I applaud Evanston and its residents for this."
A Holistic Approach to Neighborhood Revitalization in Evanston
City of Cincinnati Notice of Funding Availability (NOFA) funds hundreds of housing units throughout Cincinnati with a significant emphasis on affordable units. The HURC is dedicated to improving the quality of housing stock and increasing home ownership among first time, low and moderate income home buyers. Its work compliments The Port's holistic neighborhood revitalization of bringing a mix of housing options and commercial development to neighborhoods in Hamilton County.
"We feel so blessed to be on this path to being homeowners. This will be the first time my son has a backyard to play in. He can go outside and we won't have to worry about him," shared Sharon Ford. She, her fiancé Carlos Alvarado and their son are moving into the home.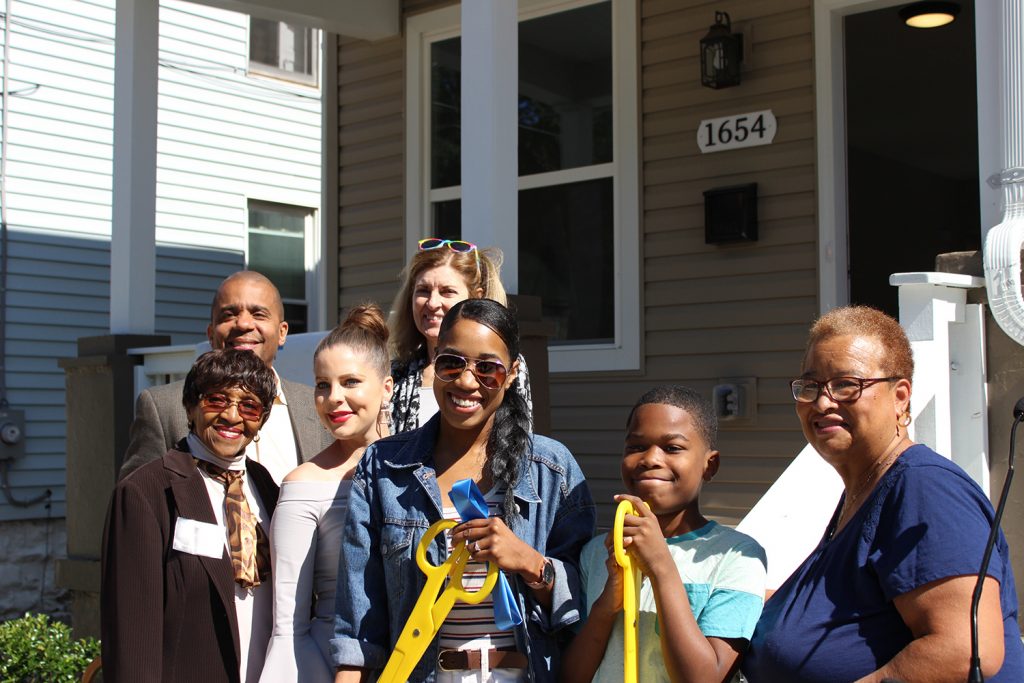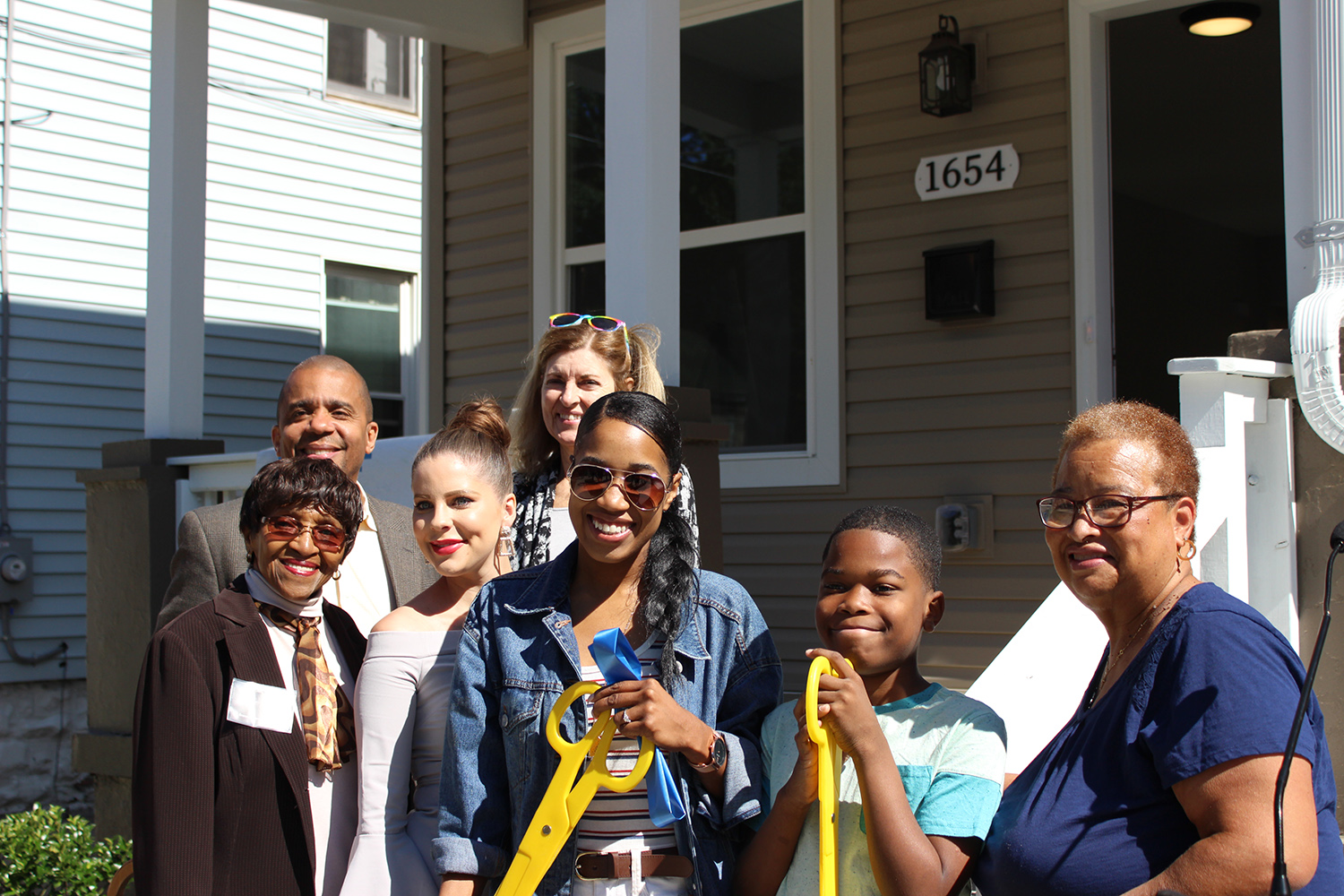 "Evanston is The Port's first focus neighborhood. We were invited into the neighborhood by the Evanston Community Council in 2013 and worked with the community to determine which areas needed our help the most," shared Laura N. Brunner, President & CEO of The Port. "We have focused on renovating blighted, vacant homes, creating safe walking routes for children around Walnut Hills High School and reviving the housing market in Evanston. HURC will bring six affordably priced homes to the market by 2020 year-end. Our future work in Evanston will be guided by the new community plan that is funded by the Hamilton County Landbank and being finalized this summer."  
Transforming Jonathan Avenue
Through The Port's collective efforts on Jonathan Avenue, of the 29 properties in the immediate vicinity, a total of three homes will be rehabbed and sold by HURC to new homeowners, one severely blighted house will be demolished by the Hamilton County Landbank and the Landbank is maintaining two properties and accepting applications for infill development – reducing blight and vacancy on the street by 21 percent and helping restore equity in the surrounding homes.

LISC Greater Cincinnati and the Greater Cincinnati Neighborhoods Housing Revitalization Loan Fund, established with a $1MM investment from the Greater Cincinnati Foundation, are providing funding for HURC's work rehabbing homes in Evanston and Price Hill.
"This is the kind of work that the Greater Cincinnati Foundation is proud to do. We have allocated a portion of our funding to gain a social return instead of a financial return," shared Robert Killins, Jr., CAP®. Director, Special Initiatives, Greater Cincinnati Foundation. "This house was a shell when I visited just a couple months ago. To see what Hunn Construction has done on behalf of the HURC, is simply outstanding. We look forward to continuing our strong partnership with The Port."
Hunn's Construction, a minority general contractor founded by Eric Hunn, completed the gut and rehab of 1654 Jonathan. The house was full of debris and personal belongings that were long abandoned.  The copper pipes and wiring had also been stripped.  The roof had holes in it and the floor joists were unstable. Vacant since 2008, the house received many code violations which resulted in condemnation by the city of Cincinnati.
"It's really neat to see what's happening in Evanston right now," commented Captain Aaron Jones, District 2, Cincinnati Police Department. "I've worked in the neighborhood for over 20 years. To see the changes, it is unbelievable. There's been a lot of hard work and we're going to do everything we can to do ensure that Evanston is one of the safest communities in Cincinnati."
The housing crisis left Evanston with more than 300 foreclosures and 200 vacant properties. Since 2013, The Port, in conjunction with the Hamilton County Landbank, has acquired 189 properties in Evanston, administered $1,477,000 in grant funding to demolish 32 properties; and a total of 36 homes have been built, rehabbed or are under construction, restarting a market for private home sales after nine years without one.
---
About The Port
The Port of Greater Cincinnati Development Authority (The Port) is a quasi-public agency that is the principal real estate development finance agency serving Hamilton County and the City of Cincinnati. The Port both initiates development and manages projects on behalf of local governments and private institutions to improve property value and promote job creation. Visit cincinnatiport.org for more information.
About HURC
The Homesteading & Urban Redevelopment Corporation ("HURC") is a 501(c)(3) Ohio nonprofit corporation focused on community housing improvement throughout the region and in particular the renovation of homes in low to moderate income areas. Since 2015, The Port has functioned as the HURC's management agent, staffing it with Port employees and providing all administrative and executive services.
About The Greater Cincinnati Foundation
As the region's leading community foundation, Greater Cincinnati Foundation connects people with purpose in an eight-county region in Ohio, Kentucky and Indiana. GCF is leading the charge toward a more vibrant Greater Cincinnati for everyone — now, and for generations to come.
---
Media Contacts:
Kevin Osborne /City of Cincinnati, Department of Community and Economic Development 513-352-6132
Gail Paul / The Port 513-621-3000