Contractor builds his business while rebuilding Hamilton County communities
Eric Hunn, founder and owner of Hunn's Construction, has been working in the construction business for more than 25 years. Through his work with The Port over the last four years, he's been able to grow his business from two employees to 16 and has completed more than 20 home rehabs throughout Cincinnati.
Childhood friends, Eric reconnected with Deborah Robb, Director of Homesteading & Urban Redevelopment Corporation (HURC) and Residential Sales at The Port, and talked about his construction business. Soon after, at a block party, Deborah was in a neighbor's house and asked which contractor they had used for some recent construction work – the answer was Hunn Construction.
HURC was getting bids for its first total gut and rehab in 2015 and Hunn's Construction won the contract. Since then, Hunn has completed 15 home rehabs for the HURC in Evanston, Walnut Hills and Price Hill. Managed by The Port, the HURC is dedicated to improving the quality of housing stock and increasing affordable homeownership for first time homebuyers or low to moderate income families and individuals, providing a quality product with minimal overhead.
"Eric is dedicated to our work and his work is top-of-the-line. As his work with The Port has grown, he has hired employees from the neighborhoods where he works such as Evanston." - Deborah Robb, The Port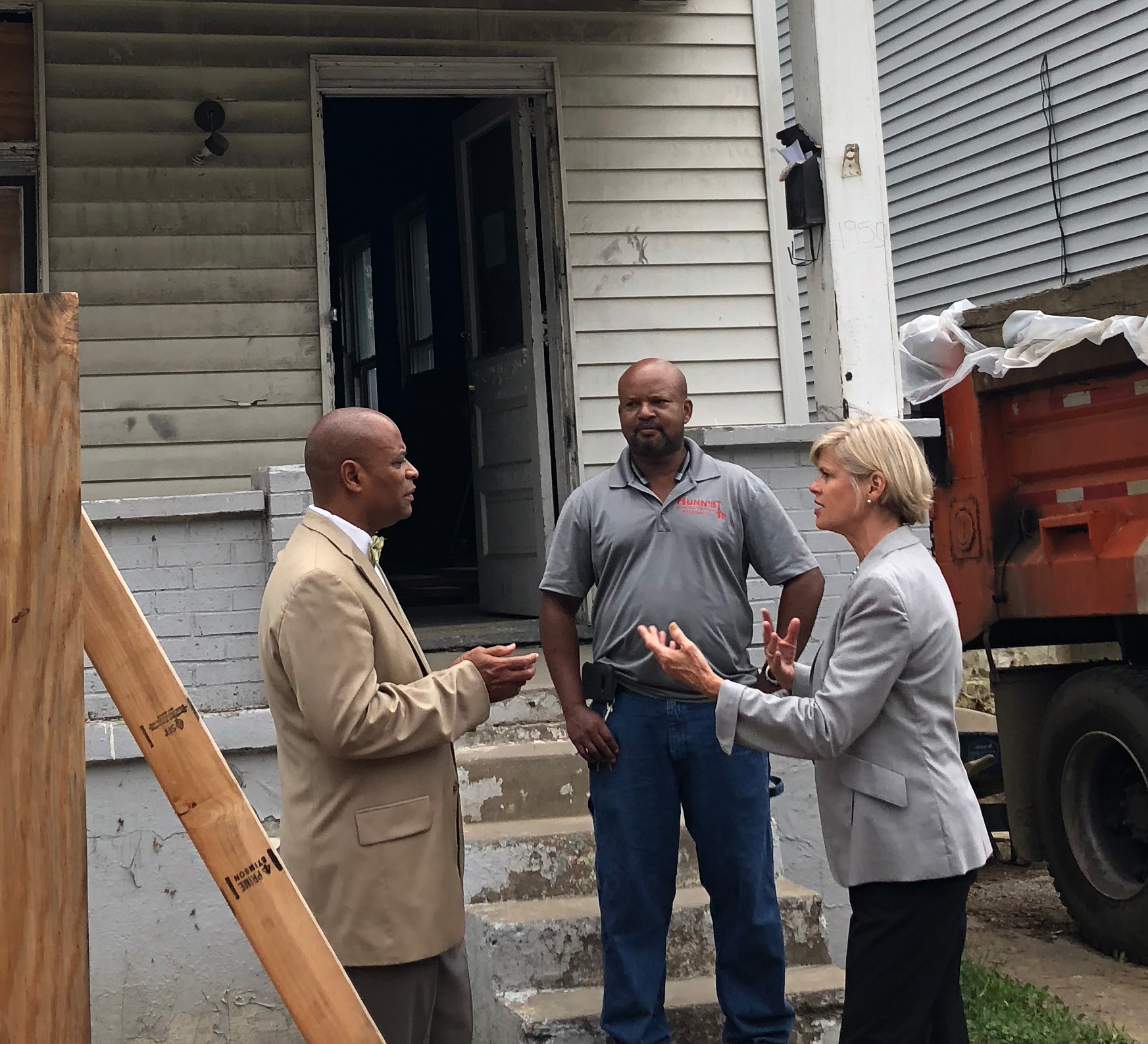 The HURC is rehabbing six vacant, severely blighted, single-family homes in Evanston, creating homeownership opportunities for low- to moderate-income individuals and families. Robert Killins, Jr., Director of Special Initiatives at the Greater Cincinnati Foundation, which provided a $1,000,000 impact investment to The Port for the rehab of foreclosed, vacant residential properties into homes ready for sale, and Laura Brunner, President and CEO of The Port, talk with Eric Hunn, Hunn's Construction, who is rehabbing 1650 Jonathan for the HURC.
Hunn recently completed the total rehab of 1650 Jonathan and 1654 Jonathan in Evanston for the HURC. The resident of 1652 Jonathan expressed an interest in working in construction and was hired. He's now a full time employee of Hunn's Construction.
"The Port truly does a great service in the community. I've been working with them for almost four years. As a result, I've been able to grow my own business from two employees to 16 employees. We've been able to take some of the worst houses in the city and turn them into houses that people are proud to live in, and neighbors are proud to be a part of their community as a result of The Port's work." - Eric Hunn, Owner and Founder of Hunn's Construction
The Port's Inclusion Initiatives
The Port strives to continually have meaningful and substantial levels of participation by Minority Business Enterprises (MBEs), Women Business Enterprises (WBEs), and Small Business Enterprises (SBEs) in the services it contracts, and in its various contracts for development projects. Furthermore, The Port, which manages the HURC, strives to increase the equity participation and/or ownership by MBEs, WBEs and SBEs within those development projects. Equity participation is promoted through educational opportunities, training, and a good faith effort by all involved to promote inclusion.