African American Chamber and The Port Hold Forum to Share Real Estate and Business Opportunities
Eric Kearney, President and CEO of the African American Chamber (AAC), and Mike Smith, Vice President of Neighborhood Development at The Port, hosted the Real Estate Forum on April 9, 2019, at the Cincinnati USA Regional Chamber's Learning Center. The Forums are an opportunity for AAC members to hear about potential real estate and business opportunities related to The Port's residential, commercial and industrial development projects throughout Hamilton County.
Kearney kicked off the meeting, which attracted more than 60 attendees, by sharing, "These forums connect African American businesses with the work The Port is doing to improve property value and promote job creation throughout Cincinnati. I believe The Port is sincerely trying to create business opportunities for AAC members."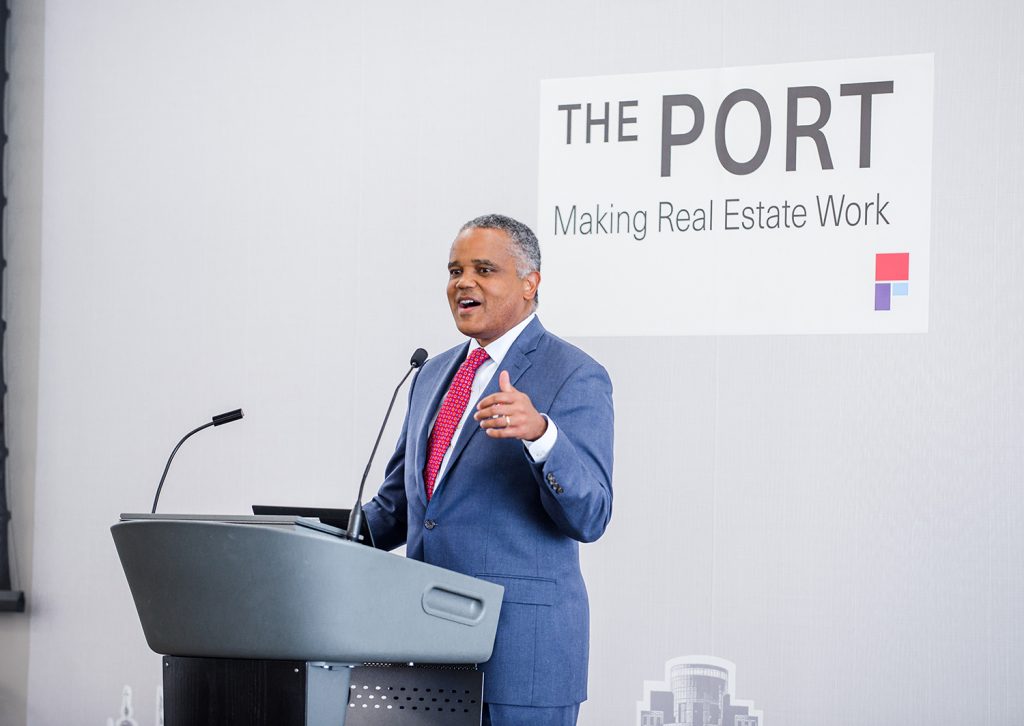 Eric Kearney, President and CEO of the African American Chamber, welcomes attendees at the Real Estate Forum.
---
The AAC launched the Collective Fund, a private commercial real estate fund with the mission to provide African American Chamber members and investors the opportunity to diversify their portfolio by investing in commercial real estate. The Fund is open to non-accredited investors. Its minimum investment threshold is $5,000.
Robert Sanders, Director of Commercial Development at The Port, shared information on how AAC members can access U.S. Small Business Administration (SBA) loans and the requirements to obtain an SBA loan. Prior to joining The Port, Robert was SBA Development Officer at U.S. Bank in Cincinnati, where he specialized in providing financing for owner occupied commercial real estate, business acquisitions, equipment working capital, and refinancing of existing debt through the SBA program.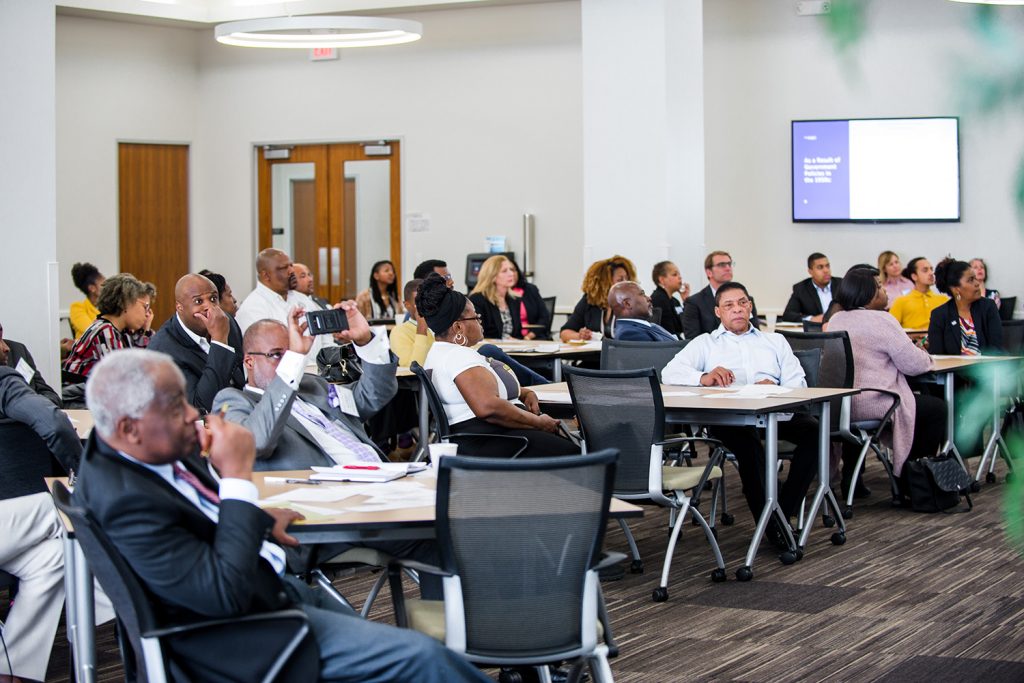 The audience at the Real Estate Forum learned about SBA loans, The Port's work in neighborhoods and a development by Unum Investment Group.
---
The Port also invited Quante Ferguson and Renee Jefferson to present their journey as real estate investors and a development their company, Unum Investment Group, has under way in Mt. Auburn. Unum and B2B Equities LLC are building The Viewpoints which will include four LEED Certified houses on Seitz Street. "We appreciated the opportunity to share our story and the Mt. Auburn development project at the Real Estate Forum platform," shared Ferguson.
"The Real Estate Forums are valuable in our efforts to build relationships among our staff and AAC's members," shared Laura N. Brunner, President and CEO of The Port. "The Port has a responsibility as a public agency to build economic prosperity by maximizing opportunities for minority, women and small business enterprises to participate in our work."
For more information and future dates for the Real Estate Forum, please visit the African American Chamber website, www.african-americanchamber.com.
---
Acknowledgments:
Photography by: Louis Rideout | Call Me Rideout Photography