Patient Capital Fund
Invest in Jobs
Issuing Patient Capital Notes is an innovative way for the Port Authority to engage sophisticated private investors while simultaneously managing the real estate assets and public funding tools that only the Port Authority can bring to a project.
What is the Patient Capital Fund?
The Patient Capital Fund program is designed to provide a nominal financial return plus return of principal to qualified investors who seek social benefits related to accelerating regional growth by meaningfully increasing the inventory of sites ready for the attraction of advanced manufacturing in Hamilton County.
Hamilton County, once a manufacturing powerhouse, has seen a 67% decline in manufacturing jobs since 1969. The results of two recent studies, "Made in Hamilton County" and "An Analysis of Cincinnati as a Manufacturing Destination," both indicate a lack of ready-to-develop manufacturing sites as a major deterrent to manufacturing growth in Cincinnati and Hamilton County. The Port Authority is looking to raise $60 million of the estimated $200 million cost of the industrial strategy by issuing Patient Capital Notes to accredited investors.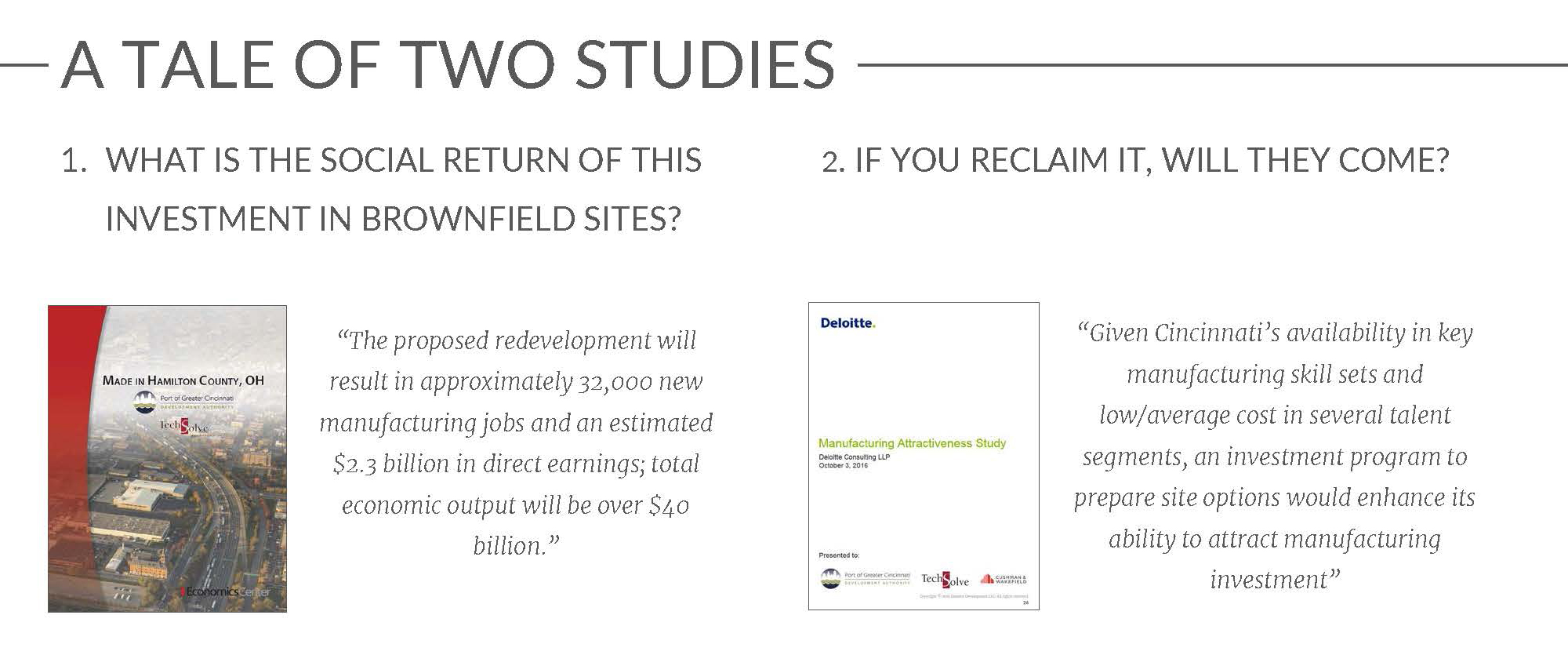 What has been the Impact to Date?
The first round of Economic Development Mortgage Revenue Bond Anticipation Notes (Patient Capital Notes) were instrumental in acquiring the first 75 acres of the 500 acres the Port plans to position for new development including 2100 Section Road in Amberley Village. Once home to the Gibson Greeting Cards Headquarters and 900 jobs, the site became underutilized in recent years, supporting fewer than 100 jobs. The Port is committed to redeveloping these sites, selling them at a price sufficient to repay the investors, and creating good-paying advanced manufacturing jobs.
"Duke Energy is honored to take part in this bold plan to revitalize sites and make a lasting impact on our community. Good jobs are an important plank in our region's combined efforts to reduce poverty and build strong resilient communities."
Jim Henning, Duke Energy's State President, Ohio & Kentucky
Proceeds of the Notes will be used for project costs, including:
Site control and acquisition
Planning and pre-development costs
Environmental assessment and remediation
Demolition or Rehabilitation
Site work and infrastructure improvements
Port Authority development fee
In addition to the Notes, site development will be supplemented with site specific and general capital grants, as well as other resources of the Port Authority.
5 year "bond anticipation" note, bullet maturity
Accredited Investors only
Use of Proceeds is limited to capital projects related to site acquisition and repositioning, but is
otherwise broad and expansive
Pooled mortgage security on all sites
15 bps per year in interest, taxable, payable at maturity (Port Authority would pledge non‐tax
revenues)
One financial covenant: Amounts invested cannot exceed the expected sale values (site specific
or portfolio basis).
Note "converts" to a 5 year Bond if all property is not sold within the 5 year window.