Perspectives: Three Trends in Land Banking
I attended the 2018 Ohio Land Bank Conference with my teammates here at The Port for the first time in October. It was held in Columbus at the convention center. We were able to attend a wide variety of sessions to hear from as many of our colleagues throughout the state as possible. A personal highlight was running along the Scioto Greenway!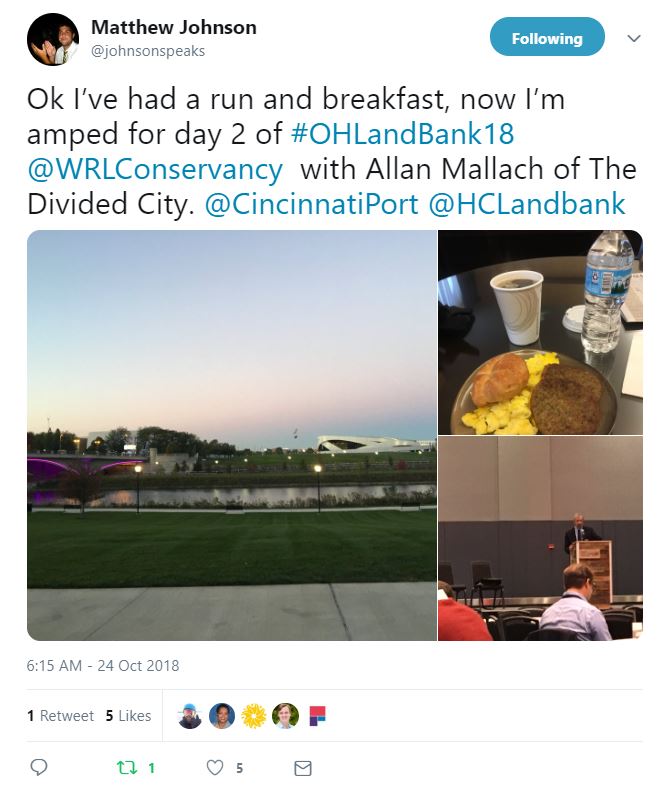 It was energizing to be among professionals who experience similar victories and setbacks working in their community's neighborhoods. I quickly noticed how innovative and flexible Ohio Land Banks are in the realms of community development and neighborhood stabilization. I left the conference with the feeling that Ohio has only scratched the surface of how responsive Land Banks can be to the needs of neighborhoods related to gentrification, displacement and long-term development needs.
I found it very helpful to hear about other innovative uses of Land Bank tools and how our colleagues see these tools evolving in the years. Here are a few of the key learnings I gained in Columbus from Land Bank professionals throughout Ohio:
1 – Pop Up Projects for Vacant Properties
The Hamilton County Land Bank manages a wide variety of properties at various stages of blight, demolition, development or disposition. Some of these properties are of high interest to the general public based on location or possible development opportunities. Others, do not receive the same level of attention. These parcels are opportunities for activation in creative and unique ways.Terry Schwarz of Cleveland's Urban Design Collaborative shared some truly innovative ideas for vacant buildings and parcels, such as building a pop up snowboard park and roller rink on the fourth floor of an industrial building. Schwarz offered a framework for why entities should wade into the complicated waters of staging pop up events:
Stimulate Interest

Advance Development Agenda

Engage the Public

Build Social Capital
What emerged as most helpful, was the encouragement to implement these ideas while keeping in mind the difficulty of holding an event. Some of those difficulties are liability, funding and safety. While these are not small difficulties, they are concerns that deserve consideration and attention because the end result is a memory and experience that was created in an area that previously may not have been a place or location where people would normally go.
2 – Allan Mallach – The Divided City
Alan Mallach, author of The Divided City: Poverty and Prosperity in Urban America, spoke about the trends that affect Ohio's cities and the issues we see every day working within these neighborhoods. As a result of the foreclosure crisis in 2008 and the steps that state and federal governments have taken to stem the consequences of the crisis, neighborhoods are starting to see revitalization and small returns to pre-foreclosure levels. However, as this revitalization begins to truly take hold, other concerns are emerging. Areas of concentrated poverty are spreading and jobs are more difficult to access, to name a few challenges. Land Banks can play an important role in helping to control and encourage the kind of investment that is desired from municipalities and neighborhood/community development agencies. This requires strategy and strong relationships with residents and stakeholders in each of these neighborhoods and a willingness to wait for the right kind of investment. Mallach encourages Land Banks to "Focus on what is transformative," well said.
3 – Ecological Restoration
Many of the properties that have been left vacant or blighted are often in neighborhoods that have experienced significant disinvestment. While it takes time for developers and rehabbers to return these buildings and vacant lots to productive use, there is an opportunity to activate these spaces using trees. By planting trees on vacant land, these neighborhoods can experience the benefits of: stormwater management, property value stabilization and an increase in value because of the beautifying effects, cleaner air, traffic calming and decreased dumping. Some of the problems people foresee are the maintenance of these trees and what happens to them when the right end use emerges and those trees have to be taken down or be moved.
I believe, the Hamilton County Landbank and The Port are uniquely positioned to address and offer support and creative expertise in helping our community partners accomplish several of these ideas in Cincinnati.  My colleagues and I are eager to offer some answers to the hard questions that were wrestled with at the 2018 Ohio Land Bank Conference. I am excited to take what I learned and put it into practice in my role as the Real Estate Development Associate supporting our REACH program and help to achieve the goals of The Port within Hamilton County.
---
Matt Johnson joined The Port in May 2018 as Real Estate Development Associate.