The Cure brings style and sneakerheads to Walnut Hills
Keith Tabron started his now-booming sneaker business when he was 13 — by doing the same thing most teenage boys do, scope out the next cool pair of shoes to buy. But Tabron didn't look for just any sneakers. He eyed the top-end, limited-edition designs released by big brands and backed by high-profile celebrities. The more exclusive the better.
---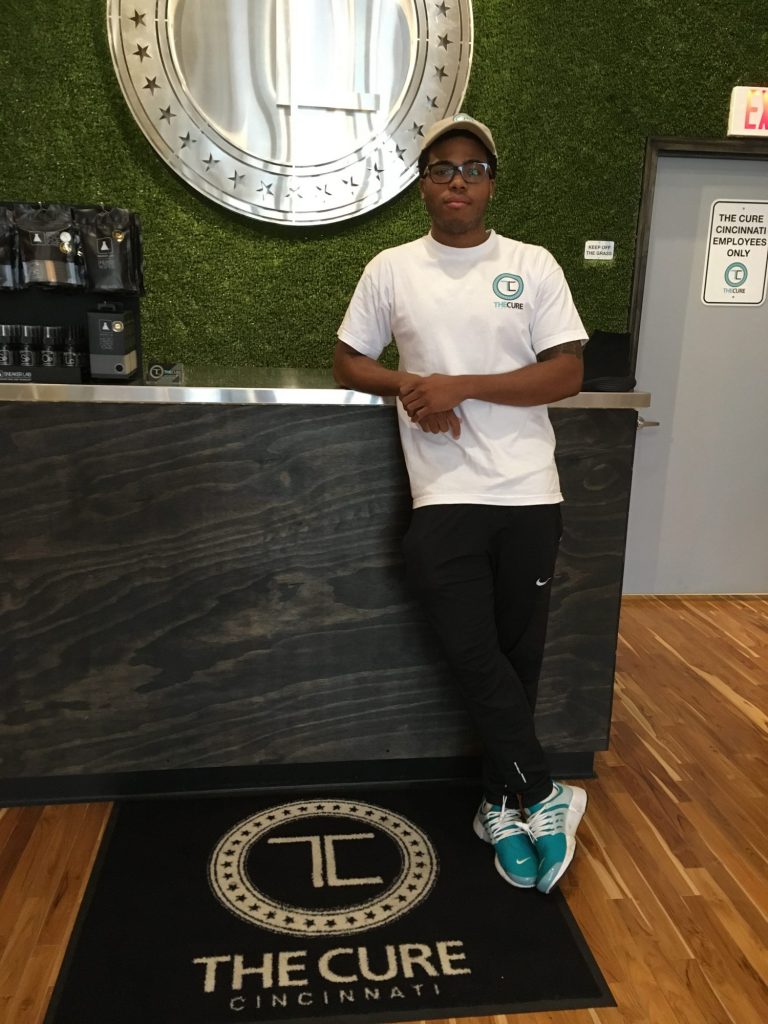 At first, he bought what he could afford. But soon, his expensive tastes exceeded his earning power. Instead of scaling back, he escalated his shopping. He started buying a pair for himself and one to sell.
"I'd sell it for double what I paid, so my pair was really free," said the 24-year-old from Dayton.
Buyers were willing to pay the high markup because young Tabron had what they wanted: a limited-release shoe in short supply but in high demand.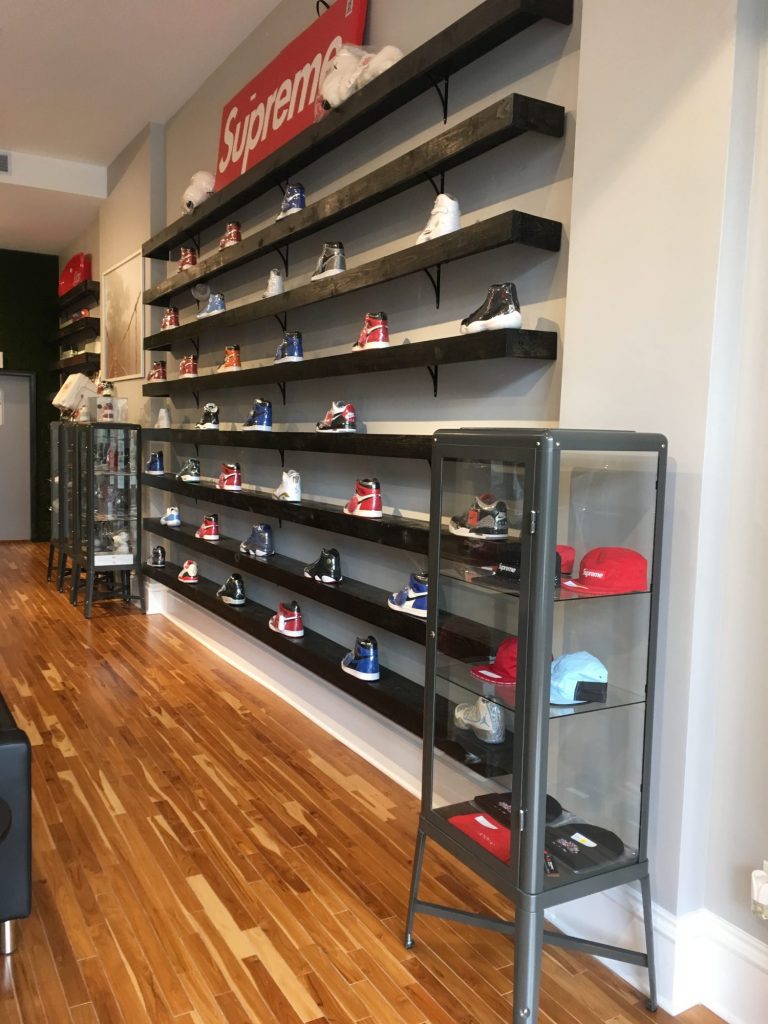 Before long, he was buying two to three extra pairs. And soon, he was no longer buying for himself at all, but for his customers, purchasing 25 pairs at a time, then reselling each for a handsome mark up.
Tabron is one in a string of new uncommon retailers located in the newly renovated Trevarren Flats on East McMillan Street in Walnut Hills. "This is the next hot neighborhood, so this is where we wanted to be." His store, The Cure, is a classy space with leather seating, green-turf wall and wood-beam shelves that display rows and rows of brand-new, plastic-protected shoes.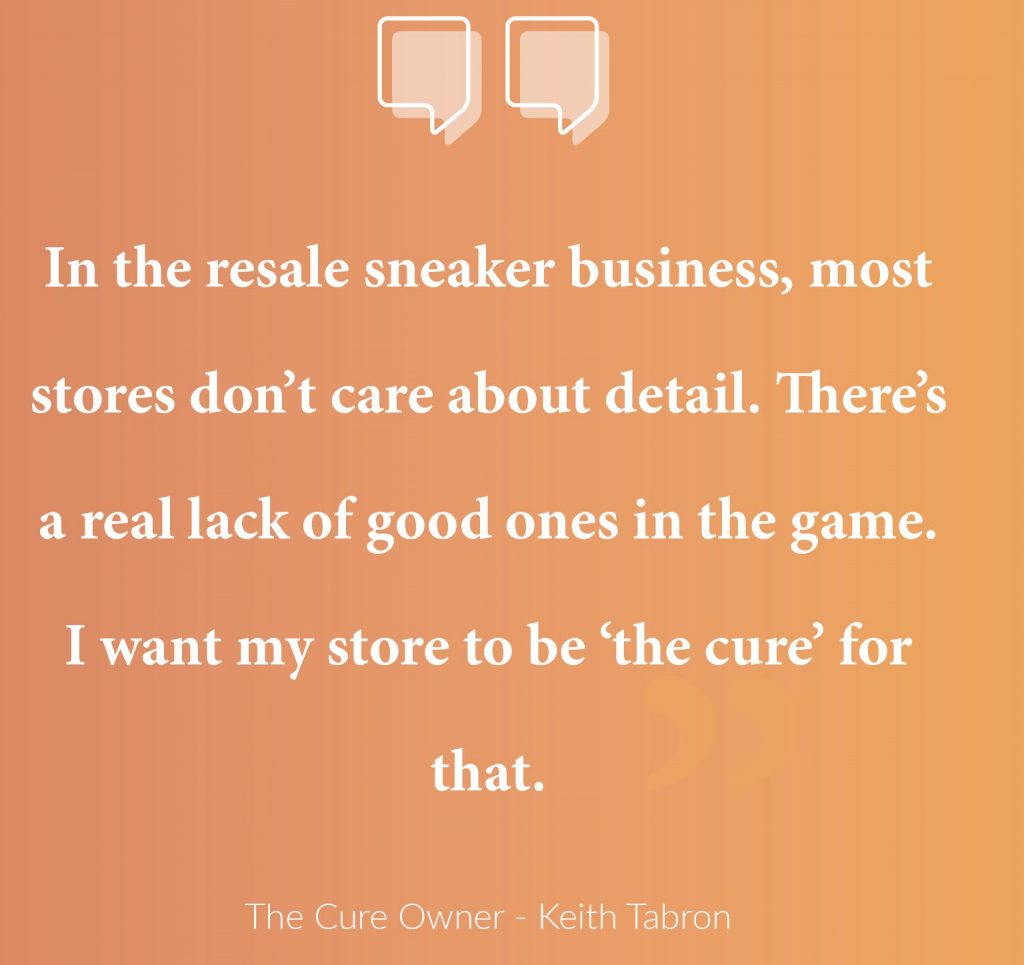 "People love their sneakers," Tabron said. "And the sneaker community is pretty close knit. When you are in this lane, you all know each other."
Tabron is talking about "sneakerheads" – people who seek out limited-edition shoes, either to collect or to wear. "The big brands drop a new shoe every weekend. They're cool and unique, but they don't make too many of them." Key is to know who is selling what, where and when — and then be the first in line when the shoe stores open.
When Tabron started out, he became such a regular buyer that the big-name shoe stores began setting aside at least two pairs for him. He'd sell to someone he knew, through social media or to someone who'd call and he'd meet at a designated parking lot.
In time, retailers started calling him with news of a pending drop. The calls come at all hours from all locations. Recently, at mid-day, a store in Dayton called. They were releasing a new line in just a few hours. He needed to get there asap with money in hand. "Things move fast and you have to be ready — the schedule of a sneakerhead reseller is hectic!"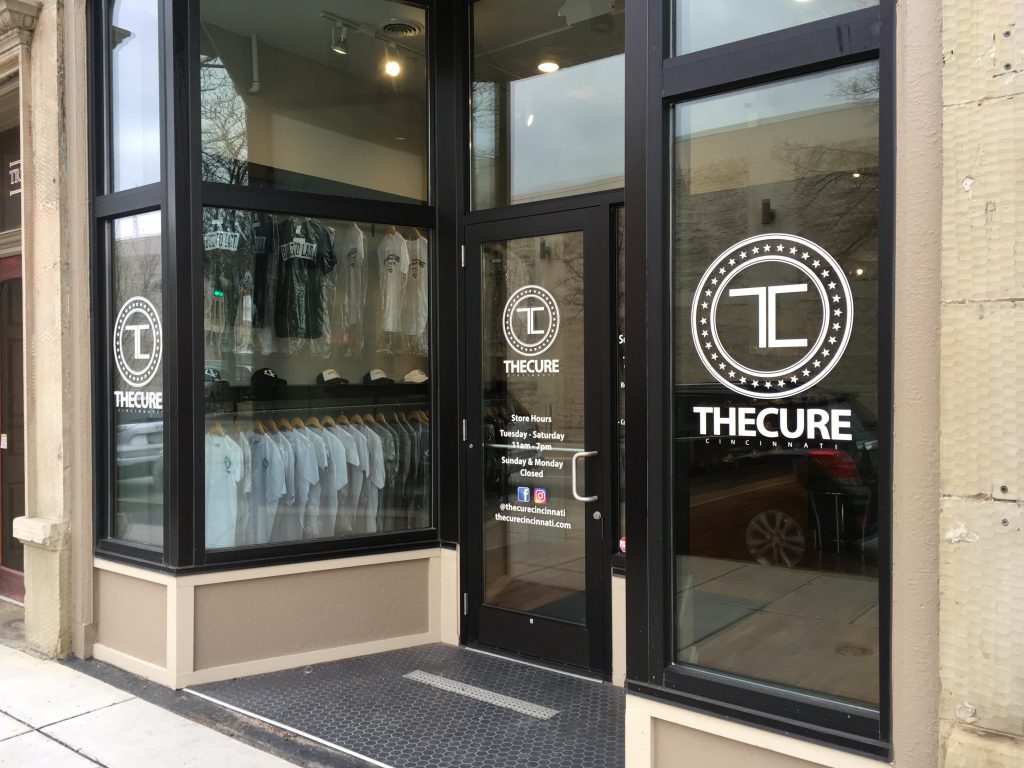 As Tabron talked, a trio of twenty-somethings entered The Cure. In 10 minutes, one zeroed in on a pair of Nike Sean Wotherspoons. He put one on, inspected the look, gave his friends a thumbs up and dropped $650 in cash on Tabron's polished silver checkout counter. "Man, this place is so hot," he said on his way out the door.
Tabron smiled. He hears it all the time. He's as proud of his shoe selection as he is in his décor.
"Both of my parents were in the military. I got in trouble if I didn't fold my clothes and make my bed a certain way. I got used to that. But in the re-sale sneaker business, most stores don't care about detail. There's a real lack of good ones in the game. But when you are doing that kind of shopping, you want the store to scream 'upscale.' I want my store to be 'the cure' for that."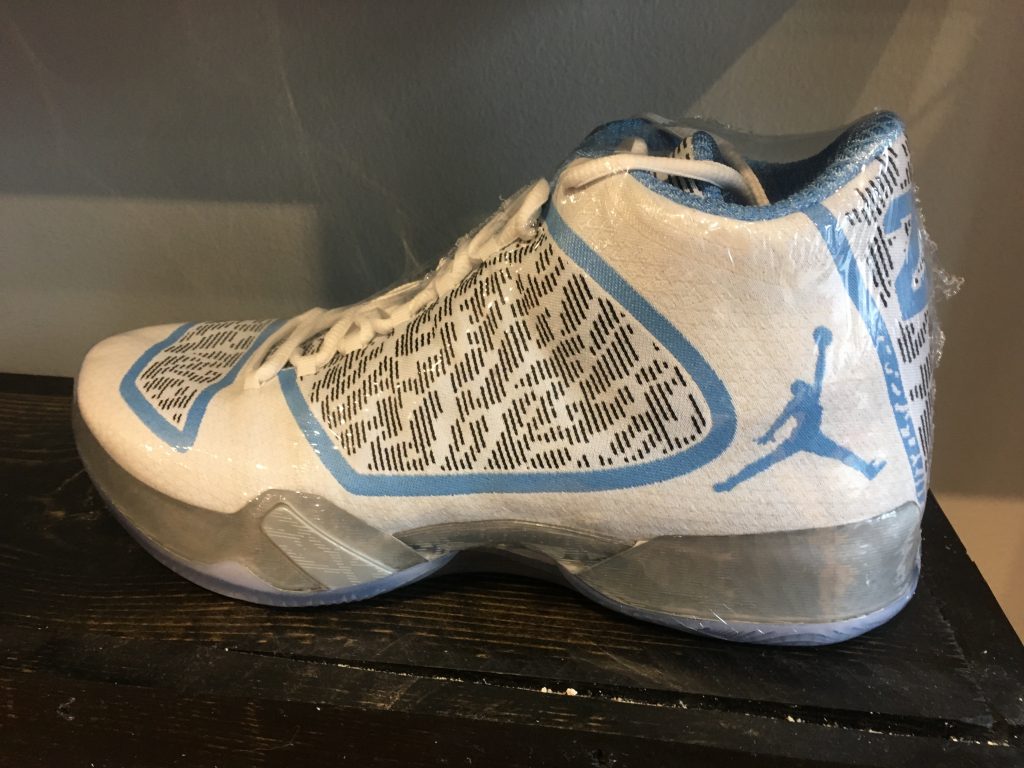 Since opening The Cure on January 23, Tabron has sold 250 pairs of shoes. His shelves hold sneakers ranging from $250 to $2,500. A pair of red and black Air Jordans are set aside in a clear display case. Tabron paid $160; they are now valued at $2,500. By the end of the summer, they could be priced at $3,500 to $4,000. "I'm not selling them yet."
The Cure's demographic base is wide spread. He sells to 7-year-olds from the suburbs, older businessmen living in Indian Hill or working downtown, professional athletes and well-known musicians. The other day, he sold a pair of Air Jordan Sand Dune 1 to a middle-age mom still wearing her business suit after work. He also ships to callers from Seattle to New York and everywhere in between.
His store is stocked with limited-edition clothing, stickers and other paraphernalia.
Tabron plans to open another store in Columbus this summer, and a third soon after in Dayton.
---
THE CURE
Specialty: High-end, limited-edition sneakers
Location: 961 East McMillan, Walnut Hills in the Trevarren Flats
Owner: Keith Tabron, 24, of Walnut Hills
Size: 1,200 Square Feet
Employees: 3
ABOUT THE OWNER:
Keith Tabron grew up in Dayton and developed a passion for sneakers early as he watched his dad collect upwards of 50 pairs of varied styles and colors. He moved to Cincinnati to study business administration at Cincinnati State and work at Champs Sports, where he learned hands-on the business of sneaker sales. Tabron quit both Champs and school when his own business took off. He is a semester shy of his Bachelor's degree and plans to finish school as soon as he opens his second sneaker shop in Columbus this summer.