Perspectives: The Port's Associates Share Key Takeaways from Turner School of Construction Management
Three of The Port's development associates graduated from the 10-week Turner School of Construction Management in November 2018. Deborah Robb, Director of Homesteading & Urban Redevelopment Corporation (HURC) and Residential Sales at The Port, graduated from the Turner program and encouraged the associates to attend.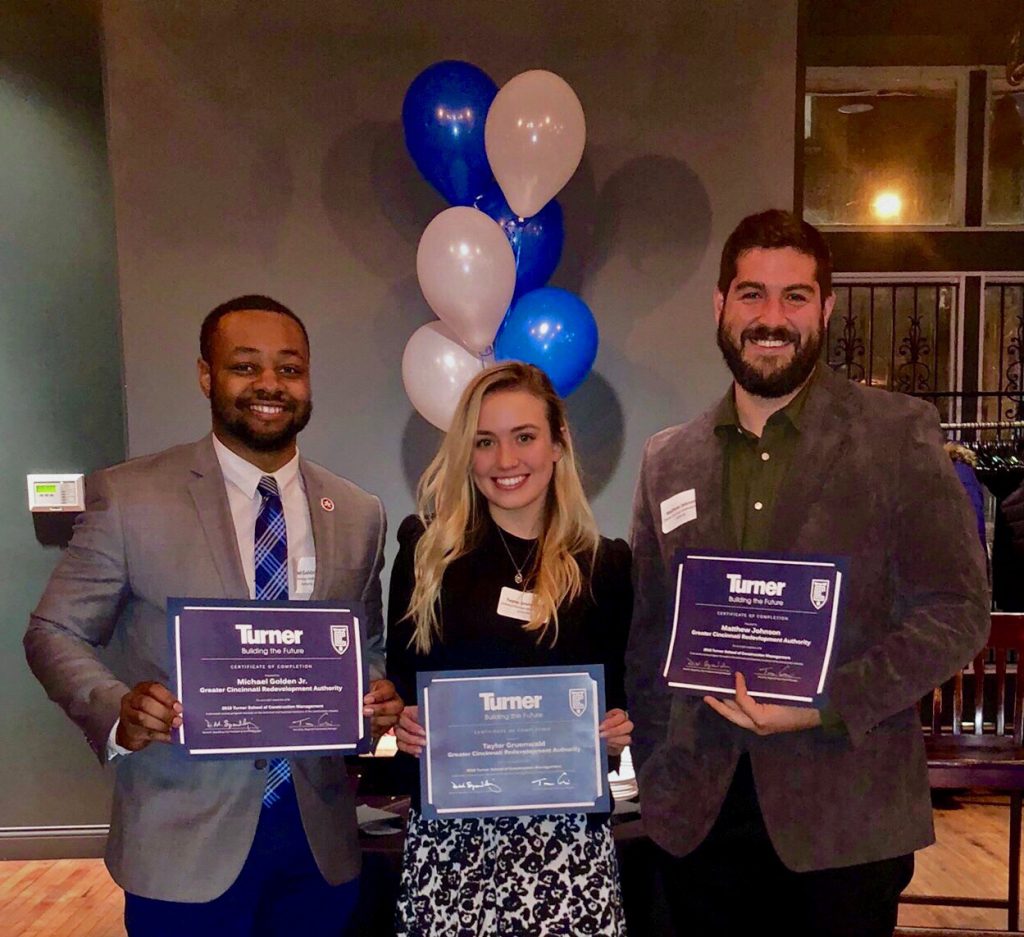 "The Turner program is an excellent opportunity for our associates and those new to the construction industry to learn about various aspects of building construction and the planning process. The classes also offer attendees the opportunity to network with contractors, entrepreneurs and construction professionals that work in a wide variety of fields," shared Robb.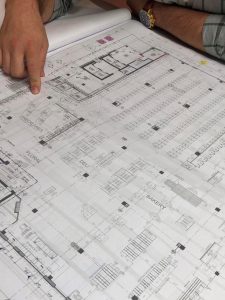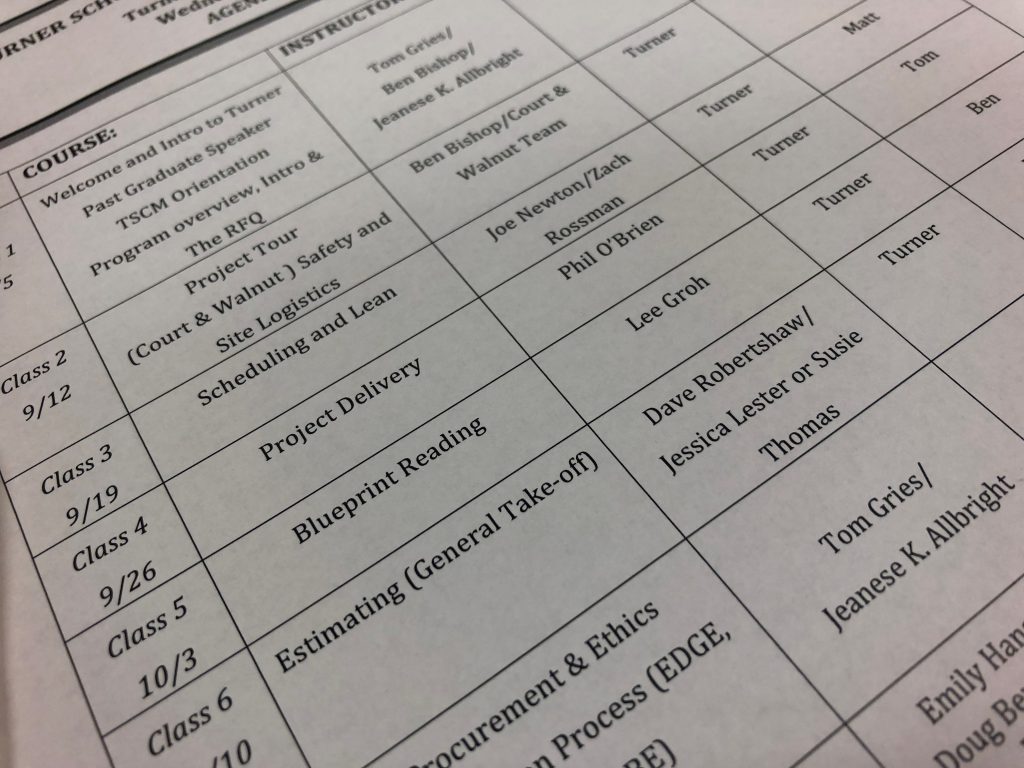 Be LEAN
Michael Golden, Jr. joined The Port as Real Estate Development Associate in May 2018 to support Deborah and the HURC program. "By attending the Turner School of Construction Management, I was able to grow my technical, administrative and managerial skills while learning best practices in the construction industry," he commented. "I really enjoyed the class on Lean Construction. It helped me understand how to complete jobs faster with less waste of materials, time and labor. I found this knowledge compelling and look forward to implementing lean thinking in my role and workflows at The Port." Michael earned a Master of Community Planning at the University of Cincinnati and a Bachelor of Arts in Public Management, Leadership, and Policy from The Ohio State University.
Taylor Gruenwald joined The Port in 2016 as a Visual Communication Associate. With a degree in City and Regional Planning from The Ohio State University, Taylor was excited to become a member of the Neighborhood Development team in 2018 as Commercial Development Associate. She also found the Lean Construction class to be valuable.
"This (LEAN) class caused me to re-think how I operate and spend resources – time, money, manpower, materials, etc. – both in the workplace and in my everyday life. Whether you are a newer small business or an expert in your field, it is important to think outside of the box with a 'there's always room for improvement' mindset. Constantly re-evaluating methods and gathering feedback from the people actually using those processes can lead to improved efficiency and working smarter, not harder," she added.
The instructors for the Lean Construction class, Joe Newton and Zach Rossman, shared a video, "Cheaper Better Faster: Toyota helps feed Hurricane Sandy Victims," that summed up how small, incremental improvements can go a long way.
Communication and Collaboration
While some classes focus on more technical aspects of construction, such as blueprint reading, scheduling, insurance and bonding, and procurement, others focus on broader principles like marketing, communication and efficiency.
"We were shown tips on writing better RFP's, managing budgets and managing worksites. The classes were framed with large-scale projects that Turner works in every day, throughout the country. While these skills will be extremely valuable in my every day here at The Port, what I found most striking was Turner's emphasis on their relationships with their contractors and subcontractors. Each week we had different instructors that shared their expertise on how they do the things they do and why. Each expert talked about supporting their subcontractors because if these subcontractors fail, so does Turner. In the end, the effective collaboration between the two groups allows for the completion of these impressive skyscrapers, stadiums or developments," shared Matt Johnson.
Matt earned a Master of Community Planning at the University of Cincinnati and a Master of Theology at the Fuller Theological Seminary in Pasadena, California. He holds a Bachelor of Arts in humanities from the Columbia International University in Columbia, South Carolina. He joined The Port in May 2018 as Real Estate Development Associate and supports the Rehab Across Cincinnati and Hamilton County (REACH) program that brings vacant, abandoned properties back to life through rehab and renovation.
Taylor commented on the importance of communications as well. "Communication is key; if assumptions are made about what is included (or specifically NOT included) in the scope of work for a project and timeline, it is critical that those assumptions are put in writing. Mistakes in these phases, prior to work even commencing, can take a devastating toll on a small business that is still building up capital if they do not budget correctly for a project. As I mentioned before, the details (and costs associated with them) really start to add up."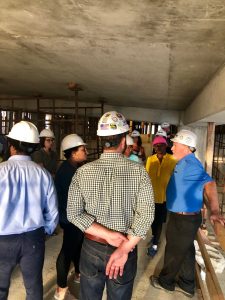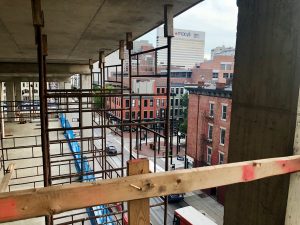 Real World Experience
The School also offered the associates the opportunity to tour a live construction site at Court and Walnut Streets in the Central Business District. Turner Construction is the general contractor for the $90MM development, led by 3CDC, which includes a new 45,000 square foot Kroger store, 555-space public parking garage and an 18-story residential tower.
"Visiting Court and Walnut was a highlight of the course because we were able to see the concepts we learned about in class applied to a real project," shared Michael. He noted that seeing Turner's safety-first approach in practice was impressive; Turner takes significant measures to prevent injuries, maintain a safe and clean working environment, and educate their employees on safety. The instructor shared that at Turner, safety is a top priority and it is important that each person on a job site returns back to their families at end of each day.
The Port's public finance practice supported the Court and Walnut project by issuing $6.83MM tax exempt Tax Increment Finance ("TIF") Bonds and $10.4MM tax exempt Development Revenue Bonds for the parking garage. The Port also helped reduce construction costs for the grocery and apartment components by abating sales tax on building materials through Structured Lease arrangements with Kroger and CW Joint Ventures, LLC.
Networking
Taylor added, "This course increased my general construction industry knowledge and introduced me to several new contractors that I'd love to engage with in the future – and best of all? It was FREE! I have already recommended the course to several of my contacts and would encourage anyone looking to grow your business and yourself to enroll."
"The skills I learned while taking the Turner construction class will allow me to speak more clearly and effectively to The Port's stakeholders to accomplish the mission of a revitalized Cincinnati," observed Matt. "I also learned the importance of 'Know Your Business." I am not a contractor and Cincinnati is better for it. Cincinnati is full of talented people and leveraging this talent is important to see the long-term revitalization. My business is in the relationships I build and maintain to help achieve our goals throughout Hamilton County."
The Turner School of Construction Management is a 10-week program designed to enhance the technical, business, and administrative skills of small business owners. The program is geared towards minority-owned, women-owned, small emerging businesses and other companies that work closely with construction firms. Topics covered in the classes include the basic concepts of estimating, blueprint reading, project delivery and much more.