$25,000 GROW Cincinnati Grant for Living Wall to be Built in Bond Hill Business District
The Port of Greater Cincinnati Development Authority announced it has been selected as one of two recipients of a $25,000 GROW Cincinnati grant for a living wall to be built in the Bond Hill Business District, an area where the Port Authority has been investing and working to revitalize for future growth.  The living wall will be a permanent legacy in the neighborhood, representing the Port Authority's Neighborhood Revitalization initiative, a holistic, multipronged strategy for restoring properties to productive use and improving quality of life.
The location of the living wall is 4912 Reading Road, a property the agency acquired in 2015 as part of a larger assembly for business district redevelopment.  A Living Wall is a permanent, large public installation made of plants. GROW Cincinnati is a program by Urban Blooms, and is the first ever nonprofit program designed to improve communities through public living wall installations. GROW Cincinnati is supported by The Greater Cincinnati Foundation, a community foundation that creates a prosperous Greater Cincinnati by investing in thriving people and vibrant spaces.
The Port Authority has worked for more than two years to facilitate the development of a coherent, community-endorsed vision in Bond Hill / Roselawn; enabling the neighborhoods to organize demand for community investment around articulated priorities and outcomes.
"We're excited that Bond Hill has been selected for this unique and artistic expression of neighborhood vibrancy," according to Darin Hall, Executive Vice President, Port Authority.  "The Bond Hill community's shared vision for change starts with the business district – chiefly through beautification and attracting locally owned businesses and restaurants. The Living Wall embodies all future scenarios."
In 2017, Kresge Foundation seeded a Cincinnati commercial real estate loan fund to revitalize business districts with microenterprise – Hall said Reading Road will be among the first to establish that program.
According to Laura Brunner, Port Authority President & CEO, "Our city's makers, designers and innovators are often small businesses.  The Port Authority is working on rebuilding neighborhood business districts, and I know that within just a few years, many of our tenants will be local entrepreneurs."
Urban Blooms says, "This will empower communities to achieve their goals and vision for their neighborhood, whether that be; attracting development, becoming more sustainable, increasing walkability, providing a cultural landmark, creating an educational resource, adding green space, providing havens for wildlife, or just giving something back to the people of that community."
Kathleen Norris, Urban Fast Forward principal, says the Living Wall is a sign of momentum for the business district redevelopment. Her firm is working with the Port Authority on  project design and tenant strategy. "This Living Wall will represent the reblooming of Bond Hill," Norris says. "We are excited to be working with the Port Authority to begin to rebuild the business district in one of Cincinnati's most important legacy neighborhoods."
The Living Wall is one example of "creative placemaking," a strategy to leverage the unique power of arts and culture to empower people build vibrant, resilient and socially connected communities in the places they call home.
The Port Authority is planning a new 5K race and 1-mile Family Fun Run event on August 26, 2017, in Bond Hill to showcase the neighborhood and its unique attributes to the entire region. Placemaker Pacer will coincide with the community Bond Hill Day.  For more information on sponsorship, how to sign up to run or walk the race, please go to www.placemakerpacer.com.  All entry fee proceeds will be shared between the Bond Hill Community Council and Crayons to Computers.
*****
About Urban Blooms: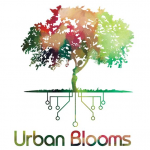 Urban Blooms was founded in May 2014 by a team of like-minded peers with a passion for: The Environment, Community Empowerment, Sustainability, Digital Systems, and The Arts. These passions plus the rising popularity of public murals, living architecture, and interactive art displays; inspired our team to create truly unique public displays that combined principles from each of these fields. By focusing on multi-disciplinary projects we have been able to tear down the traditional boundaries between these fields.
For more about living walls:
www.urbanblooms.org/living-walls
About Bond Hill Business District:
The Port Authority neighborhood business district program, principally funded by the City of Cincinnati, develops mixed-use retail / residential product replacing the vacant and blighted properties that once comprised a vibrant local commercial corridor. In Bond Hill, it is creating a Reading Road commercial center with street-level storefronts, ideally suited for microenterprise, including community priorities for family friendly and full-service restaurants.