Neighborhoods of Summit Park
From the runway of the former Blue Ash Airport, a new 98-acre, mixed-use development is taking shape. June 2017, the City of Blue Ash held a groundbreaking for the first phase of the Neighborhoods of Summit Park. The new development focuses on connectivity and creation of a critical mass of residents and services. Adjacent to Summit Park, also developed on former airport land, the new development will integrate through carefully planned open space throughout.
The Port Authority jumped at the chance to enter into a cooperative agreement with the City of Blue Ash and development team on this project. The redevelopment represents a forward-thinking approach to renewing precious land located within the City. It is truly a once-in –a-lifetime opportunity for Blue Ash to combine pure economic development with place-making in a way that will help people find their dreams and sense of community here. For the city of Blue Ash, it builds a new base of economic strength and diversity to meet the needs of 21st century employers and workforce.
Neighborhoods of Summit Park Plan
The development will encompass four distinct but interconnected sections: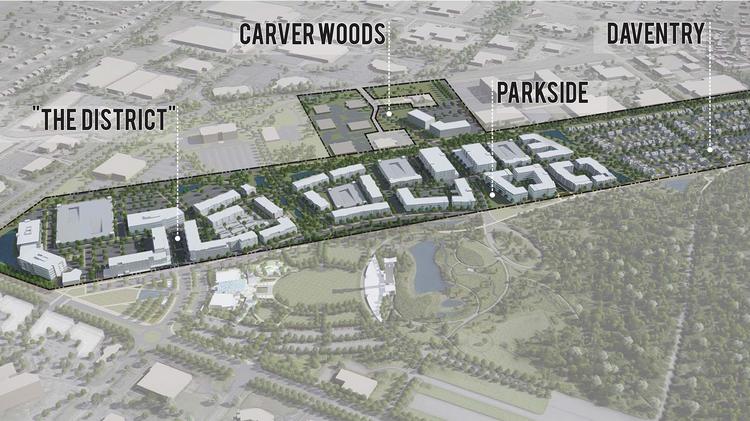 The District – Mixed-use
Carver Woods – Class A office space, restaurants, and retail
Parkside – Mixed-use residential, office, senior living, and retail
The Daventry – 104 single-family home development
Port's Role
The Port will issue up to $24 million in TIF bonds to finance public infrastructure improvements.
Including the Port Authority for infrastructure financing is smart leverage resource planning. Our piece of this initial financing unlocks other resources without depleting those of the municipality. Infrastructure financing is a GO signal for the next phases of work. A lot of careful thought has gone into the deal structure to ensure benefit for schools and community.
Anticipated Impact:
Construction and Development will generate a total economic impact of $372.7 million within the City of Blue Ash
More than 5,200 direct and indirect jobs with earnings totaling $283.1 million will be supported by the ongoing operations.
The City of Blue Ash will receive more than $3.5 million in earning tax revenue and $299,400 in property tax revenue annually.
Sycamore Schools will benefit from more than $6.4 million in annual property tax revenue
Project Partners:
City of Blue Ash, Al. Neyer, Vandercar Holdings, Towne Properties, MI Homes and MKSK