Neighborhood Update: Walnut Hills
As one of our neighborhoods of focus, the Redevelopment Authority has been working in Walnut Hills since 2013. Our work is based on collaborative input from the City of Cincinnati, Walnut Hills Community, and Walnut Hills Redevelopment Foundation. From transformative housing development to financing redevelopment of historic landmarks, we're excited to be a part of the forward momentum in this vibrant neighborhood. – Updated May 2018.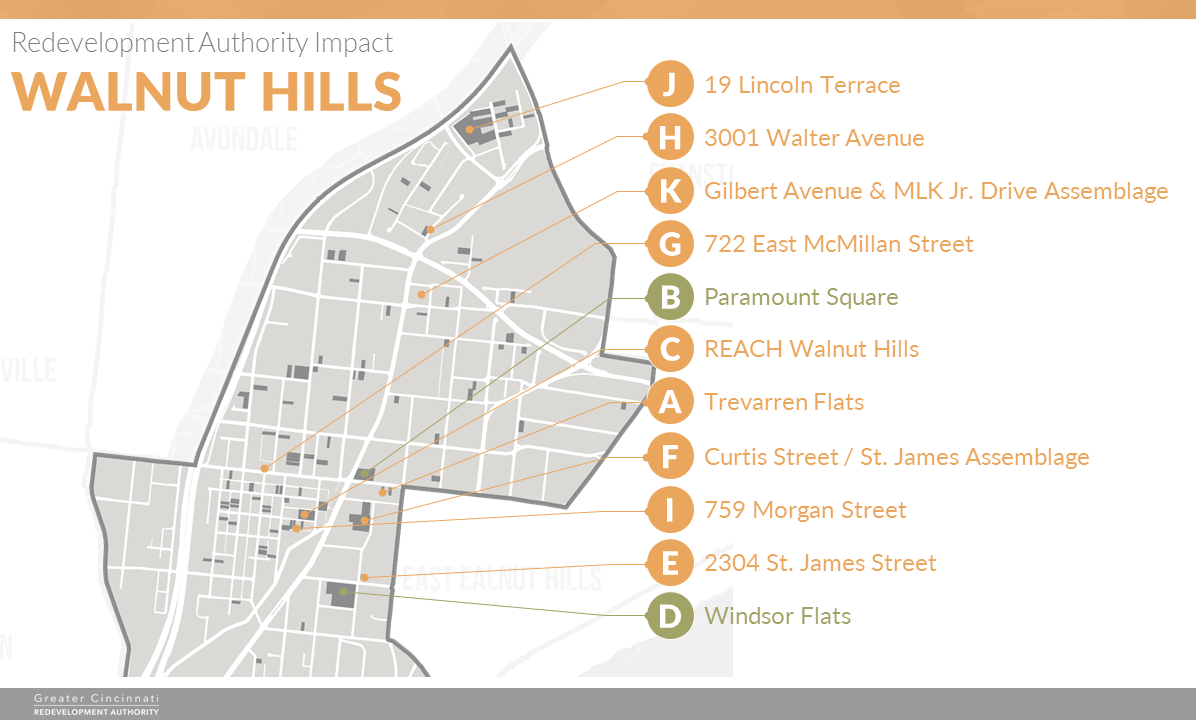 A. HISTORIC STABILIZATION | 965 McMillan | 2013
Part of Trevarren Flats project
In September 2012, the Landbank committed funding for the stabilization of circa-1895 965 E. McMillan, which proved to be a key element to the Trevarren Flats redevelopment. In December, the project was awarded nearly $1.8 million in Ohio Historic Preservation Tax Credits. In April 2013, the Landbank completed the much-needed repairs to the building. Located in the Peebles Corner National Register Historic District, the East McMillan project restored properties to productive use creating 28 jobs.
B. PARAMOUNT SQUARE | Public Finance & Landbank Tools | 2017
Mixed-use, LEED certified, $19.7 MM revitalization project
Will feature small manufacturing, healthy food options, commercial space, and housing.
Intends to create 333 construction jobs, 44 permanent jobs, and retain 35 jobs.
Developer is Model Group
GCRA Involvement:

Public Finance practice is providing a Structured Lease and issuing funds through the DREAM Loan Fund
The Hamilton County Landbank completed negotiation and option control on the property, assigning it to the Walnut Hills Redevelopment Foundation and closing with City of Cincinnati funding. Landbank acquisition cleared the title and paved the way for WHRF ownership.
A & B – DREAM LOAN FUND | Public Finance | Trevarren Flats and Paramount Square
The DREAM (Driving Real Estate to Accelerate Microenterprise) loan fund finances economic development projects that strengthen micro-commercial districts and provide access to neighborhood-based entrepreneurs.
The first five storefronts in the Trevarren Flats development are built-out and fully occupied:
C. REACH WALNUT HILLS | Neighborhood Revitalization | 2016
REACH (Rehab Across Cincinnati and Hamilton County) program. The Redevelopment Authority has worked with neighborhood leadership, including Walnut Hills Redevelopment Foundation, early to determine how the REACH program could best be used to eliminate blight and create new housing options for people who want to move to Walnut Hills, a place that strives to be vibrant, safe, healthy and inclusive for all. They decided to focus acquisition of vacant properties in Peebles Corner, near the neighborhood's redeveloping Five Points commercial district.
Initial phases focus on Morgan Street and Wayne Street including renovations of existing homes and construction of new infill housing
To Date:

Six new homes built and three homes renovated

747 and 751 Morgan Street, 739 Wayne Street – Rehabs
758, 760, 762, 764, 768, 770 Morgan Street – New-Builds

761 Morgan and 844 Oak are currently being renovated
2710 Woodburn is in pre-development
D. WINDSOR FLATS | Public Finance | 2015
$10.6 MM project converting historic Windsor Elementary school into 41 market-rate apartments, and new construction of 50-apartment building and parking facility.
The Redevelopment Authority worked within a partnership to create cost savings for the developer, Core Redevelopment, allowing the redevelopment of this historic property, part of Walnut Hills' cultural legacy.
Core Redevelopment
E. HURC | 2304 St. James Street
HURC (Homesteading and Urban Redevelopment Corporation) takes residential properties and performs rehabs to provide homes to first-time, low and moderate income homebuyers.
Renovation is underway on this single-family home. Vacant since 2013, this home was acquired as a donation from Deutsche Bank and rehab costs are estimated to be $125,000.
F. COMMERCIAL ASSEMBLAGE| CURTIS STREET / ST. JAMES AVENUE | Walnut Hills
The Hamilton County Landbank acquired this property, completed a land split, and held it for the end users. The City of Cincinnati funded and managed the demolition of vacant structures on the property.
G. HISTORIC STABILIZATION | 722 McMillan| Walnut Hills
H. COMMERCIAL PROPERTY | 3001 Walter Avenue | Walnut Hills
This 11,598 SF commercial structure is currently available. Located near I-71, the new Martin Luther King Drive Interchange provides nearby highway access. Retail / commercial space is available on the ground level with residential above.
I. NIP / LANDBANK TOOLS| 759 Morgan Street | Walnut Hills
The Landbank demolished this vacant and blighted structure utilizing NIP funding. The demolition is enabling the rehab of an adjacent single-family home through REACH Walnut Hills.
J. NIP / LANDBANK TOOLS| 19 Lincoln Terrace | Walnut Hills
The Landbank acquired this condemned, tax-delinquent property, and demolished the structures utilizing NIP funding.
K. COMMUNITY PARTNER| Multiple Properties – Gilbert and MLK Jr. | Walnut Hills
Holding agreement for 18 properties totaling 1.5 acres. The Landbank is in the process of demolishing three structures through NIP.
OTHER HAMILTON COUNTY LANDBANK PROPERTIES AND PROGRAMS | Multiple Locations
NEIGHBORHOOD INITIATIVE PROGRAM | Multiple Locations

The Neighborhood Initiative Program (NIP) is administered by the Ohio Housing Finance Agency (OHFA). Launched in the wake of the foreclosure crisis which left neighborhoods across the state riddled with abandoned properties, NIP makes available funds specifically allocated to demolition of these structures to stabilize property values in hard-hit neighborhoods. Only structures which are vacant, owned by the Landbank, and located in a target area can be demolished under NIP.
25 vacant, blighted properties in Walnut Hills have been demolished through this program. Some have been sold to serve as yards for adjacent homeowners, while others await redevelopment.

COMMUNITY PARTNER PROGRAM | Multiple Locations

Open to neighborhood-based community development corporations in targeted neighborhoods, this program reduces the acquisition costs of properties for redevelopment enabling saved funds to be reinvested into other neighborhood efforts.
957 East McMillan; also holding 23 properties for future redevelopment by the Walnut Hills Redevelopment Foundation.

LOT-TO-YARD

The Lot-to-Yard program enables is open to adjacent owner-occupants interested in acquiring vacant residential land adjacent to their home. Purchasers are required to incorporate the land into their existing yard. The program is designed to reduce the number of blighted, vacant lots.
2312 Boone Street
2626 Hemlock Street

SINGLE-FAMILY HOME REDEVELOPMENT

Returns underutilized, residential properties to productive use through sale to interested parties for redevelopment. Project must include the rehab of an existing home, infill construction of single-family home, or redevelopment of a vacant lot by incorporation into an adjacent single-family home.
1125 Myrtle Avenue – Existing blighted structure demolished and land disposed to Habitat for Humanity for redevelopment.

LOCAL GOVERNMENT SALE

2605 Park Avenue – Sold to CPS to expand elementary school
2405, 2409, 2415 May Street

ONGOING MAINTENANCE

The Hamilton County Landbank owns and maintains 32 properties currently in its inventory in Walnut Hills. To see available properties, and learn more about submitting an application to purchase and redevelop parcels, visit the Landbank's website here.