Neighborhood Update: Evanston
The Port started working in Evanston in 2012 with a focused investment strategy to repurpose neighborhood real estate and return property to productive use. Working with community partners, principally the stalwart Evanston Community Council, The Port has rehabbed and sold 29 formerly vacant market-rate homes through Rehab Across Cincinnati and Hamilton County (REACH) with more under way. In 2018, The Port began work on affordable housing through its management of the Homesteading and Urban Redevelopment Corporation (HURC).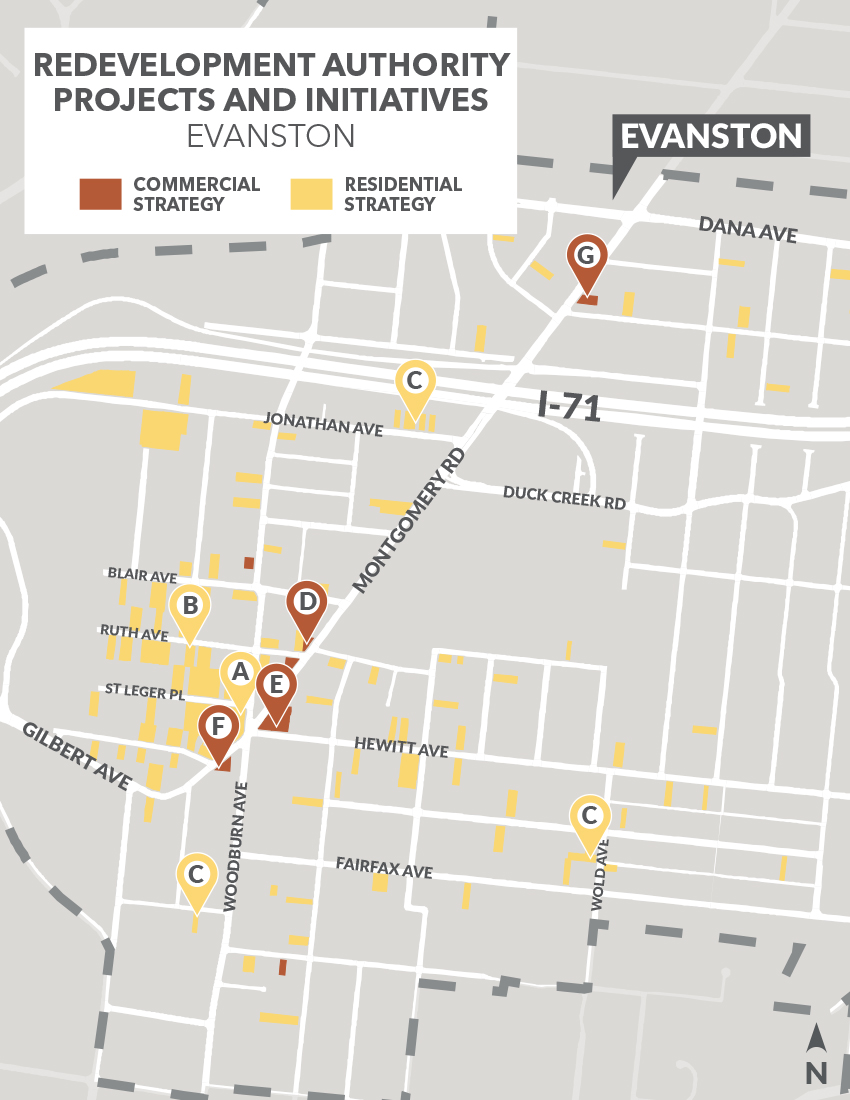 The Port's DREAM Loan Fund is an eligible funding source for commercial real estate projects located in Evanston's business district. DREAM (Driving Real Estate to Accelerate Microenterprise) was created to rejuvenate commercial districts through an actively managed combination of place-based neighborhood serving businesses, local micro-entrepreneurs, and creative enterprises.
A. ST. LEGER APARTMENTS DEMOLITION | Moving Ohio Forward | 2013
The Hamilton County Land Reutilization Corporation (Landbank) managed the July 2013 demolition, under Moving Ohio Forward state demolition grant program, of the three-story St. Leger apartment building at Gilbert Avenue and Montgomery Road – a long-time hub of crime. Project cost $537,939 to remove the dangerous property.
The demolition paved the way for redevelopment of the 1.6 acre site by private developer Model Group in partnership with the City of Cincinnati. St. Ambrose apartments opened in 2014.
---
What is our Focus Neighborhood Strategy?
Engagement with neighborhood organizations as eyes and ears on the ground
Identification of a small, defined priority area for residential and commercial redevelopment
Use of a phased approach to revitalization
---
B. REACH Evanston | Neighborhood Revitalization | 2015
REACH (Rehab Across Cincinnati and Hamilton County) program. The Port has worked with neighborhood leadership, including the Evanston Community Council, early to determine how the REACH program could best be used to eliminate blight and create new housing options.
Initial phases focus on the area adjacent to Five Points and Walnut Hills High School including renovations of existing homes and construction of new infill housing
To Date:

26 Homes Rehabbed or Built and Sold

1509 Ruth
1515 Ruth
1517 Ruth
1520 Ruth
1522 Ruth
1525 Ruth
1530 Ruth
1551 Ruth
1553 Ruth
1603 Ruth
1616 Ruth
1509 Blair
1521 Blair
1540 Blair
1542 Blair
1545 Blair
3309 Woodburn
3315 Woodburn
3336 Woodburn
3351 Woodburn

2 Currently on the market:
1 Currently underway:
C. HURC Affordable Housing| Multiple Addresses
D. 3341 MONTGOMERY ROAD | Historical Structure Stabilization + Commercial Property for Lease | Evanston
Through an agency agreement with the City of Cincinnati, The Port performed stabilization work on this property.
This 6,000 SF commercial structure is now available for lease. Located just north of Evanston's southern business district and east of REACH Evanston's target area. 2,000 SF of retail on the street level and 4,000 SF of commercial space above.
E. FINDLAY MARKET FARMSTAND | 1614 Hewitt Avenue | 2016
Location once was home to a carryout / drive thru called out in a 2005 report on neighborhood crime. The Port and City of Cincinnati teamed up on acquisition, remediation, removal of underground storage tank, and demolition resulting in a clean, development-ready 0.5-acre site.
The past two years, the Findlay Market Farmstand has activated this vacant lot in Evanston's Five Points area. Findlay Market partners with the Hamilton County Landbank, who provides the land, to bring fresh healthy food options to the neighborhood during the summer months. Project partners include The Corporation for Findlay Market, Evanston Community Council, Xavier University, The Port, Public Allies Cincinnati, Model Group and the City of Cincinnati.
F. 3248 GILBERT AVE | Commercial Property for Sale/Lease| Evanston
G. 3604 MONTGOMERY | Commercial Property for Sale/Lease| Evanston
Partnerships:
LAWN LIFE | Partnership | 2015 – Present
Lawn Life has been passionately involved with The Port's REACH (Rehab Across Cincinnati and Hamilton County) project in Evanston since February of 2015. Lawn Life has been responsible for the clean-out and/or maintenance of more than 30 homes in the Evanston community with 11 of the individual youth hired by Lawn Life coming directly from the Evanston community.
Since partnering with the Landbank on these rehab properties, Lawn Life has successfully employed 43 individuals at various jobsites. Of the individuals who completed the Lawn Life program, 19 secured full-time employment within 12 months and eight secured part-time positions and four remained employed with Lawn Life into 2015.
BUILDING VALUE | Partnership | 2013- Present
OTHER HAMILTON COUNTY LANDBANK PROPERTIES AND PROGRAMS | Multiple Locations
LANDBANK STATS:
138 Properties in Evanston
83 in Inventory
55 Properties Disposed in Evanston

3 Gardens + Greens
6 Lot-to-Yard
5 Single-Family home development
1 Local Government Sale
20 – Commercial / Multi-Unit Property Development
19 REACH Homes
1 HURC Home 
NEIGHBORHOOD INITIATIVE PROGRAM | Multiple Locations
The Neighborhood Initiative Program (NIP) is administered by the Ohio Housing Finance Agency (OHFA). Launched in the wake of the foreclosure crisis which left neighborhoods across the state riddled with abandoned properties, NIP makes available funds specifically allocated to demolition of these structures to stabilize property values in hard-hit neighborhoods. Only structures which are vacant, owned by the Landbank, and located in a target area can be demolished under NIP.
30 vacant, blighted properties in Evanston have been demolished through this program. Some have been sold to serve as yards for adjacent homeowners, while others await redevelopment.
GARDENS + GREENS
3613 Evanston Avenue; 1912 Evanston Avenue; 3644 Hewitt Avenue
LOT-TO-YARD
The Lot-to-Yard program is open to owner-occupants interested in acquiring vacant residential land adjacent to their home. Purchasers are required to incorporate the land into their existing yard. The program is designed to reduce the number of blighted, vacant lots.
1814 Hewitt Avenue; 3348 Fairfield Avenue; 1813 Huron Avenue; 1572 St. Leger Place; 3630 Wabash Avenue; 3453 Hudson Avenue
SINGLE-FAMILY HOME REDEVELOPMENT
Returns underutilized, residential properties to productive use through sale to interested parties for redevelopment. Project must include the rehab of an existing home, infill construction of single-family home, or redevelopment of a vacant lot by incorporation into an adjacent single-family home.
3325 Bevis Avenue; 1529 Ruth Avenue; 3449 Woodburn Avenue; 1710 Brewster Avenue; 1712 Brewster Avenue
LOCAL GOVERNMENT SALE
ONGOING MAINTENANCE
The Hamilton County Landbank owns and maintains 83 properties currently in its inventory in Evanston. To see available properties, and learn more about submitting an application to purchase and redevelop parcels, visit the Landbank's website here. 
Related Stories, Articles, and Press Releases:
Unlimited Carpentry – Growing from General Contractor to Private Developer in Evanston – https://www.cincinnatiport.org/general-contractors-private-developer/
Available Properties:
Commercial