NEIGHBORHOOD OF FOCUS: WEST END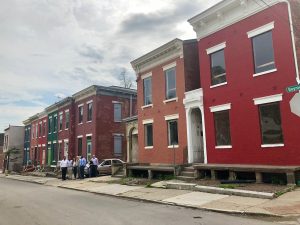 Strengthening city neighborhoods by working with community partners and residents to foster sustainability, expand economic opportunity and stabilize property values and tax base.
---
Neighborhood revitalization involves many partners and collaborative effort to achieve a shared vision. The Port's role in that process can be transformative. It can include everything from public finance and lending on major business and commercial projects, to historic stabilization, to construction of infill housing and rehab of existing housing stock.
---
In Cincinnati's West End neighborhood, the Port's early involvement in 2013 was focused on property acquisition and stabilization through the tools afforded to the Hamilton County Land Reutilization Corporation (Hamilton County Landbank). In recent years, the Port has accelerated stabilization of vacant, blighted properties, in partnership with the City of Cincinnati, and holds property on behalf of the community for future redevelopment.
On April 16, 2018, the Port entered into a community benefits agreement with FC Cincinnati, related to its soccer stadium investment in the West End. The agreement outlines commitments to West End residents and stakeholders that support anti-displacement of legacy residents; bolster economic development and equitable growth; include West End residents in stadium construction jobs; and facilitates community input on projects as redevelopment inevitably accelerates in this historic urban neighborhood. On May 16, 2018, the community benefits agreement was amended to include West End Community Council.
A public, mission-driven development finance agency, the Port values redevelopment that provides both economic and social benefits within the communities in which its tools are leveraged for revitalization. The Port has been meeting with a number of community organizations in the West End throughout 2018, including Seven Hills Neighborhood Houses, the West End Community Council, LISC Greater Cincinnati, to inform our work with the community and build community capacity.
---
"This is the first time we have had our public finance practice and our neighborhood revitalization work come together in such a significant way. The West End is a neighborhood that is important to us. As a party to the community benefits agreement, we are the third-party safeguarding the interests of the community and making sure there is due process, without putting undue burden on FC Cincinnati to be involved in such a granular way."
Laura Brunner, President and CEO – The Port
---
The Port Project & Programs expected to help West End redevelopment:
---
Public Finance of FC Cincinnati stadium: On April 16, The Port's Board of Directors met and approved preliminary terms for the Port's role in financing the FC Cincinnati Stadium project and related public improvements. Terms include the issuance of bonds, as well as a project lease, by which the Port will own the stadium. The Board will have the opportunity to review and approve final terms.
---
1201 Linn Street revitalization: This historic centerpiece of the West End's Linn Street neighborhood business district was acquired and stabilized by the Hamilton County Landbank. FC Cincinnati will support The Port's efforts in further stabilization and revitalization of the "Regal Theater."
Hamilton County Landbank: Land banks were created to address the many problems municipalities incur due to abandoned properties. In Hamilton County, the Landbank is a critical neighborhood revitalization tool that works with partners to administer a variety of property acquisition and redevelopment programs that reduce blight and make properties productive. Local, public ownership of vacant, tax-delinquent properties is sound strategy that controls redevelopment. We are actively working to protect the community's interest by acquiring tax delinquent and vacant properties and to preserve historic buildings as well as to improve the safety and security of the neighborhood.
---
Rehab Across Cincinnati & Hamilton County (REACH) – The Port launched REACH as a targeted effort to spur redevelopment by rehabbing vacant and blighted homes at scale. Nearly two dozen individuals and families have moved into REACH homes, and new REACH homes go on the market regularly. REACH has been funded through a percentage of delinquent real estate taxes recovered by the County.
Communities First – Down Payment Assistance for Ohio – Communities First provides homebuyers with down payment / closing cost assistance throughout the State of Ohio. Over 2,000 homebuyers have utilized Communities First to help them move into a new home.
Housing Affordability: FC Cincinnati plans to assign its option to acquire 65 vacant parcels in the West End to the Port. These properties are currently owned by Cincinnati Metropolitan Housing Authority. The option expires at the end of 2018, giving the Port time for planning and to determine a source of funds for the purchase. Whether we do the development ourselves, assign it to a developer, or hold a long-term ground lease, the Port has a number of options and we want to make sure that affordability is a consideration so that we do not cause displacement. The Port's control of this is a critical piece of the overall development to meet the needs of low-to-moderate income residents. The Port will commission a comprehensive housing study as part of the community benefits agreement.
Inclusion: The Port's Inclusion Policy will be the standard used to hire minority and disadvantaged contractors.
---
"From our first meeting, leaders and stakeholders in the West End impressed us with their commitment to their community and spirit of partnership. LISC Greater Cincinnati was happy to sponsor and participate in the planning process that led to the West End Speaks Plan which outlines a clear set of goals for the West End neighborhood. We continue to support community based leadership that is working towards those goals through our partners at the Seven Hills Neighborhood Houses, a long-standing community asset. We look forward to seeing grassroots, neighborhood based leadership further integrated into decisions that impact West End's future."
Kathy Schwab, Executive Director – LISC Greater Cincinnati
---