Made in Hamilton County, Ohio – 2016
Study looks at Hamilton County's robust manufacturing heritage, its decline, opportunities for revival, and the impact on our region.
---
Historically, Cincinnati had a vibrant manufacturing sector that provided family-supporting jobs for our residents. Beginning in the 1970s, we saw the loss of many of the jobs that provided security for our community with the closing of hundreds of companies representing tens of thousands of good jobs. We also experienced the increasing disconnect of our region from the manufacturing sector that continues to exist.
In commissioning this study, the Port Authority and TechSolve sought to verify the impact of manufacturing on the Hamilton County economy – document its highpoint – 1969 when 145,987 were employed in manufacturing – and look at the impact of the decline in manufacturing jobs and the broader economic and societal implications of the dominance of non-manufacturing jobs. The Port Authority and TechSolve provided the Economics Center with scenarios of reinvestment in the County's underutilized or vacant industrial land. This study data is designed to show how an intentional disruption of the economy through a phased, multimillion-dollar investment in the acquisition, remediation, repositioning, and public control of this land could yield a manufacturing renaissance that creates 26,871 jobs and boosts industrial production.
This study implicitly recognizes the importance of the support of a broad effort by many organizations, leaders and initiatives working to increase prosperity for residents and achieve a more diversified regional economy through the advancement of advanced manufacturing.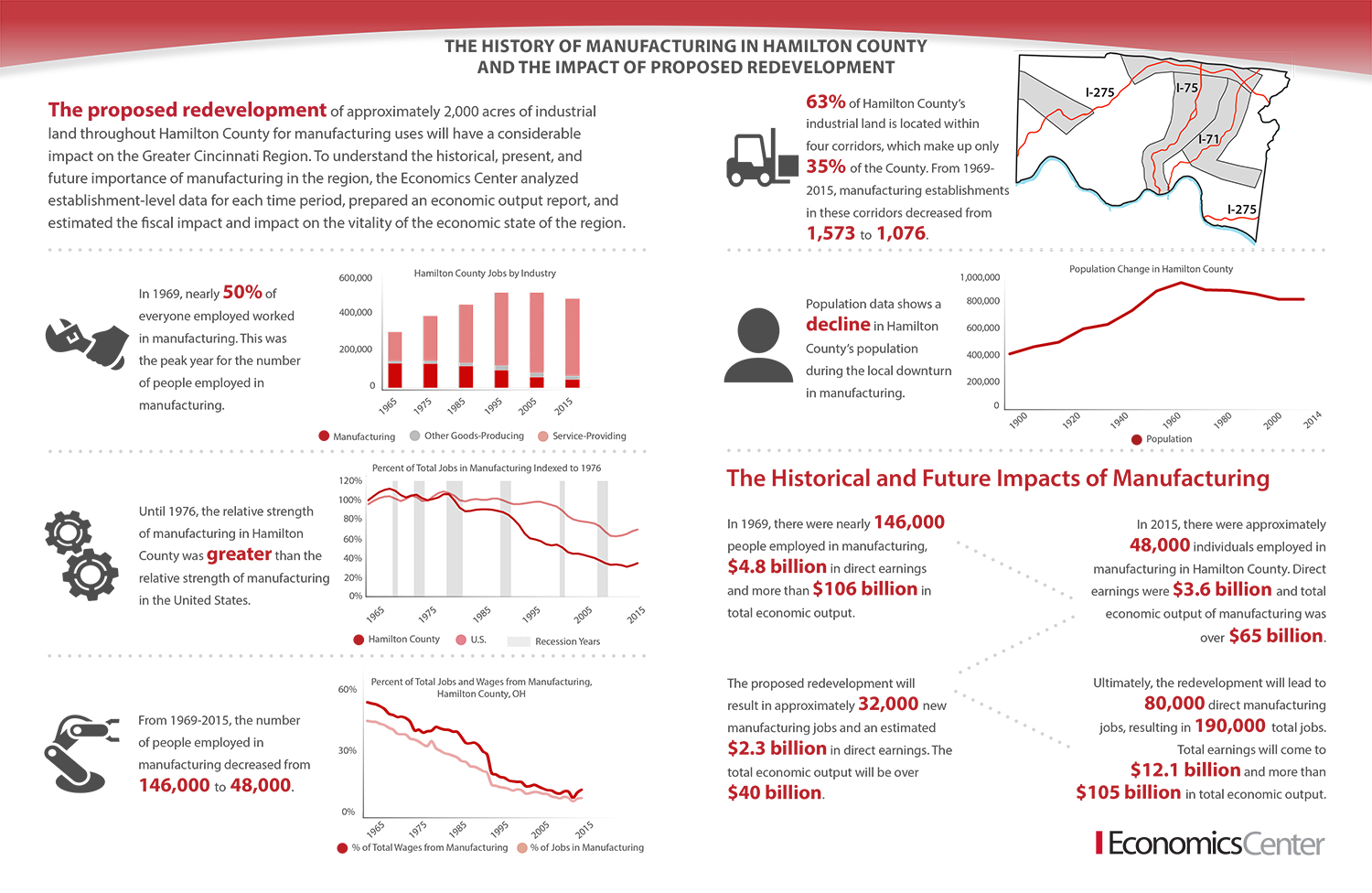 Key Findings:
---
Early 1800s, Cincinnati's economic strength was apparent by its well-evolved transportation systems that helped establish industries like hog processing and meat packing.
During Hamilton County's manufacturing peak – 1969 – about half of everyone employed worked in manufacturing.
During the ensuing period of decline —  1975-1995 — manufacturing in Hamilton County dropped from more than one-third of the local economy to just one-fifth of the local economy – a loss of over 41,000 jobs and 59 manufacturing establishments.
During that period of dramatic decline – 1975-1995 — the number of Hamilton County manufacturing jobs declined at a much more dramatic pace than the national decline. In Hamilton County, manufacturing jobs declined 26% since 1969, vs. a 2% decline in US manufacturing jobs during the same period.
From the region's manufacturing peak in 1969 until 2015, the number of people employed in manufacturing decreased 67 percent, from 145,987 to 48,748.
Total impact of manufacturing from the same time period — 1969 to 2015 — reveals 700,000 employed earning $14.5 Billion vs. 114,471 employed earning $7.0 Billion.
The study focuses on 4 key manufacturing corridors in Hamilton County – Central, East, West and North.  About 63% of Hamilton County's 15,600 acres of industrial land are located within these 4 manufacturing districts.
While just 6% of Hamilton County total land is industrial acreage, 28% of the county's Central Manufacturing Corridor is comprised of industrial acreage.
During Hamilton County's manufacturing employment peak – 1969 – the Central Manufacturing Corridor had 858 active manufacturing establishments, more than 3X the number of establishments than any of the other three Manufacturing Corridors.
Population data for Hamilton County indicate that after an increase of approximately 60,000 people in the decade from 1960 to 1970, population peaked at approximately 924,000 people before starting a steady decline, which continued through 2010. This pattern supports the narrative that the loss in population was correlated to the local downturn in manufacturing, notwithstanding other influencing factors (U.S. Census Bureau).
Proposed Redevelopment:
---
The impact and operation of the proposed redevelopment would result in direct impact of 26,871 jobs with average wages of $70,700 per year and a total jobs impact of 63,962 jobs with average wages of more than $60,000. Additionally, the direct economic output would be roughly $10 Billion and the total economic output would exceed $33 Billion.
The construction will phase over 20-30 years. The total economic output from the cost of construction is $5.2 billion dollars and nearly 21,800 jobs. The average wage would be $46,200 per year, resulting in an additional 21,800 individuals obtaining jobs with a wage nearly 200 percent of the federal poverty level for a family of four in 2015 dollars.
Ultimately, with the impact of the proposed expansion, Hamilton County would have more than 75,000 individuals working in manufacturing producing a total economic output of $94.5 Billion (total)—almost as much impact as the peak manufacturing period in Hamilton County's history.