Just Q'In serves up BBQ with a purpose in Walnut Hills
At Just Q'in, guests may come in for the BBQ, but owner Matt Cuff ensures their plates are served up with so much more.
---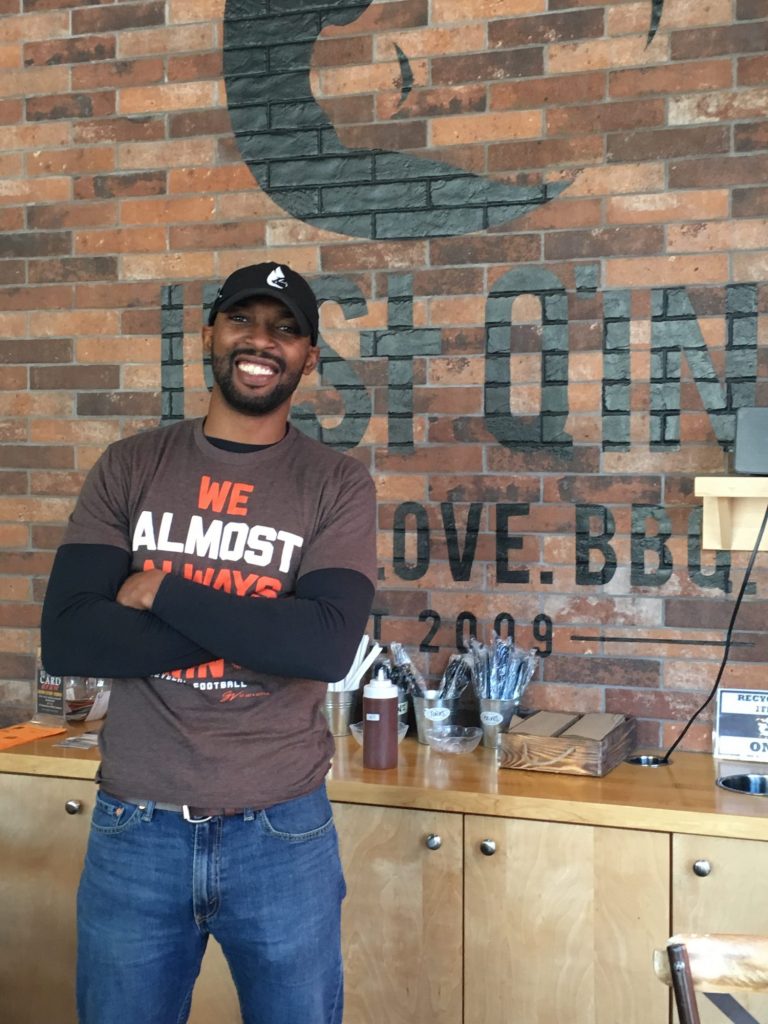 "I believe God has a purpose for each of us – and that is to have some kind of impact on others. I get to make an impact on hundreds of peoples' lives every week. And I don't take that lightly."
That's why every aspect of his second store, opened in the newly renovated Trevarren Flats, had been developed with relentless hard work, but also with an eye beyond the day-to day.
"It's hard. Really hard. But I love everything about it."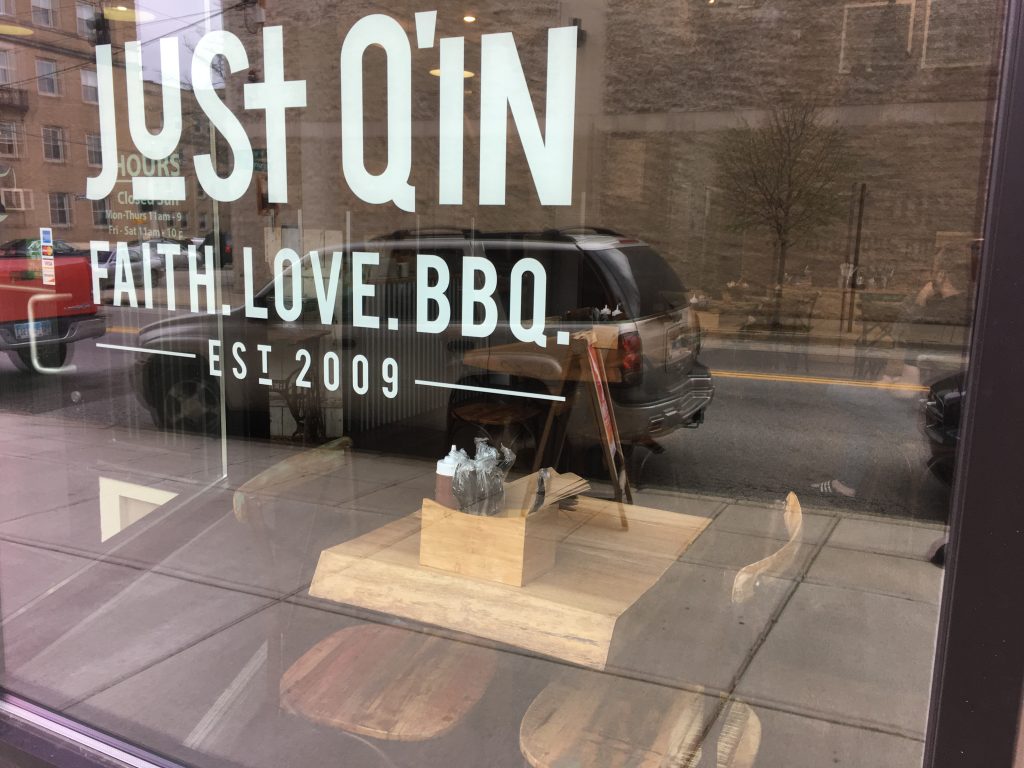 Cuff, originally from Cleveland, ensures each of his employees goes through four weeks of financial literacy training, and then is paired with a Dream Manager to help them work toward one or two life dreams.
Inside the restaurant, every dish is backed by years of experimentation, continual improvement and top-quality products, including Certified Angus Beef that is wet-aged for no less than three weeks. The amount of smoke and the cooking temperatures are worked to a sharp science to deliver the right flavor and crunch-bite texture.
"We cook everything fresh, every day." Leftovers are donated to area churches and Lighthouse Youth and Family Services.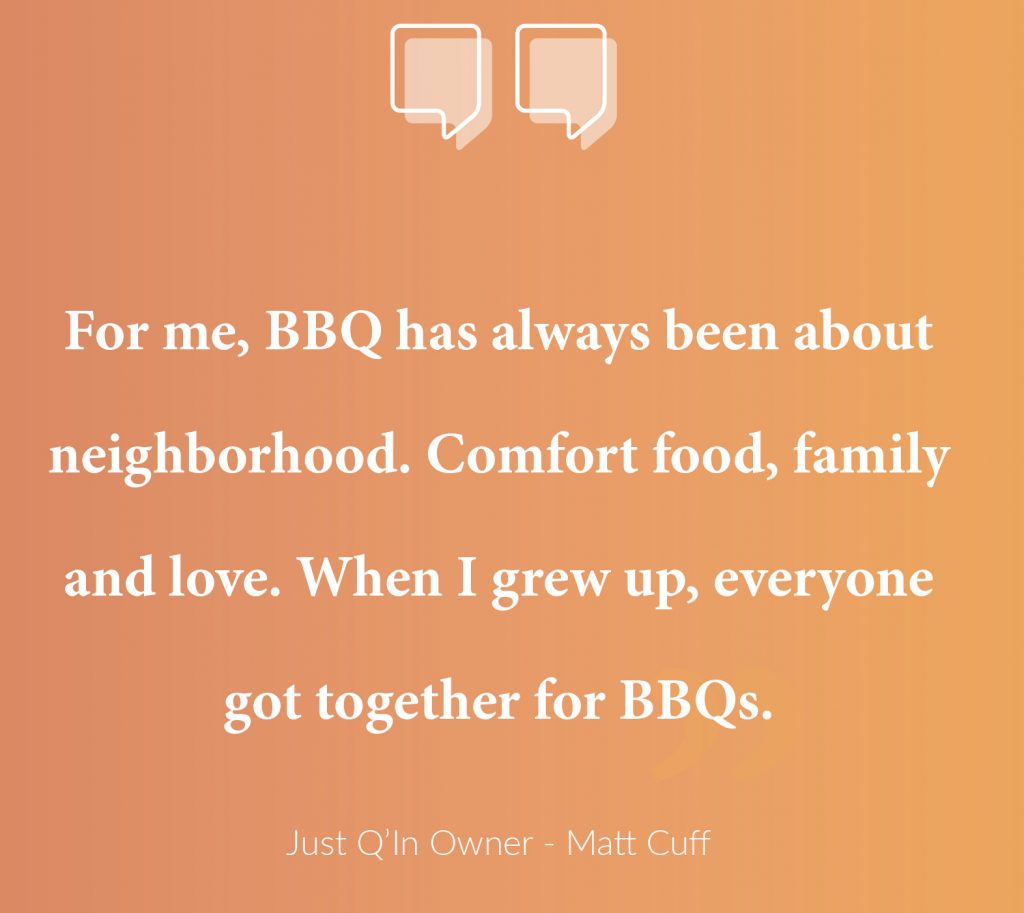 Always seeking to improve, Cuff visits other BBQ restaurants "all the time," comparing and sharing processes and recipes. "There is no competition in BBQ. It's all so personal." And so everyone helps the other.
Originally an aerospace engineer with a double major in physics, Cuff said his background in problem solving helps him look at everything as an opportunity. "We start by thinking about what is best – for our customers, our employees, everyone – and then we work backwards to develop the solution. That's not easy. But that's how we do it."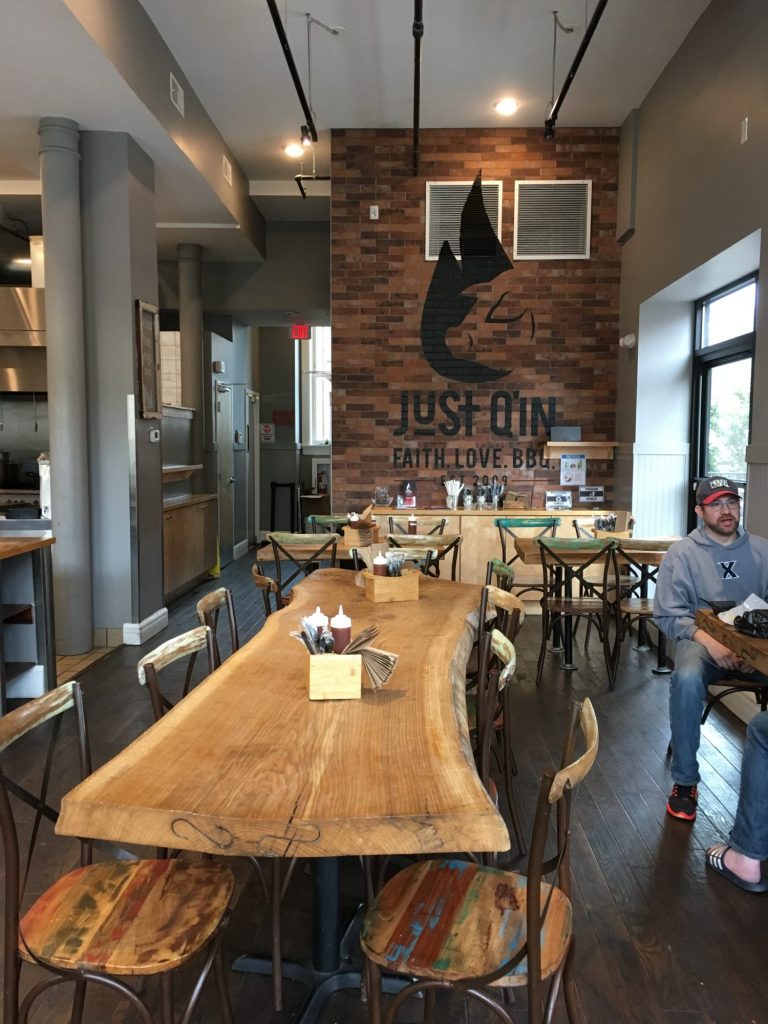 Cuff started his BBQ business in 2009 with a food truck, then opened up a small restaurant in Newtown in 2011. "I didn't know anything about the restaurant business. We just focused on quality — and process to ensure quality." Looking to reach more customers, Cuff saw Walnut Hills as a prime location for store #2. "It is an up-and-coming neighborhood," reminding Cuff of his childhood home, and was open to new leadership.
"For me, BBQ has always been about neighborhood. Comfort food, family and love. When I grew up, everyone got together for BBQs. Whoever was cooking was where we all went."
---
JUST Q'IN
Specialty: Barbeque restaurant and carryout with outdoor patio
Location: 975 E. McMillan Street, Walnut Hills, Trevarren Flats
Owner: Matt Cuff, 37, Springfield
Size: 1,300 Square Feet
Employees: 12
ABOUT THE OWNER:
Matt Cuff, originally from Cleveland, graduated with degrees in aerospace engineering and physics from Tuskegee University, then moved to South Carolina to work with GE Engines. With no hobbies or activities outside work, Cuff entered a BBQ competition for fun. After winning three of four titles in his first try, he was hooked. When GE brought him to Cincinnati, his hobby became a weekend business, then a full-time job. Cuff serves as president of the Walnut Hills Business Group and is on the boards of the Walnut Hills Redevelopment Foundation and the Walnut Hills Area Council. His wife Tierra works at Mercy Hospitals and his daughters are 9 and 12.
---
Acknowledgments:
Story and Photography by: Lisa Popyk