HURC homebuyers find community, character, and wildlife in Bond Hill
The Port regularly features homebuyers who purchase a property owned by us, the Hamilton County Landbank, or the Homesteading and Urban Redevelopment Corporation (HURC). We welcome the stories of how these dedicated residents return neighborhood vacant lots and blighted properties into urban gems.
---
Alexis Liu and her family purchased a home in Bond Hill rehabbed by the Homesteading and Urban Redevelopment Corporation (HURC) last year.
---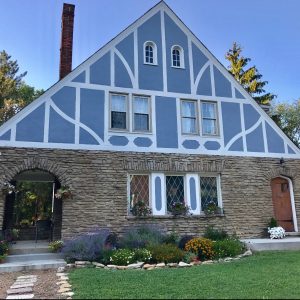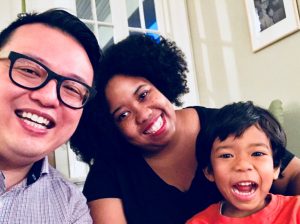 Q: What drew you to Bond Hill & the Bella Vista property
Alexis Liu: I came to Bond Hill because I was looking for a centrally located affordable and historic community that would welcome my diverse family. Located at the midpoint of Cincinnati, Bond Hill was perfect for both my husband and me. Though I initially rented a different home in Bond Hill, I came to Bella Vista after a yearlong home search that really spanned the entirety of Cincinnati. Ultimately, the character, quietness, and convenience of Bella Vista was ideal.
Q: What were your expectations when you purchased the property – about the house, the neighborhood, the neighbors, anything?
Alexis: I'm not sure that I had any specific expectations but I certainly hoped to live in a neighborhood that was vibrant and urban but peaceful. I left Cincinnati in 1999 for college and after almost two decades as a New Yorker, I really wanted outdoor space and quiet but I also did not want to completely sacrifice the sense of living in a dense urban area.
I've been deeply impressed by the number of important neighborhood institutions that are rooted in Bond Hill and the level of civic engagement. The Bond Hill Community Council meetings are usually filled to capacity, for instance, and the work feels important and vital. I think that the mix of institutional buy-in and the level of resources brought by stakeholders like The Port, Mercy Health, St. Aloysius, the Bond Hill-Roselawn Cooperative, the Bond Hill Community Council, the Bond Hill Urban Redevelopment Corporation, the city of Cincinnati, a number of faith institutions, and others, combined with the determination of individual residents is what will ensure that Bond Hill becomes one of Cincinnati's and the region's great success stories.
Q: How have your initial expectations or impressions about Bond Hill changed?
Alexis: My initial impression of Bond Hill was that it is a neighborhood of hardworking and fundamentally decent people who are trying to make the best lives for themselves and their families. That impression hasn't changed. I have, however, been surprised by the diversity of wildlife in Bond Hill. Our yard is visited by deer, rabbits, groundhogs, hummingbirds, Lazarus lizards, snakes, field mice, white squirrels, cardinals, blue jays, grackles, doves, sharp-shinned hawks, owls, clouds of butterflies, dragonflies, and every manner of grasshopper, bee, beetle, slug, snail and wasp that you can imagine. Occasionally, we hear coyotes. Obviously, not all of these visitors are equally welcomed but it really feels amazing to be so close to Reading Road and yet have so much biodiversity at our doorstep.
Q: In your opinion, what is Bond Hill's greatest strength and opportunity? What are you most looking forward to as a fairly new resident of Bond Hill?
Alexis: Bond Hill's greatest strengths are its continued legacy of civic engagement, its lovely housing stock, and its central location. There are a number of challenges but I think the single greatest issue is that as our population rapidly ages, we need urgently to prepare a new generation of citizen-leaders and citizen-entrepreneurs to ensure the continued development and revitalization of our community. And we must dedicate ourselves to not only attracting the businesses, services and amenities that comfortably middle-class people enjoy and expect, but also to building an educational and economic bridge to those who residents have found themselves persistently stuck in the quagmire of the underclass.  Connecting everyone to quality education, employment, mental and physical healthcare, and entrepreneurial opportunity is ultimately going to result in a community that is not only attractive and economically productive but equitable, just and diverse.
Q: What was it like working with The Port as you found and purchased the house? What should The Port do more of when it comes to revitalizing Cincinnati and Hamilton County neighborhoods?
Alexis: Working with the The Port was seamless and I'd recommend their properties to others. Deborah Robb did a lovely job creating a home that felt updated and fresh. She's really put heart into developing the property and not only restored it to livability but added unexpected amenities like a second-floor laundry that I think help the home compete with properties in any neighborhood. Having seen a number of shoddily renovated 'flipped' properties, it was a relief to feel as though the house had been restored with integrity and had been renovated as a home, not just as an asset. I cannot say enough good things about her work.
I would love to see the The Port do more work around helping existing owners access no-interest, low-interest and forgivable loans in order to stabilize and improve their properties. While attracting new residents is important given Bond Hill's population decline, it is vital that the people who have made Bond Hill great for decades be able to maintain their homes and eventually realize a fair and decent return for their years of investment as homeowners.
---
Alexis is the Founder and Editor of the newly launched Bond Hill Journal – a platform designed to share stories and news of the Bond Hill community.
---
Acknowledgements:
Special thanks to Alexis Liu for her time and thoughtful responses.
Photography: Current images of the home and family photo provided by Alexis Liu; before image provided by the Homesteading and Urban Redevelopment Corporation (HURC)