FOUR YEARS AGO, as Evanston neighborhood leadership prepared for the demolition of St. Leger apartments and redevelopment of the site, long-time Cincinnati Police Officer Perry Locke articulated his concerns and hopes for the future of the Evanston neighborhood. St. Leger was long considered a problem property that symbolized crime, violence and hopelessness in the neighborhood. The demolition was funded with Moving Ohio Forward state demolition grant funding. Here is what Officer Locke said about Evanston:
---
2013
---
"Starting with St Leger, not everyone in there was bad, but the people who didn't actually live there were the main part of the problem. With St. Leger being torn down, that's going to be a big change. Just the community as a whole, people trying to do better for themselves. You have more people not being scared to speak out about the crime they're seeing in the streets. It's always a good thing when you get the community involved and people start to take pride in their community. "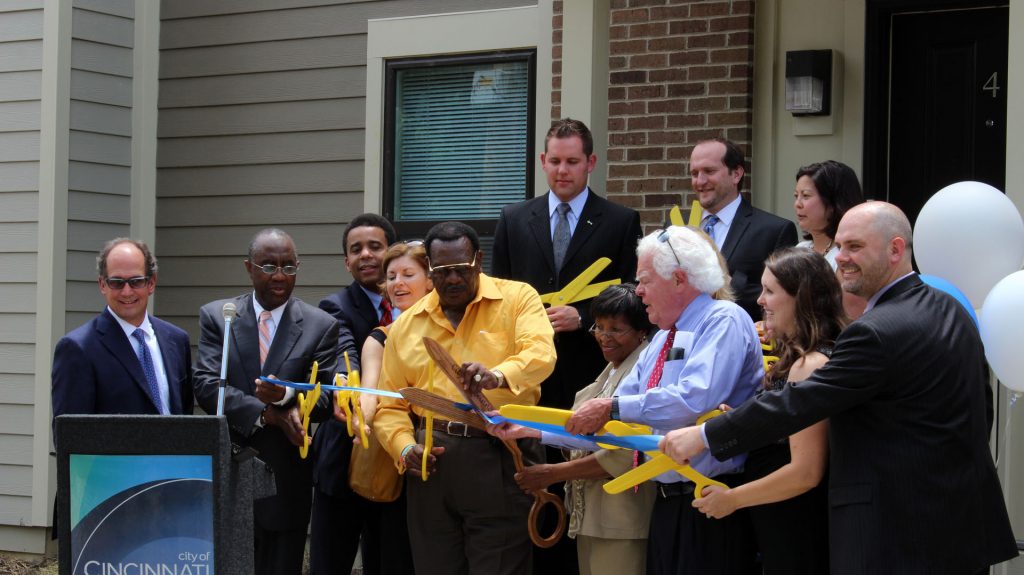 FOUR YEARS LATER, St. Leger is gone and in its place is St. Ambrose Apartments that comprises 26 new townhouses and flats. Through a committed partnership of many organizations and individuals, Evanston's revitalization is apparent. Now, as the Port Authority begins its 20th home renovation near Walnut Hills High School through its Rehab Across Cincinnati and Hamilton County (REACH) program, Officer Locke again spoke about the neighborhood, where he has patrolled for more than 18 years.
---
2017
---
"You can see that you're getting more people involved. If you go to community meetings, you can tell. Just last night, during a ride-around — if you go back to 2013, we averaged 15 people in a meeting, and last night we counted at least 45 people who showed up. You still have some of the same people that used to hang around St. Leger, that never lived there – somewhat that aspect, but not as much.
"There is a positive change going on. Anytime you get change, you're going to go through that intermediate period, where the ones that are doing the wrong stuff, they want to keep the negativity in the neighborhood going. So it's like we're in the intermediate area right now, where we see the change coming, but it's not fully there, but it's getting close to being there. Eventually, I see five years from now, you're not going to see any of this – it's definitely heading into the right direction. I have talked to the store owners and they are very happy about the change they see. You can see people jogging now – that's totally positive. They are running through the same areas where you guys (Port Authority) are rebuilding the houses. You can see it on any given day. The change is positive through what you guys are doing in the neighborhood.  As a police officer, I really appreciate the change."
---
Remembering the 2013 St. Leger demolition:
www.cincinnati-oh.gov/community-development/news/moving-ohio-forward-brings-new-hope-to-evanston