Caffe Vivace is café by day and jazz lounge by night
Windows stretch to the ceiling and wrap like arms around the front and side of Caffé Vivace, calling in the morning's warmth and the dusk's cool street-light glow.
Creating an idyllic setting for a café by day and jazz lounge by night.
---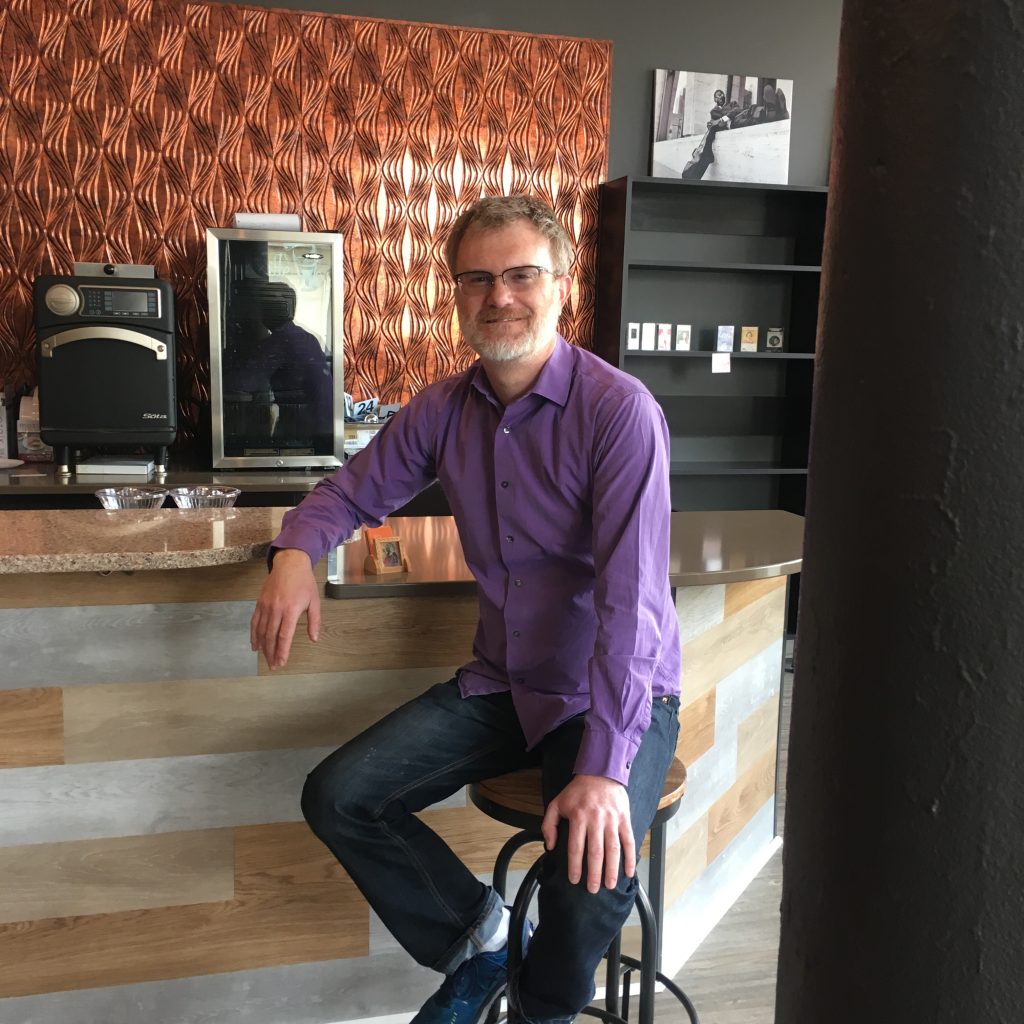 "We want Caffé Vivace to be that 'third place' for the community — there's work, home, then that 'third place' where you always feel welcome, included. Someplace to gather, meet. Enjoy something new," said owner Brent Gallaher.
Everything has been tuned to strike that chord. The interior of bright orange, accented by muted black, blends the feel of relaxed energy. Even the name, Caffé Vivace, means lively coffee.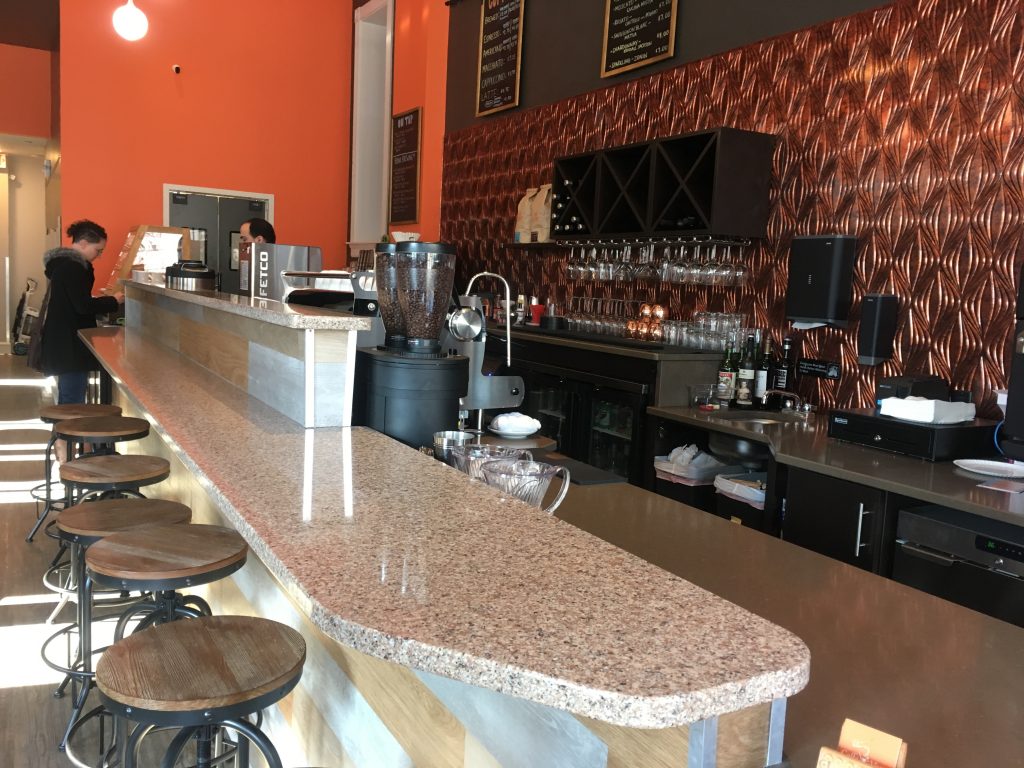 Opened on April 7, Caffé Vivace is one of five uncommon and entrepreneurial stores hand-picked to fill the recently renovated Trevarren Flats on East McMillan Street in Walnut Hills. Community leaders, who worked to make the renovation reality through investments and planning, are hoping the Flats serves as the first step to revitalize the entire historic area.
For Brent, the idea of a jazz bar to showcase local talent has always been a dream. Adding a coffee shop, to give the café and community more opportunity to interact, was a business brainstorm.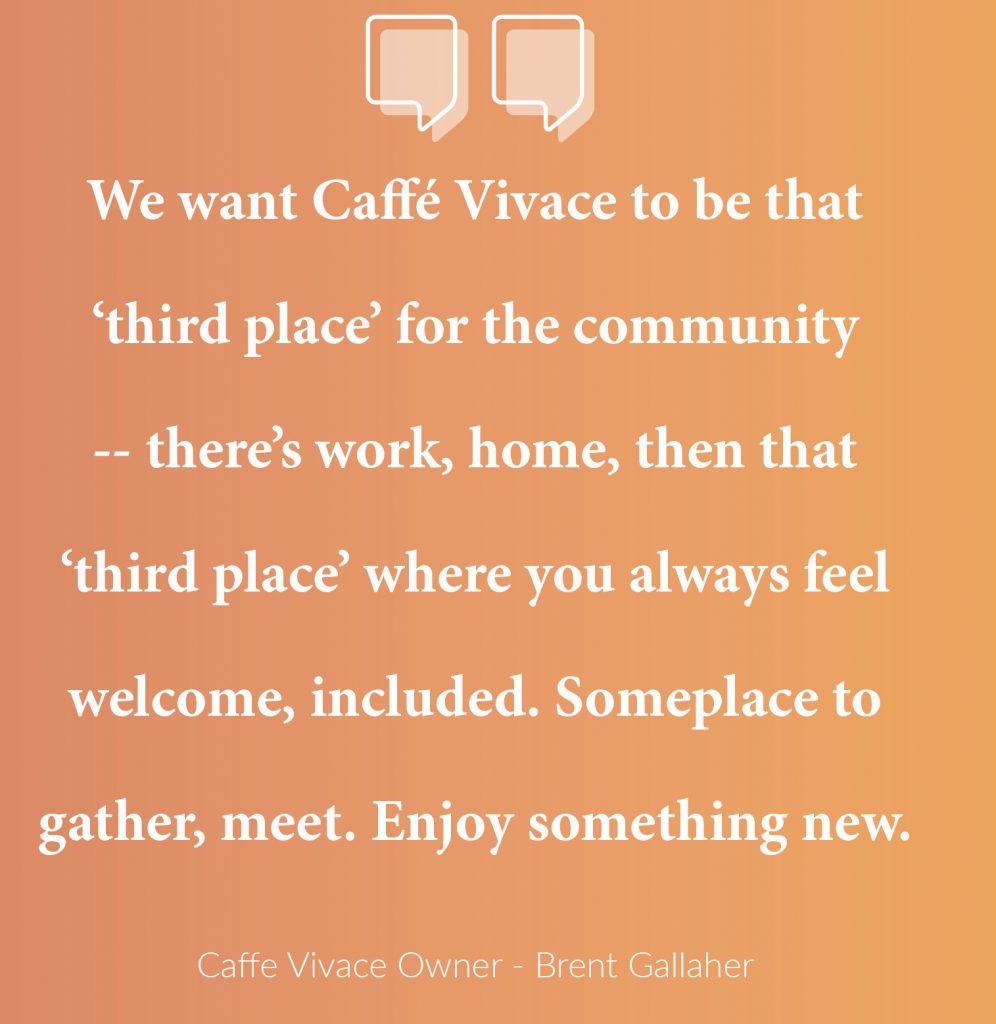 A place to work
"My wife Vanessa (Keeton) works remotely, and always complains about how hard it is to find a place that is quiet, with Wi-Fi, comfortable seating, good coffee and good food. That's what we want to offer."
Brent had each of his three baristas – carefully picked from more than a hundred applications – attend a full course of barista training, so they could serve up a true macchiato, and ensure that every cup comes with a double shot.
Then, when the lights go down, the jazz warms up.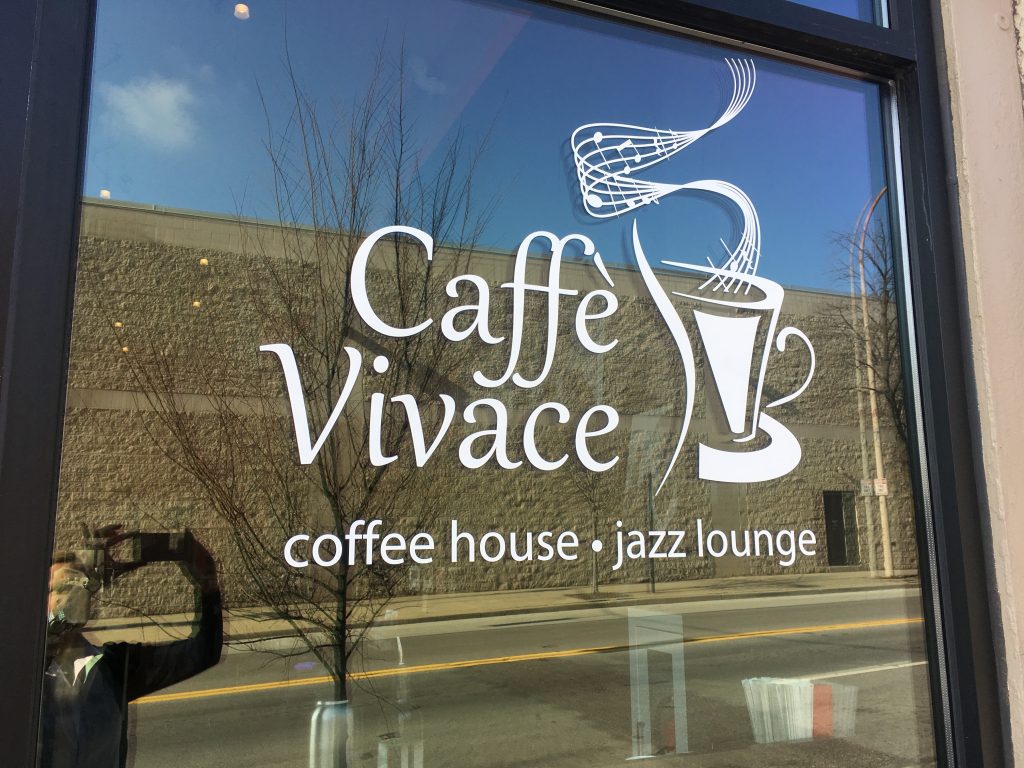 A place to play
"There has been a real deficit in the city since the Blue Wisp (jazz club) closed for a place where jazz musicians are not shoved into a corner and ignored even when they are playing really well and with all their heart."
In the back of the long café, Brent placed a baby grand and small elevated stage. It's surrounded by thick-velvet black curtains to keep the sound real, but not overpowering. Seating is tiered throughout, so there is no bad view. "And when the music starts, I tell everyone to keep the chatter down, so the focus is on the music."
Brent has musicians booked at least five months out.
Adding to the community feel and impact, Brent plans to outsource much of his light-fare food from other local small businesses, including O Pie O, Gomez Salsa and Fireside Pizza in Walnut Hills, Shadeau Bread in Over-the-Rhine, and Just Q'in Barbeque, located next door.
"It's really all about creating a place of community with the community and for the community."
---
CAFFE VIVACE
Specialty: Coffee House / Jazz Lounge
Location: 975 E. McMillan Street, Walnut Hills, Trevarren Flats
Owner: Brent Gallaher and Vanessa Keeton, College Hill
Size: 1,749 Square Feet
Employees: 7
ABOUT THE OWNERS:
Brent grew up in Eastern Kentucky and is the son of a musician/music professor. He is a graduate of the University of Cincinnati College-Conservatory of Music and is an in-demand jazz musician who plays the saxophone and flute. Brent currently performs with the Blue Wisp Big Band, Cincinnati Pops, and his band, The Five Little Bears.
Vanessa also grew up in Eastern Kentucky and studied music at Morehead State under Brent's father. She's a former professional saxophonist and teacher. She now is now a full-time front-end web-software engineer.