Hamilton County Landbank Team Presented at 2018 Ohio Land Bank Conference
More than 300 land bank board members and staff, county and municipal officials, community and economic development officers, community development corporations and those interested in re-purposing vacant and abandoned properties and revitalizing neighborhoods from across Ohio participated in and attended the 2018 Ohio Land Bank Conference in Columbus, Ohio on October 23-24, 2018. Land Banks were established in Ohio in 2009, with the Cuyahoga Land Reutilization Corporation, and now there are 54 county land banks throughout the state.
The Port manages the Hamilton County Landbank, acquiring vacant, abandoned properties throughout Hamilton County. We work with rehabbers, developers, residents, community development corporations (CDCs) and municipalities to put the properties back into productive use and improve communities one property at a time. Five members of our neighborhood revitalization team spoke on four panels at the 2018 Ohio Land Bank Conference.
Historic Restoration and Stabilization
Kathleen Crowther, Megan Meyer, Brian Potasiewicz
Add mothballing of historic properties to your toolkit! The unique buildings of your community can be safeguarded now to support future plans for authentic place-making and community building. This session helped attendees recognize historic structures and share best-practices to safely stabilize them. Session presenters included members of the Cleveland Restoration Society, a leading non-profit historic preservation organization, and Coon Restoration and Sealants, a private company supporting their work. Megan Meyer from the Hamilton County Landbank shared its work in mothballing historic structures in the West End and other neighborhoods, a successful effort that is attracting private investment.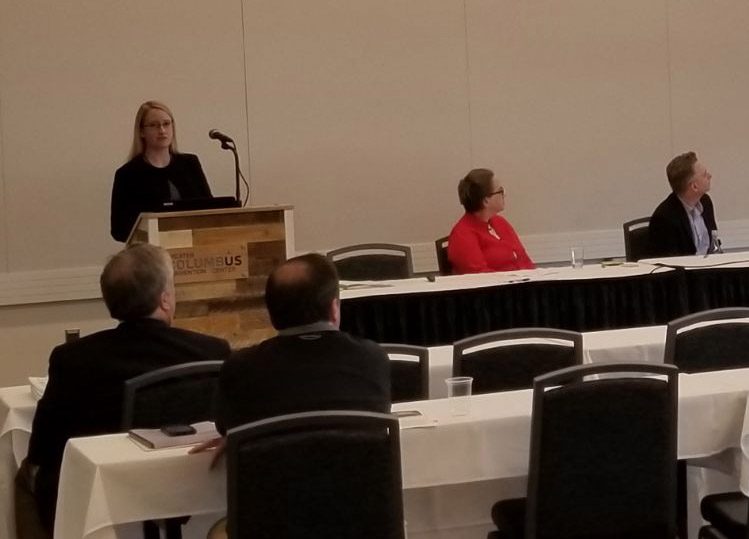 Megan spoke with several attendees after the panel who were interested in the City of Cincinnati's 13 point Vacant Building Maintenance License (VBML) standards. The Port has expanded its historic stabilization program through a partnership with the City of Cincinnati to help preserve important residential and commercial structures.
Land Banks and Code Enforcement
Shawn Carvin, Debora Flora, Frank Ford, Josh Harmon, Jessica Powell
Housing and Building Code Enforcement has traditionally been a community's first line of defense against housing deterioration and devaluation. In many communities the fallout from the foreclosure crisis led to abandonment and blight that was beyond what anyone could have imagined 20 years ago, and beyond the resources of communities to deal with it. Land Banks have given communities a powerful new tool, and resources, to combat blight that undermines homeowner equity and housing market stabilization. But land banks can't address every troubled property. This session explored the opportunities for land banks to collaborate with their local housing code enforcement partners, and will highlight some of the best examples of how communities around the state are creatively employing their code enforcement systems to restore housing markets.
Leveraging the Tools of the Landbank to Support Affordable Rehabs & Homesteading
This panel will cover two CDC's unique approaches to affordable homesteading. Stephanie Moes is an attorney at Cincinnati Legal Aid who represents Price Hill Will (PHW), a CDC that runs a homesteading program that provides access to homeownership to families that would otherwise be unable to purchase a home. Deborah Robb is The Port's director of the Homesteading and Urban Redevelopment Corporation (HURC), which is focused on community housing improvement & in particular, the renovation of homes in low & moderate-income areas. Both PHW and the HURC work with the Landbank to repurpose vacant homes for affordable reuse.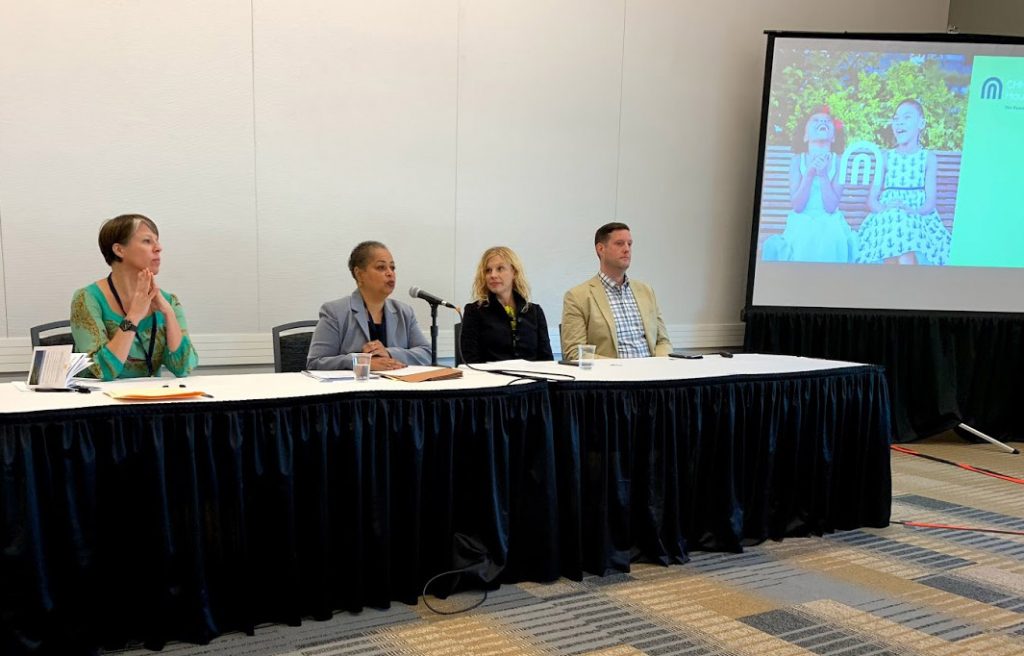 Neighborhood Redevelopment Projects
William Basil, Mike Grauwelman, Hope Kingsborough, Robert Sanders, Cheryl Stephens
As land banks mature they frequently look to larger projects that will have long term impacts on neighborhoods. This session described successful neighborhood development projects in Hamilton, Franklin, Summit and Montgomery counties and provide attendees with ideas to take back to their communities.
Will and Robert shared The Port's comprehensive neighborhood revitalization strategy in Evanston, an urban neighborhood home to Walnut Hills High School, King Records and Xavier University. There was significant interest in our commercial business district development and funding program, the DREAM Loan Fund which supports tenant build outs for microenterprises and entrepreneurs.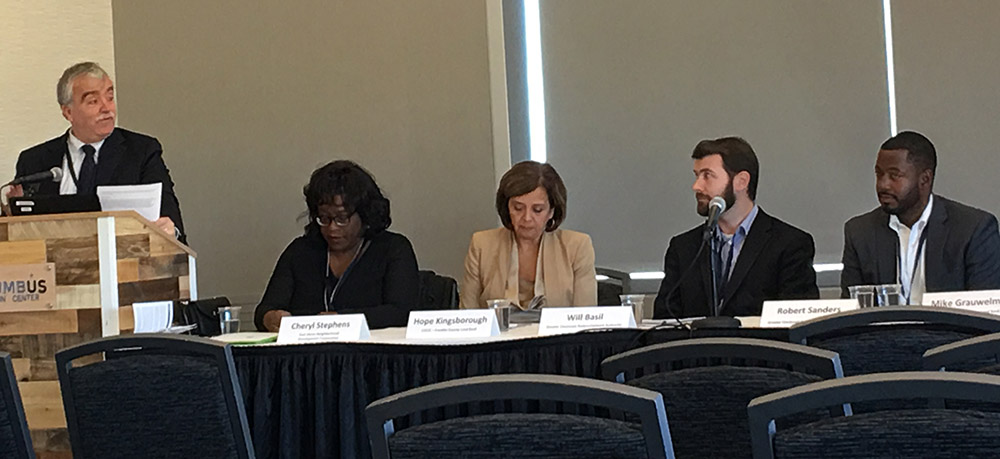 The 8th Annual Ohio Land Bank Conference, presented by the Thriving Communities program of Western Reserve Land Conservancy, was a tremendous opportunity for the Hamilton County Landbank team to learn and network with colleagues from across Ohio. Mike Smith, The Port's Vice President of Neighborhood Development, enjoyed meeting Jim Rokakis, Vice President of the Western Reserve Land Conservancy and Director, Thriving Communities program, who moderated many of the panels.